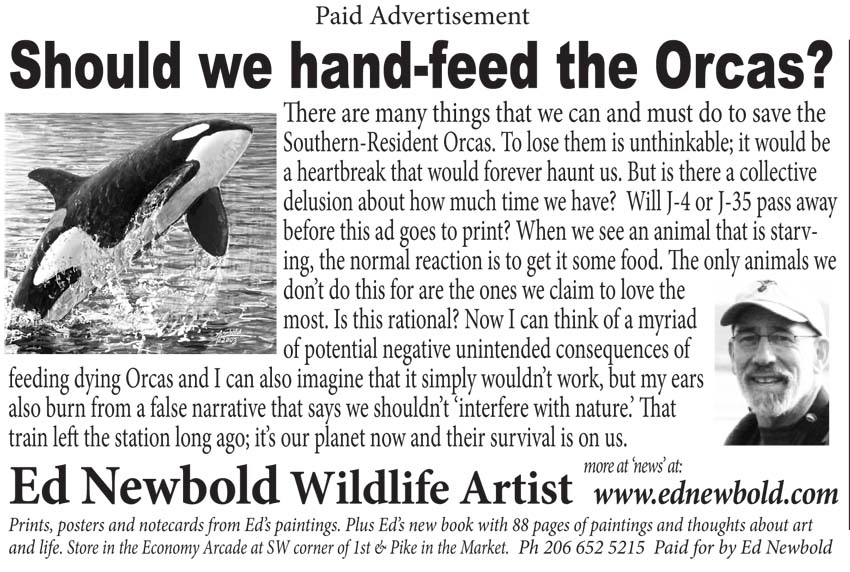 27 Jul

Should we hand-feed the Orcas?
Posted from Seattle, WA July 27, 2018
I've become alarmed at the rapidity of the current die-off of Southern Resident Orcas.  I have witnessed populations of animals collapse in a hurry, I won't burden you with the stories, but sometimes the downward pace can be on an exponential curve when everyone thought it was an arithmetic curve.
Normally when people see an animal that is starving, they have an urge to feed that animal.  The state of Washington routinely feeds Elk and routinely hires farmers to make crops available for Snow Geese. My question to the Orca research community and others is are we already at the gateway of extinction? Are we passed the point where anything that will help 4 years down the road (Some have suggested increasing the production of hatchery-Chinooks) is irrelevant?  Is this a life and death moment and should people attempt to augment their food supply by hand-feeding them?  I have prepared the above ad for the Seattle Times that asks this question, but I am far from committed to running this ad.  I would really appreciate feedback.
I am very much aware of the downsides and negative unintended consequences of feeding animals.  I have reluctantly become opposed to bird-feeding, although I'm not critical of others who aren't opposed. But 99% of the times when humans feed animals, extinction by starvation of a species is not the backdrop, but it is here.  Extreme situations require extreme actions.
I also want to rebut arguments that I think will be raised against feeding that I think are completely off-base.  Some may say, "We must not interfere with Nature!"  Somebody should have told the first hominid to appear on the scene "not to interfere with nature."  Had they and all their kin done that, then the "We must not interfere with Nature" argument might make a tiny bit of sense.
I have opened the comment line, I hope anyway, and would love to hear what people think about this idea and whether I should run this ad.  I tried to turn the comment section on but it appears I have so far failed, I'll try some more.  Meanwhile, I would  very much welcome comments on Facebook or emails at ednewbold1@yahoo.com
By the way, here is the text of the ad so it will show up on Google:
Should we hand-feed the Orcas?
There are many things that we can and must do to save the Southern-Resident Orcas. To lose them is unthinkable; it would be a heartbreak that would forever haunt us. But is there a collective delusion about how much time we have? Will J-4 or J-35 pass away before this ad goes to print? When we see an animal that is starving, the normal reaction is to get it some food. The only animals we don't do this for are the ones we claim to love the most. Is this rational? Now I can think of a myriad of potential negative unintended consequences of feeding dying Orcas and I can also imagine that it simply wouldn't work, but my ears also burn from a false narrative that says we shouldn't 'interfere with nature.' That train left the station long ago; it's our planet now and their survival is on us.