Ed Newbold is a Wildlife Artist who lives in Seattle, WA and has a store at the entrance of the Pike Place Market in downtown Seattle. Ed has been in business at the Pike Place Market for 39.4 years as of January 2023.  Ed paints in acrylic plus some gouache and his art is available in the form of signed prints, signed posters, notecards and originals.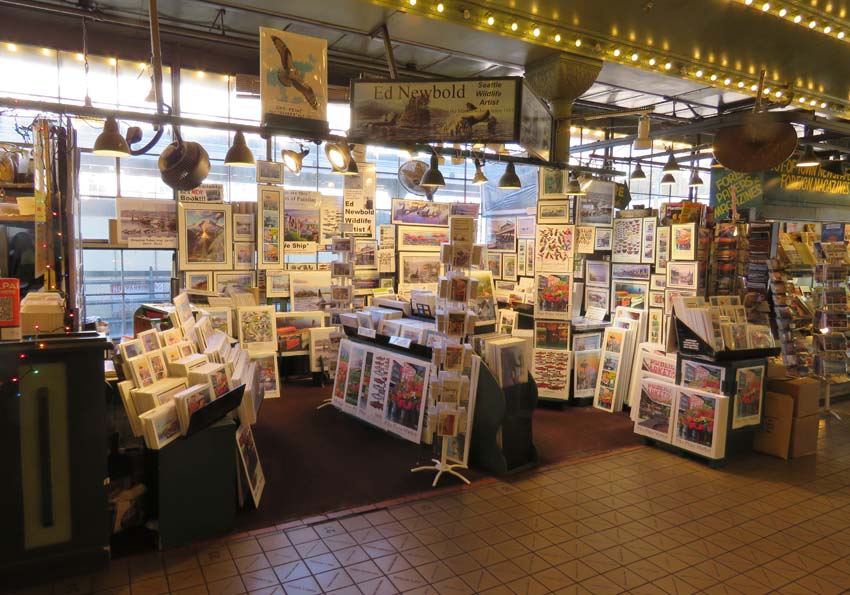 Here is a photo of the store from August 15, 2020. Since February, almost every fixture in the store has been repainted and re-carpentered and there are many new prints and more on the way. The prints come in many sizes, including a large selection of birds and wildlife in the 8 x 10 mat-size, as well as a long narrow style of print called a SKINNY.  Skinnies are very popular, and no wonder:

  People who who buy a lot of art have already filled up their walls and all that is left are a few SKINNY spaces! POSTERS come mainly in 14 x 18, but also many 18 x 24 and 12 x 16, and Mini-posters are 8 x 10 and fit a 9 x 12 mat. We specialize in Posters also, including a group portraits of animal families such as Hummingbirds or the US, Salmonids of the Northwest, etc.
Hopefully purchasing on this site is easy.  Shipping is always $8.00 per purchase, regardless of how many items are ordered.   Click on the type of product you are interested in.
This site also features Ed Newbold's blogs:
In "Sightings" are the photos Ed takes in the field and in his backyard, home of the 12 foot recirculating stream called "Butyl Creek."
"On the easel" is about the paintings Ed's currently working on in the studio and the issues they present.
"News" contains commentary on current events, as well as news about the business.
"Essays" is meant to be a permanent set of essays on subjects like Shade Coffee, green tourism and a tribute to my late great friend Kevin Li.