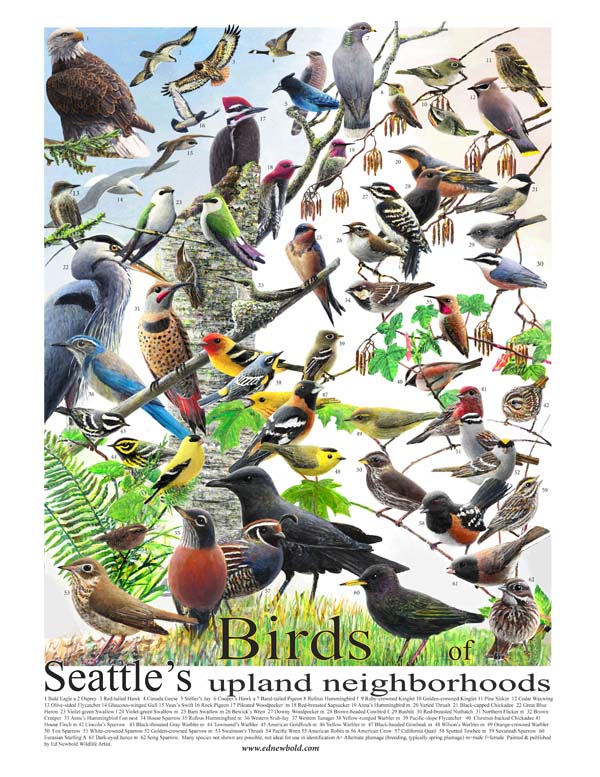 08 Feb

18-year painting almost finished!
Posted on Feb.7, 2016 from Seattle, WA
On the 19th of this month I'll be handing over six painting files to Susan Convery of Olympus Press. One will be "Birds of Seattle," a painting I started in 1998. It was originally conceived as "Birds of Beacon Hill." I worked on it hard in 98 and again for a long period in 2004. About three years ago, I started back in on it and on the 19th, it will be finished, at least for this decade, almost for sure.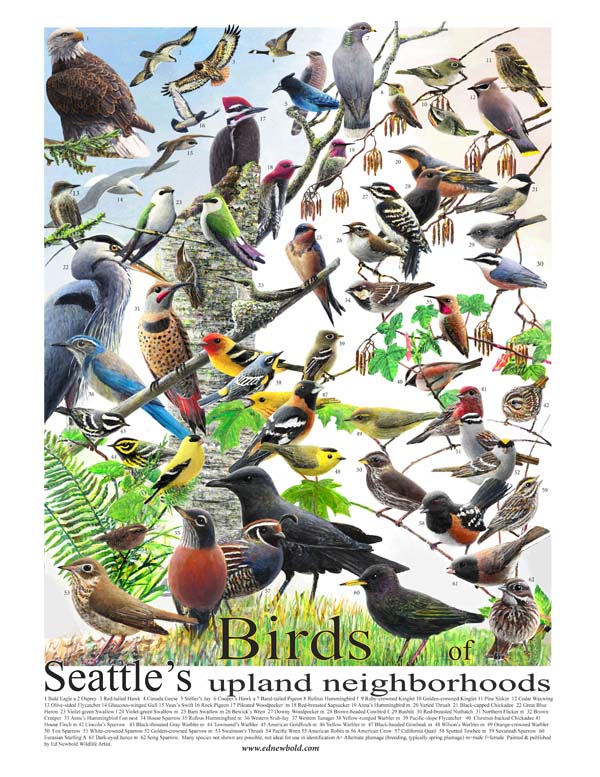 This is what it looks like now. I have to put a leg on the Song Sparrow and fix up the Fox Sparrow, enlarge the Towhee's tail, well, actually, there's still a lot to do before the 19th, but I'm not going to let Susan down by stalling for more time! This will be a 14 x 18" poster.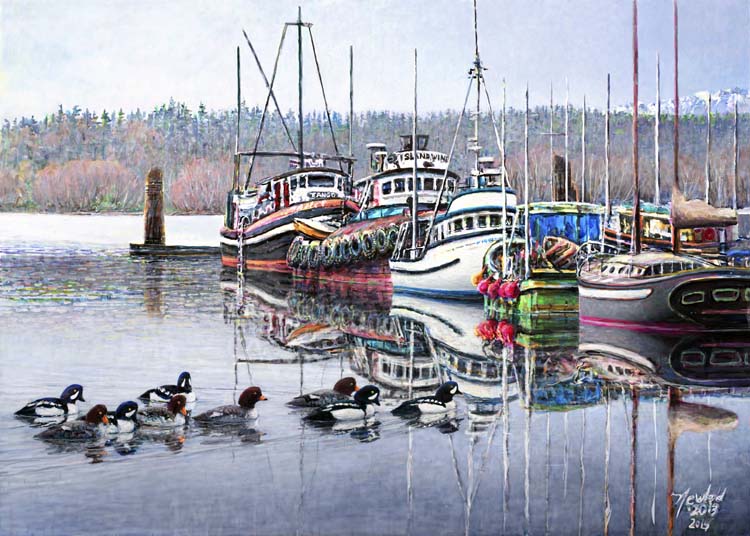 Another project that I've been working on for a long time is Poulsbo, which I originally called "Last Tango in Poulsbo because one of the boats was named "Tango."   I think I started this in 2013, although it may go back further. When I started the ducks were just a pair of Gadwall, then I made them into a squadron of Barrow's Goldeneye in 2013. In 2014 I repainted the whole painting and enlarged the ducks by a factor of more than two, and I've been fussing with it off and on since then. I'm going to print this at 18 x 24".  I keep generalizing the name, now it's "Winter Goldeneyes in the Harbor."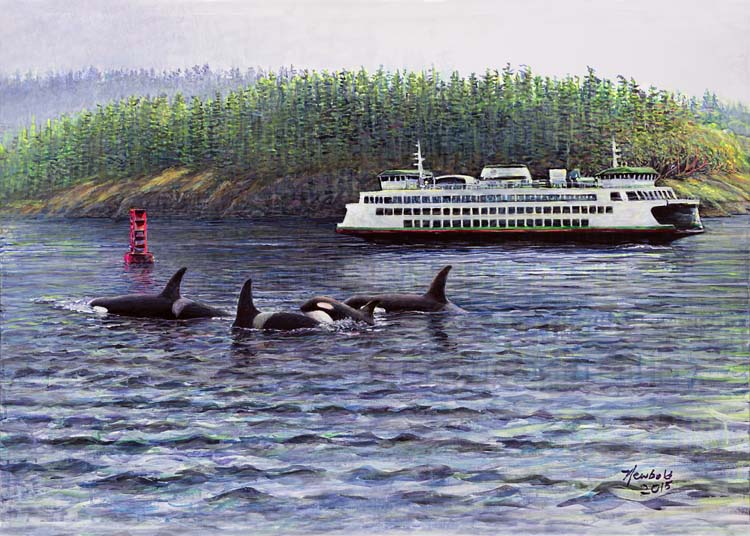 Here's a painting I started in the fall. I'm thinking it's name is "Starboard View," rather than "Evening Passage, but I'm still looking. My normal convention for naming a wildlife painting is "such and such" species at "such and such " place, but in this case the place is made up, so that won't work.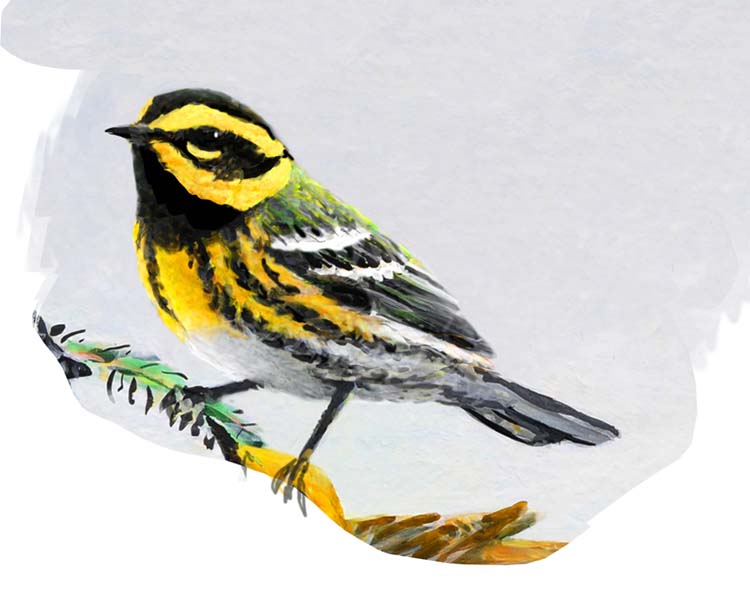 Russ Steele asked me to do a Townsend's Warbler for a new Shade Coffee that Seattle Audubon will be issuing. I am honored by this request and hoping to finish soon, but I'm looking for a conifer branch to better hold this bird up.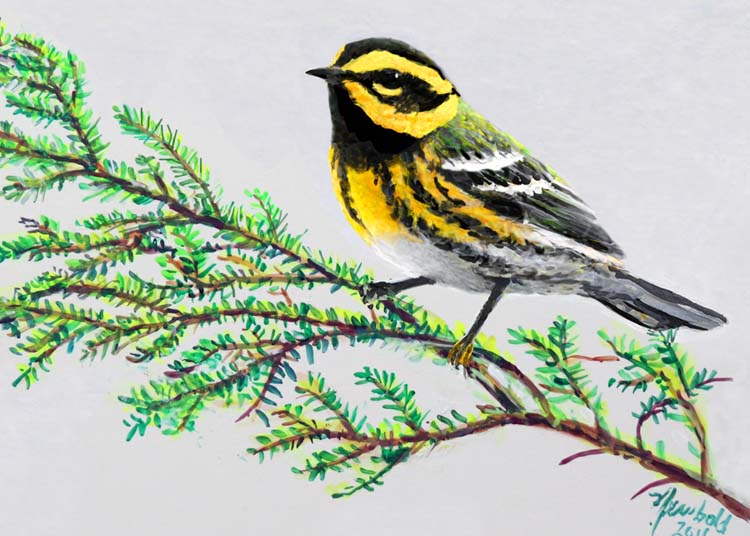 I painted that branch today (Feb 8) and here's what that looks like.  I'm thinking I'll make that available in two sizes at the store by next week.

Last time I was down in the Southwest I talked to Reed Peters, the owner of the Cave Creek Ranch, a great place to stay if you're ever in Portal, AZ, at the opening of the biodiverse Cave Creek Canyon at the foot of the spectacular Chiricahua Mountains.  We worked on a possible painting/poster of birds of the Chiricahua Mountains. This is a beginning. We'll see how it goes. It's on a very hard surface for the sake of speed. I hope I can get this done quicker than the 18 years it took me to do "Birds of Seattle! "
Comments welcome—I think they are turned on now.