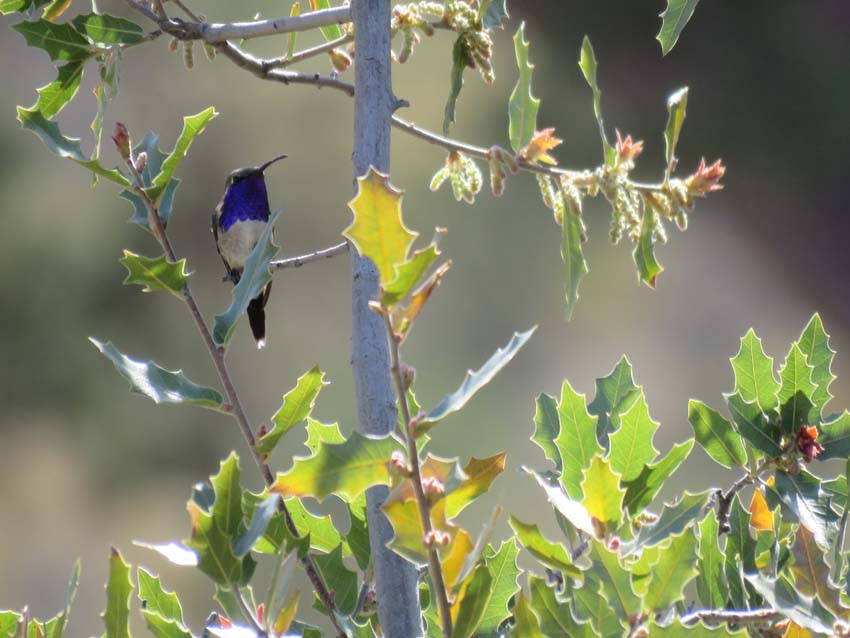 14 Apr

Back from New Mexico



Posted on April 13, 2019 from Seattle WA.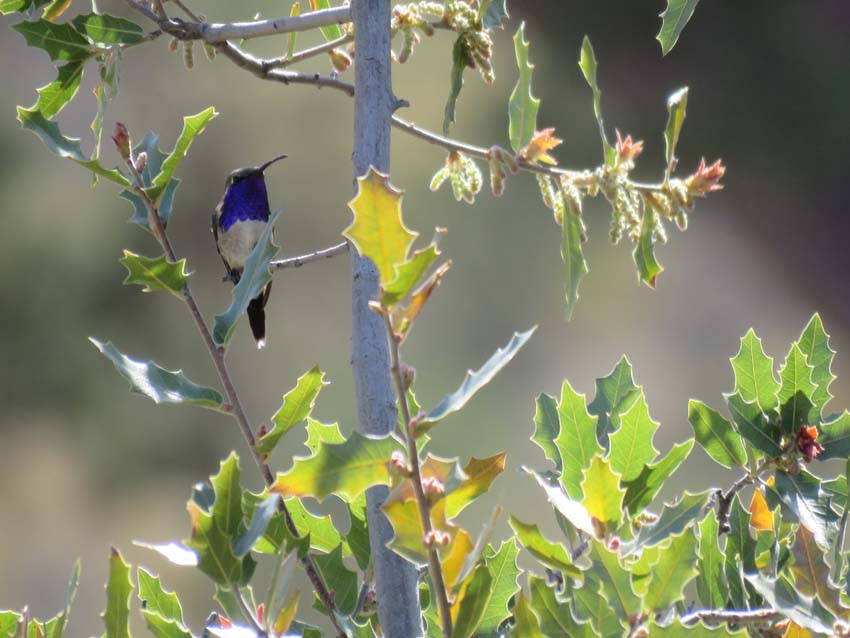 We just got back yesterday from New Mexico. One good thing that happened down there is I finally got a shot of a Lucifer Hummingbird that I actually like and that does this handsome little hummer justice.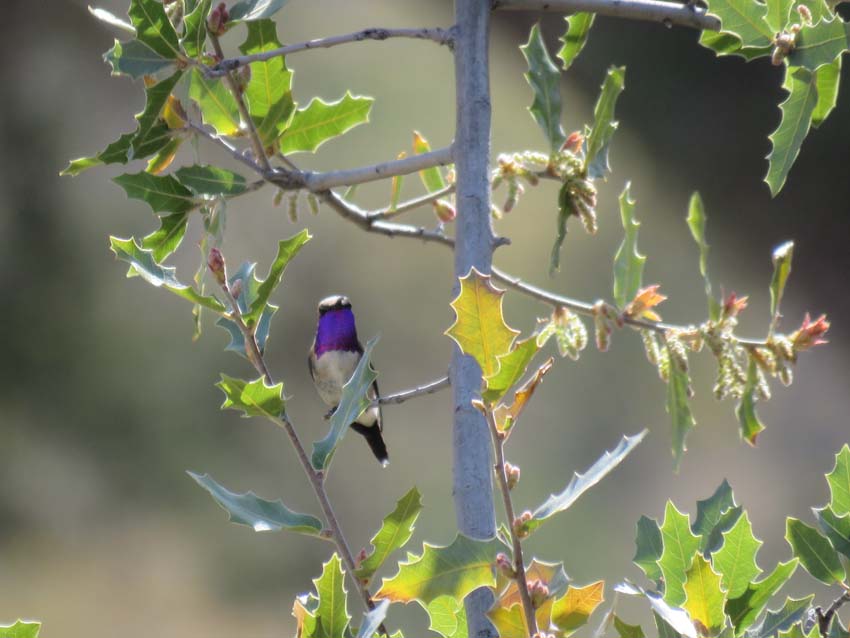 The first shot shows the gorget shining blue, which it does sometimes, but it is more often a kind of lavender like this shot. We have a book that assures us that this hummingbird is named after light and not the devil (It occasionally deploys it's deeply forked tail).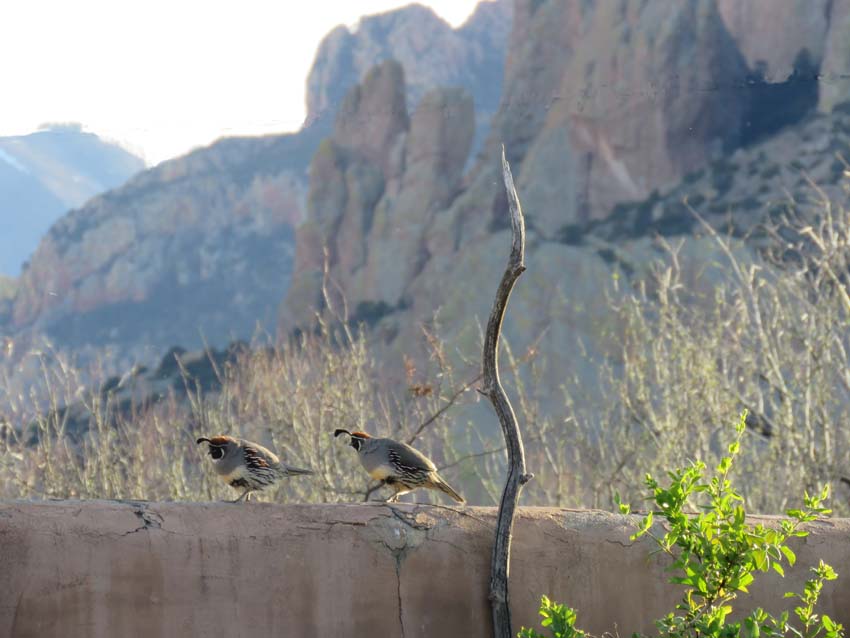 We visited our friend Maya in Portal Arizona and while we were watching Rivoli's and Calliope Hummingbirds these Gambel's Quail were climbing on and over the wall that delineates her yard.
Here some are coming down to forage inside the wall.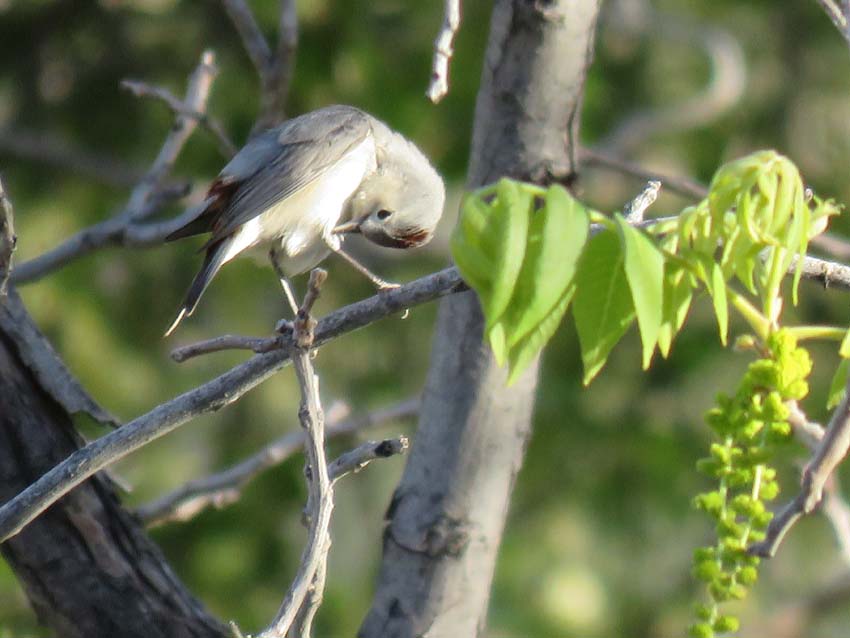 There was a Lucy's Warbler there also.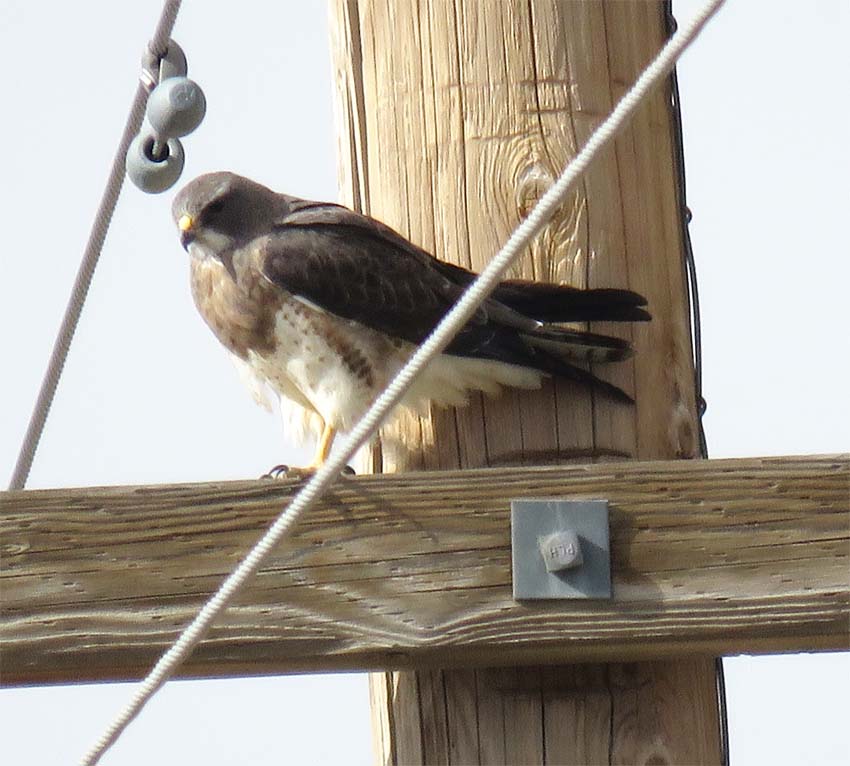 In Wilcox, AZ on the way in this Swainson's Hawk posed on a power pole.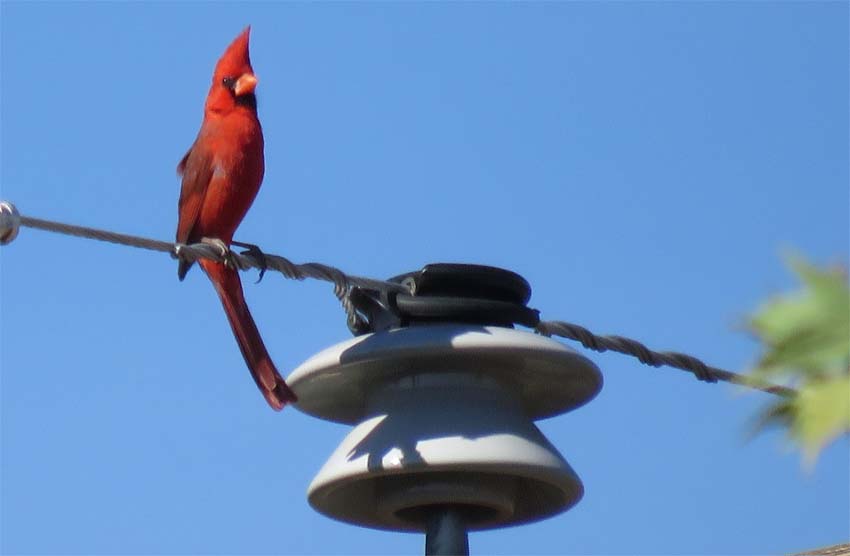 And in Portal, AZ this Northern Cardinal had the same idea. The Arizona Cardinals sure don't look like Eastern Cardinals, maybe they'll separate them soon.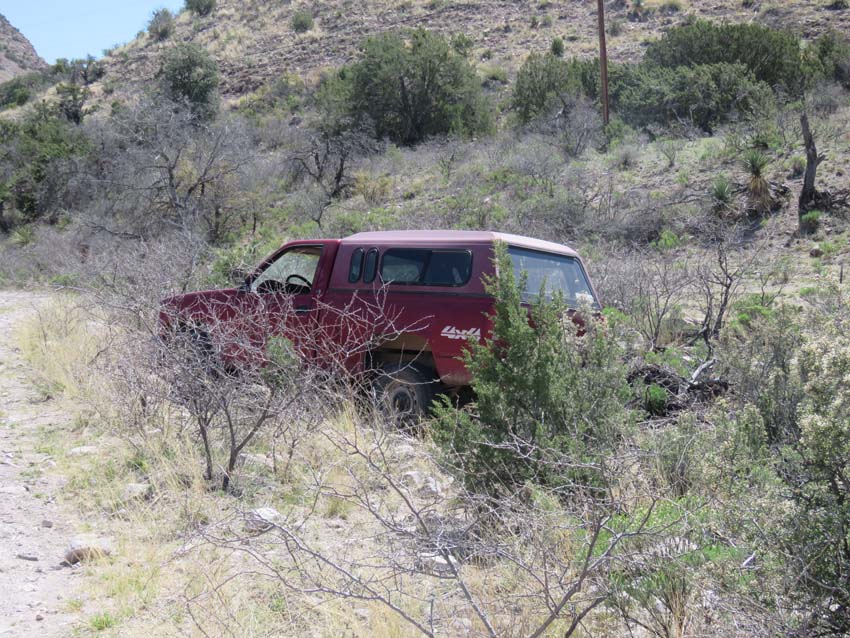 CD drove his Chevy backward at 20 mph into an oak stump on the way up to the ranch.  We had a great time dismantling the stump with a pick, a shovel and a crosscut saw. Then Delia put it into four-wheel-drive and eased it out of the ditch, but we are telling CD not to drive it until he gets it checked out, it might be a Carbon Monoxide trap.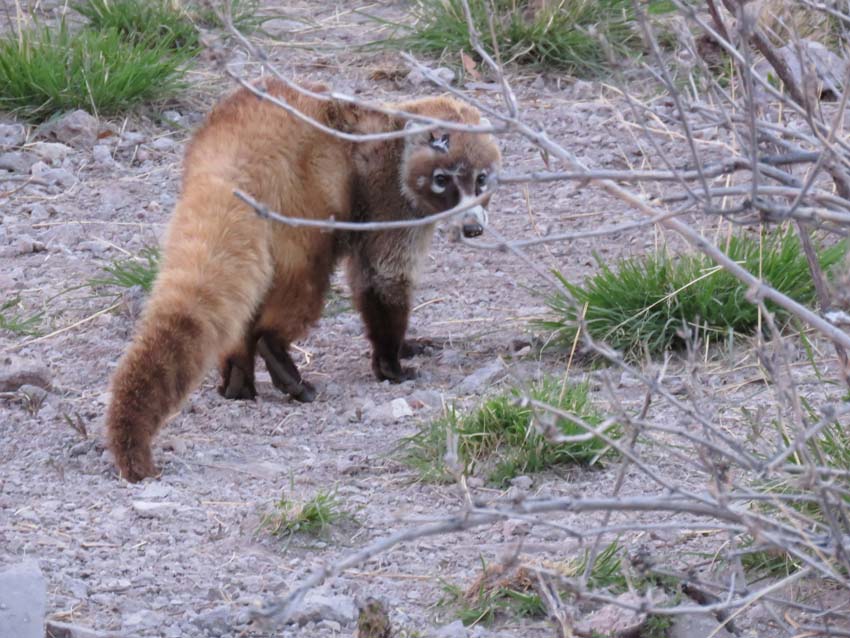 Up at the house this Coatimundi came by a couple times to see what was around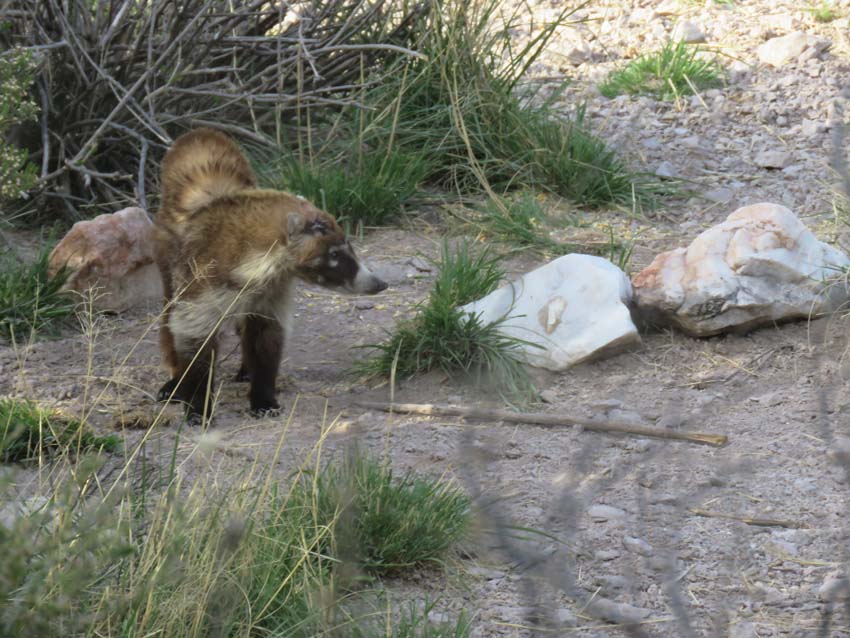 Here he's showing off his profile. Looking at the shots, I'm not sure it's the same individual but both photos are of males.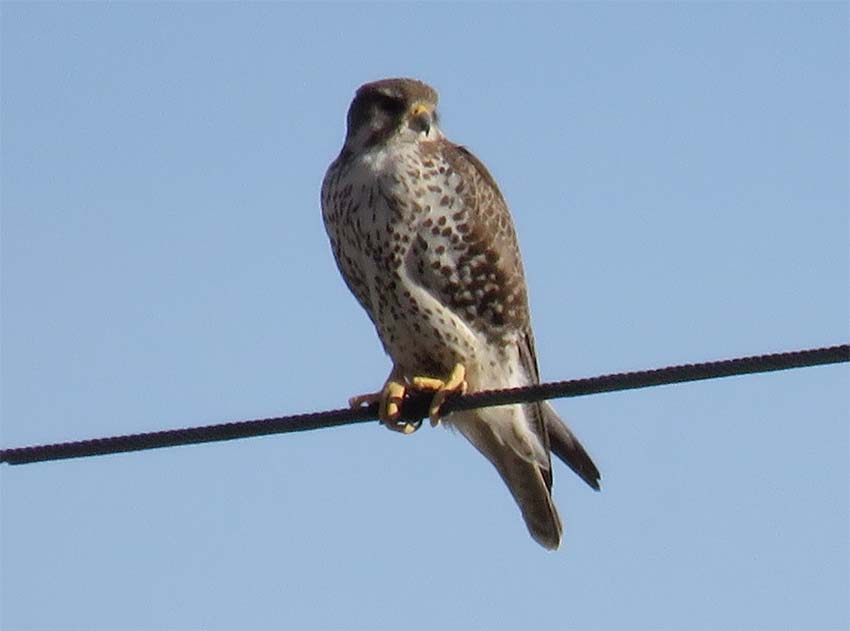 A Prairie Falcon was in the San Simon Valley on the day we headed over to Portal, AZ. On the drive in from Tucson, we had seen two Harris Hawks also. A flying flock of White-faced Ibis was visible from I-10 on the return trip.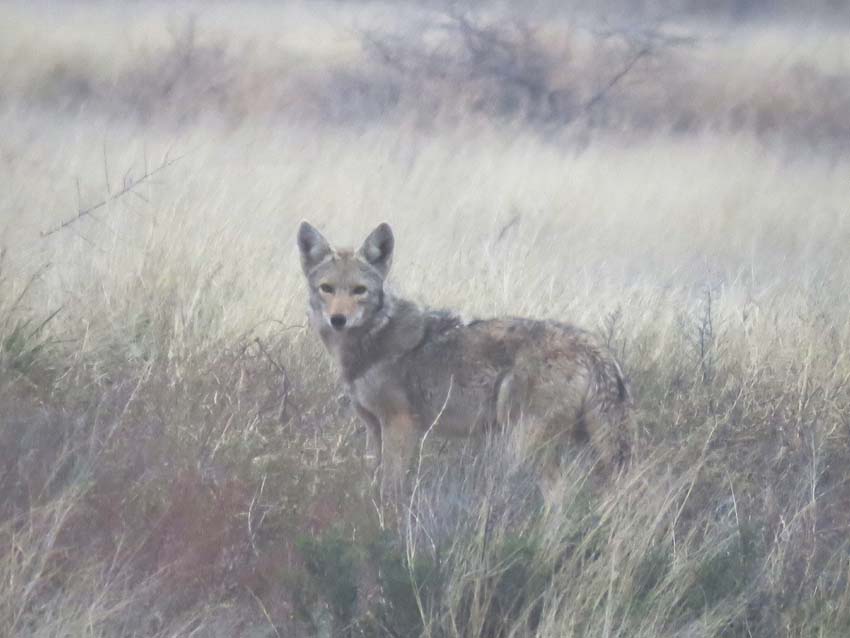 On the way out this Coyote does what every Coyote I've seen from the road do, she high-tailed it away fast, then curiosity took over and she turned back for a look.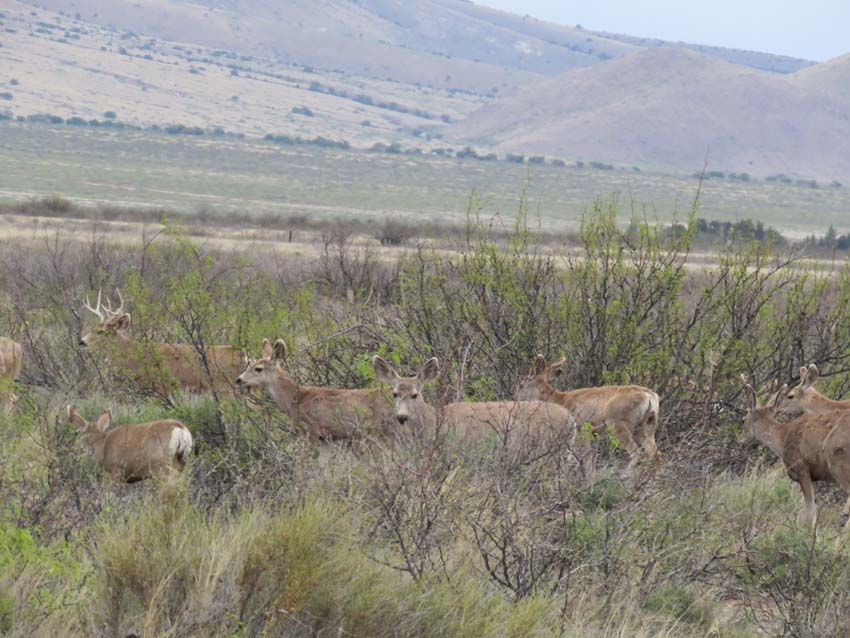 Similar deal with these Mule Deer down in the San Simon Valley. This was only half the group which included more bucks and more does.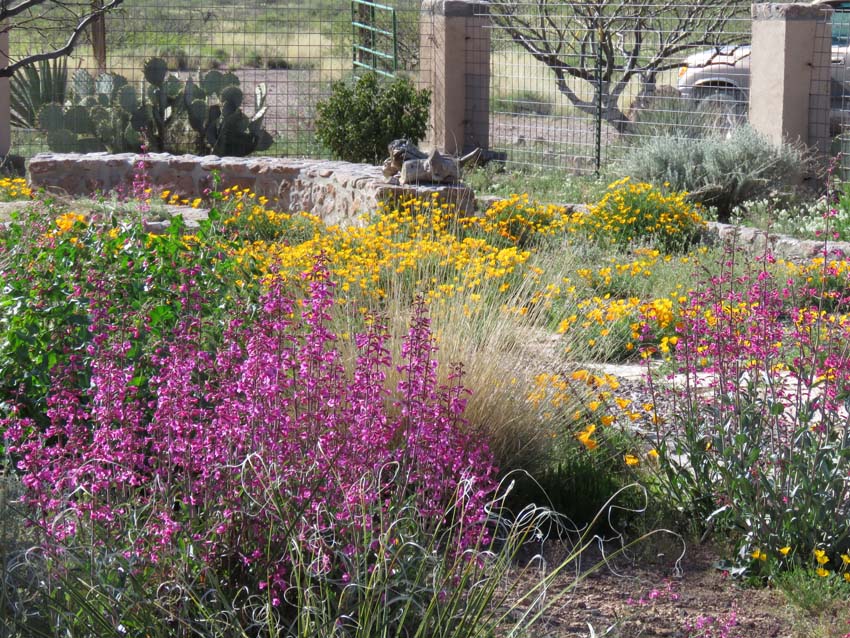 We visited our friends Greg and Julie. Greg is a landscape architect, these shots don't even do the yard justice and he uses penstemon to attract seemingly as many hummingbirds as most people manage to get with sugar water. (I've always wondered if sugar water is good for hummingbirds. I don't suppose wildlife biology is advanced enough to really answer that question.)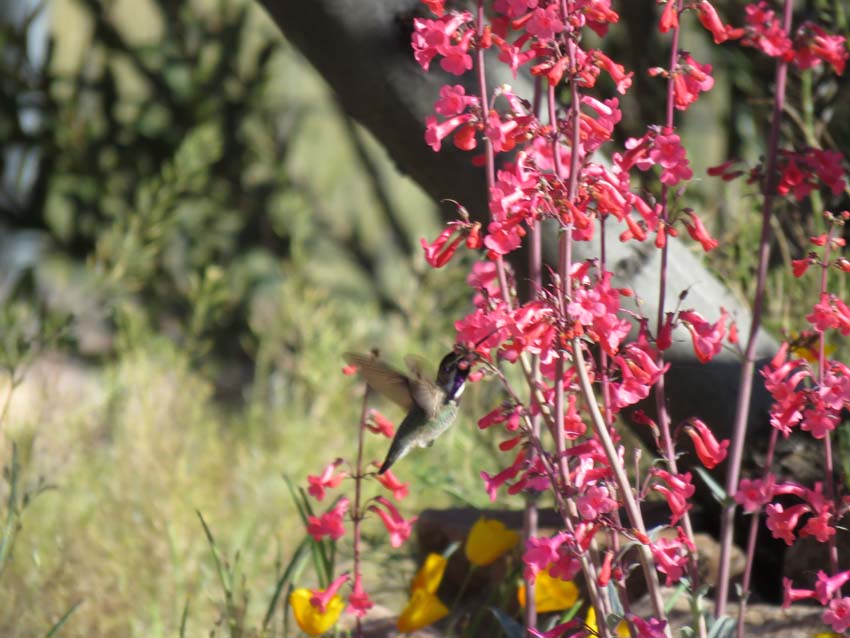 Here is a Costa's Hummingbird in Greg and Julie's yard.  I didn't get any shots of Costa's where the sun's light did them justice, but they are quite dazzling with the longest gorget of any US hummer which you can see here.  This was for all intents and purposes a life bird for me and definitely was for Delia. (I saw one years ago in CA but the memory is long gone.)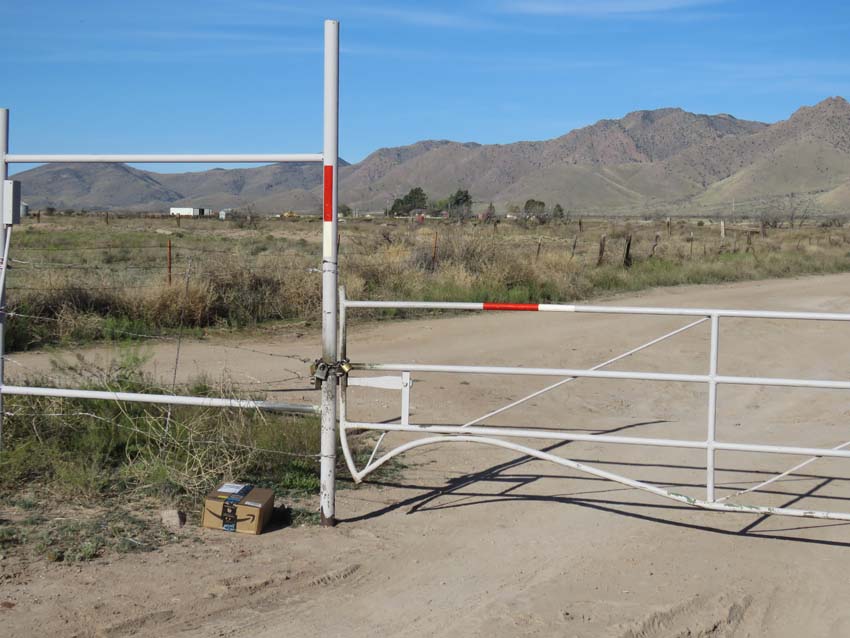 Here's one thing we learned from the trip: Amazon is everywhere. However, this package was misdelivered and we took it to a road a mile closer to town on the other side of Route 80.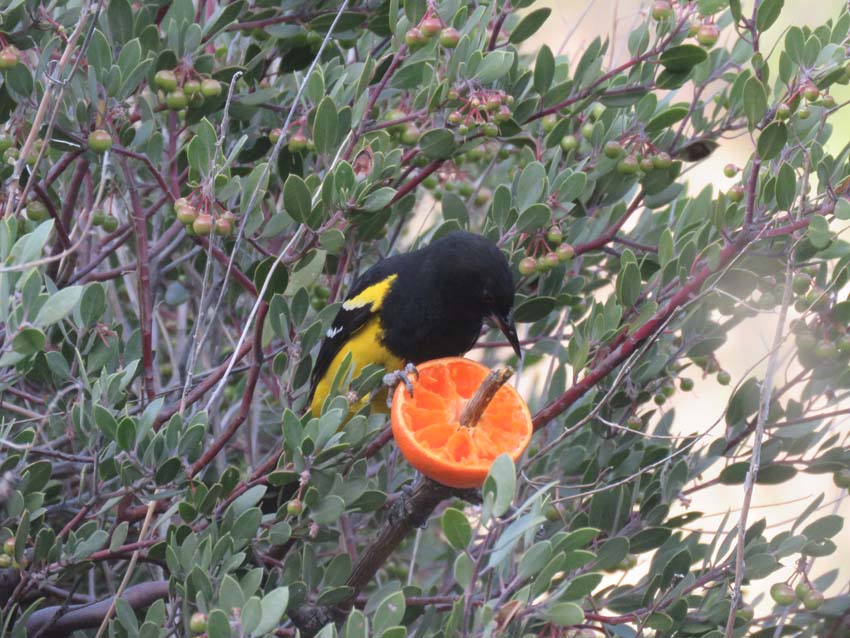 We bought some clementines to eat but once we realized how much the Orioles at the ranch would appreciate them, we put a stop to that. This is a Scott's Oriole. The male Hooded Oriole showed up early and waited for about 10 days before being joined by a delightful young female. (Yes, young. Remember, I'm almost 68.)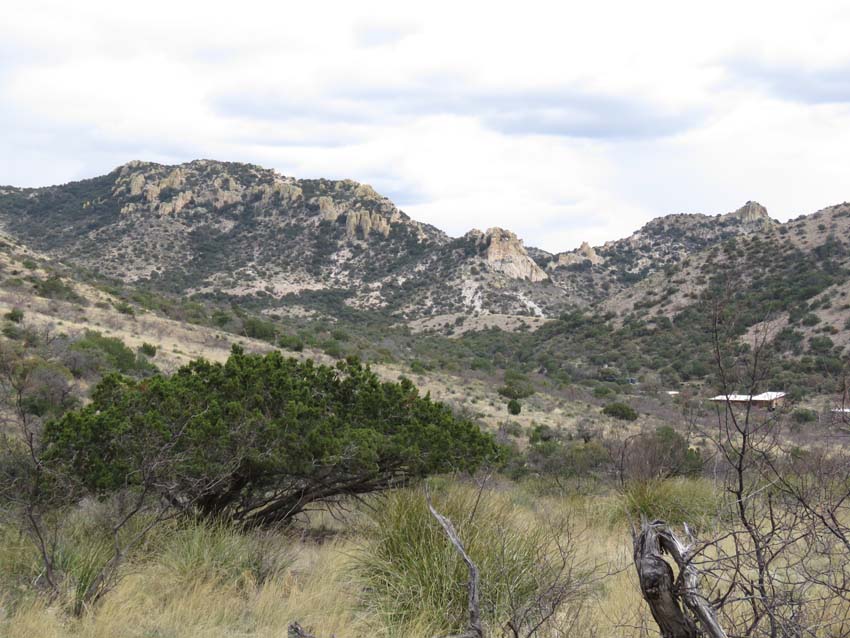 We walked up Beehive Canyon a bit and took a shot of the White Cliffs from there. That's the house at right.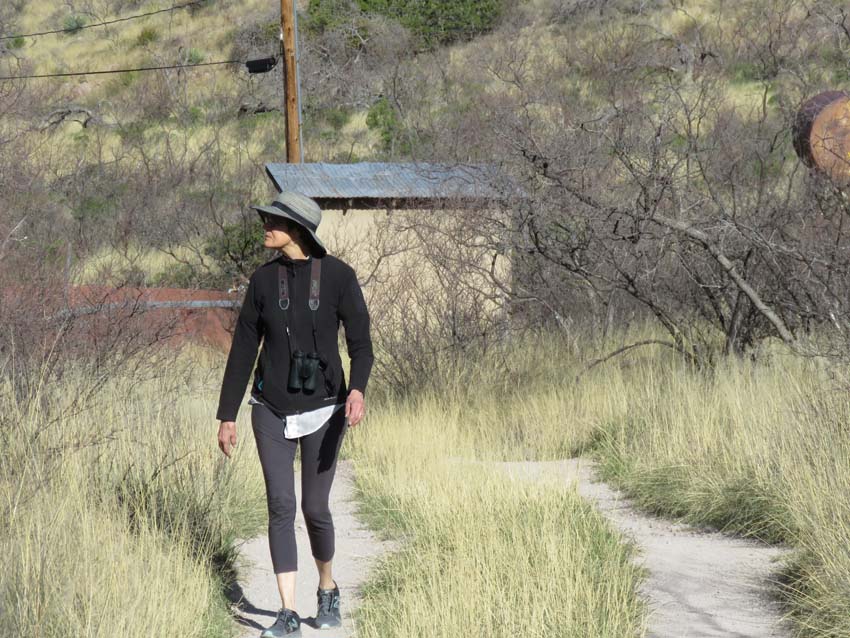 That's Delia is coming back from the pumphouse.
Back in Seattle a woman was pushing something on the swing set at Seward Park.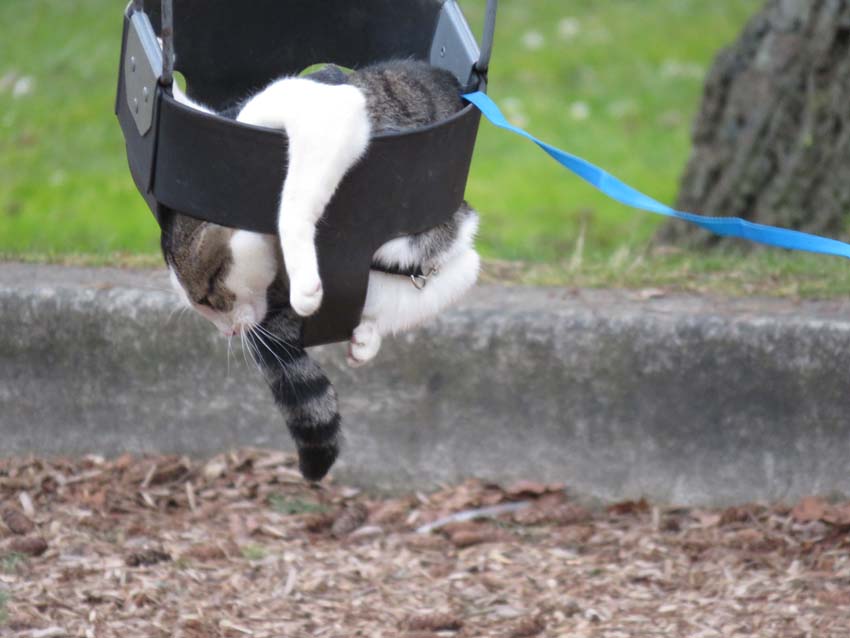 She said her cat was afraid to go outdoors, so she took it on walks. The cat seemed ok with it with the swing-set thing. We didn't tell her to be thrilled to have a cat that doesn't even want to go outdoors, that way you don't have to worry if it is helping to drive birds extinct. Birds are safe when cats stay on the swing sets and sliding boards.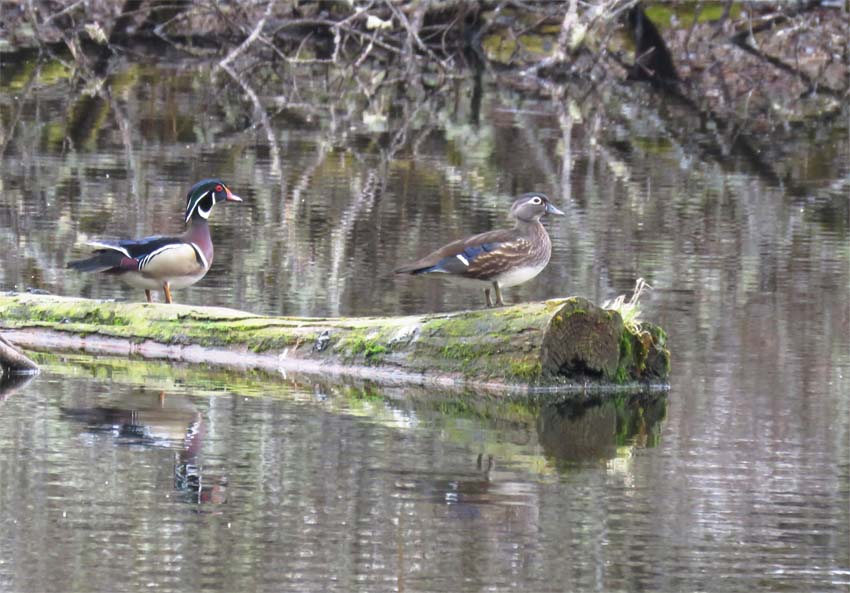 Over at Marymoor Park we found this Wood Duck couple by the boat house on the west side of the slough. Shots like this are a dime a dozen. I recently saw four Wood Ducks, mixed gender, in fast flight in front of a forest and as I never can, I couldn't get the shot. Wood Ducks in flight are so far past gorgeous it's not even funny.
Sorry Comments are closed. I welcome email feedback at ednewbold1@yahoo.com