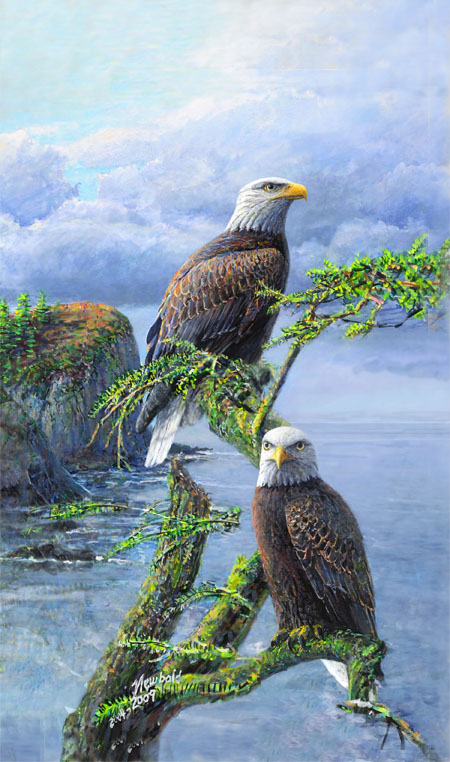 12 Aug

Bird Trail Map cover art done in gouache and clone-stamp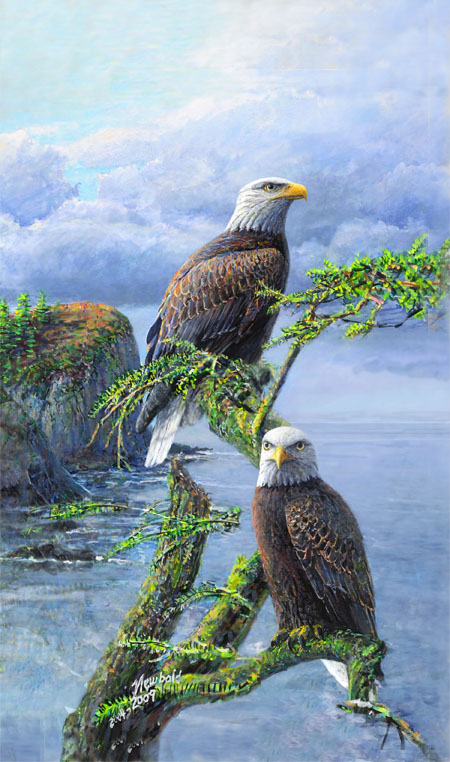 posted August 11, 2011
The painting that will be on the cover of the 7th and last Birding Trail Map, featuring two Eagles on a snag at Cape Flattery, doesn't exist.
Well, it sort of does.  Ed Newbold began an Eagle/Flattery painting in the middle oughts and has been kicking it around ever since.  He was bothered by the composition and the "lines" in the painting, some of which headed directly out of the painting, an artistic no-no.
But Trail Map Project Director CHRISTI NORMAN picked it out of the lineup at ednewbold.com and envisioned a new composition for it.  The whole left 2/3 of the painting would be cut out and the one of the Eagles needed to move to a different branch.
All this Ed accomplished in Photoshop–using the lasso tool to copy and paste and most especially the Clone-stamp tool for routine "painting."
Whatever one thinks of the final, it now has a clear S-curve and the lines are balanced.  While one Eagle, the larger female is looking out of the painting, the male is looking directly at the viewer and lines running through the two birds make a perfect S.  Ed is thrilled, finally, and owes a debt of gratitude not only to Norman but also Photoshop.

Ed enjoys one thing about painting on the computer–the paint doesn't drip and the paint doesn't "wick," a huge problem with gouache.  It's not unusual to return from having painted a crisp straight black line in gouache to see that the paint has wicked it's way into a wiggly river pattern.
But Ed much prefers the "athleticism" of painting to standing in front of a computer all day.  Now that Delia has Ed wearing a pedometer, he noticed that after painting all day on the computer, he only had 1500 steps.  On a normal day painting, he'd have 7000 by quitting time.
Below is the actual gouache painting  as it looked in October 2008 and similar to what it looks like today.