14 Mar

Bottle Beach Bottleneck Breaks

Posted March 13, 2014 from Seattle WA

I rushed to get the painting Bottle Beach ready for last year's Shorebird Festival in Hoquiam.  I published a few copies of the early version and they were on sale at the Festival and at the store, but  I removed them from soon after and have been working on it pretty hard off and on all year.  But in January, I nearly gave up.  Bottleneck at Bottle Beach.  This is what the painting looked like then:

 

When I spent a lot of time looking at it it bothered me because of the composition.  It had great compositional motion from the big Black-bellied Plover down through the Ruddy Turnstone and the first group, but the group on the left seemed jarringly unbalanced compared to the group on the left, and for a while I began to think the only way to solve it was to continue the painting on two more panels to the left, which would have been a lot of work.

Today when I was working on it I had what I thought was a breakthrough.  I added the Western Sandpiper connecting the two groups so that there could be a sweeping motion—and a sweeping s-curve—through the entire painting.   Here's what it looks like now.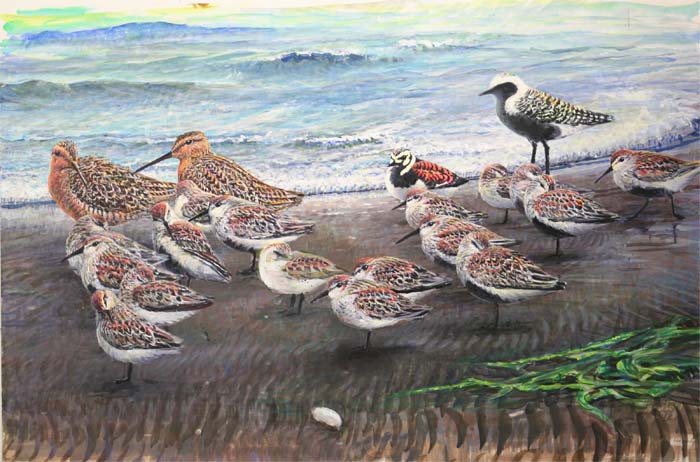 I obviously have to do more work, especially on the new bird.  But I think I'll blast along now as fast as I can and try to get this out at the store as soon as I can, maybe in a month or so.
By the way everybody:  Don't miss the Shorebird Festival in Hoquiam, WA this spring.  It's coming up soon Here's the link:
http://www.shorebirdfestival.com/