06 Jun

Bottle Beach makeover; Kelp grows in an Orcas ptg

Posted from Seattle, WA June 5, 2013

The Bottle Beach painting that I force-marched into production for the Shorebird Festival is back on the easel (see last blog.)  The two big Sandpipers in the left center have left for Copper River, leaving more of an open feeling in the painting.  I am trying to concentrate hard on the details of each bird and putting lots of layers on them in the hope of achieving realism.  I'm looking for an overall misty look.  I don't see this as ever being a big seller, but it's important to me to have a painting of the Grays Harbor Shorebird migration.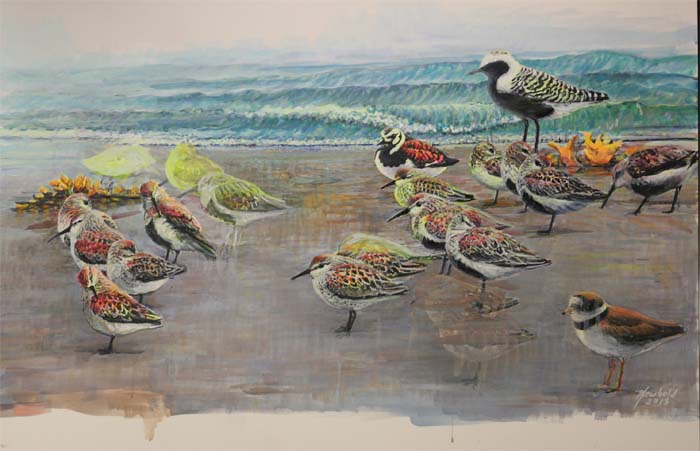 I think I'm done adding a San Juans, Cypress Island background to this flying Bald Eagle painting, which has been on the booth for a couple years now with a blue sky background.  It's always been a mystery to me whether I can paint flying birds, and although this sounds disrespectful, I even wonder if the great ones could do it.  There is a famous Liljeford painting (Liljeford (sp) of Sweden, long deceased, was one of the all-time great wildlife artists) of a Golden Eagle in flight overtaking a Hare and I may be the only one, but it doesn't work for me.  Paint is so static, bird flight is so opposite of static.  But with this Eagle painting of mine, I'm not aiming for the stratosphere, I'm just hoping some 12 x 16 prints will move out of the store now and then, and even that's not a given.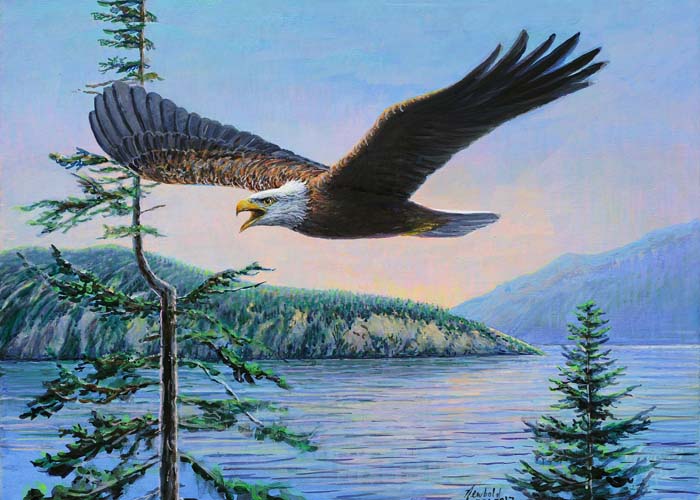 I also got the Orcas skinny painting back up on the easel in May.  I added kelp, making this skinny more like my old limited edition painting "Midsummer Orcas," which I originally painted after seeing and falling for a Mark Hobson painting of a single Orca, a Harbor Seal, and lots of kelp in British Columbia.

I've also been working on this Cliff Swallow painting lately.  It may appear in a Seattle Times ad soon, and after that, maybe a Swallow poster.  It's in flight but it's just a basic simple portrait and it doesn't bother me.