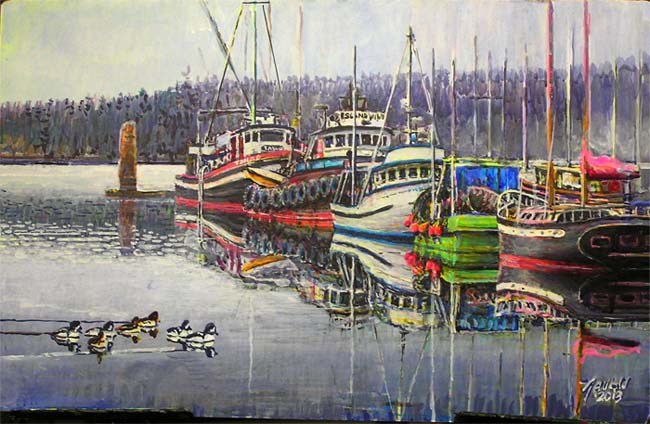 18 Jan

Breakthrough on Last Tango in Poulsbo

Posted from Seattle Jan.17, 2013

I started a painting last year of boats in the Poulsbo Marina and I thought it might turn into a really good painting.  I made a movie about it but ended up just saying that I hadn't maybe finished it but had arrived at an "intermediate endpoint."  That's a phrase my wife likes.  This is what it looked like at that point: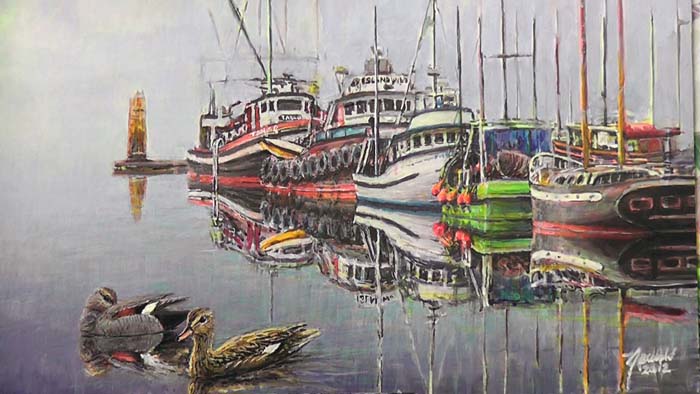 Then we took a trip out to Port Angeles last weekend and revisited Poulsbo on the way over.  It was a much more evocative day than the day I took my original ref shots, foggy and cloudy, and much more birdy.  There was a Kingfisher, some Horned Grebes, Wigeon and a lot of Barrow's Goldeneye in the Marina, plus other species in the Bay.  Also, no Gadwall anywhere to be seen.  Nor was the Tango in evidence.  I presume the Tango is off fishing.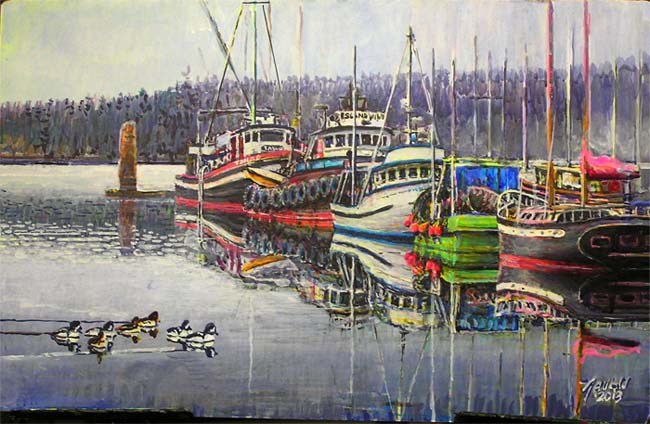 Here's the new version.  First thing I did was paint out the Gadwall pair.  To be honest, they never worked.  Nor did the background or the water.  I took the new ref shots as a guide and painted in the hill on the opposite side of the Bay, and the reflection of it in the still water inside the Marina.  This feels like a big breakthrough to me.  Now I'm in a hurry to get it finished, make it for sale at the store and sometime later this year, offset litho it as a notecard and a larger print.   Btw, the ducks, which I'll work on a bit more, are intended to be male and female Barrow's Goldeneye.