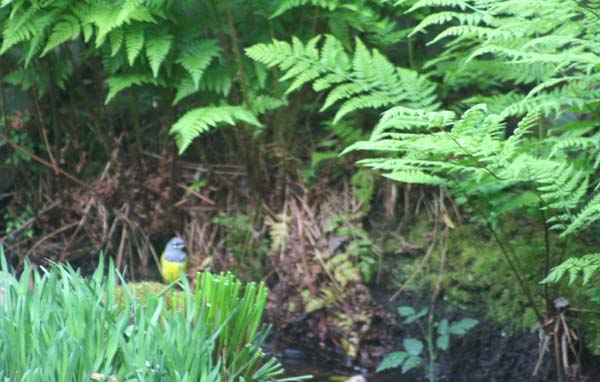 25 May

Bright shots from a gloomy spring

Posted May 25, 2011 updated May 26 with Lazuli Bunting, et al sightings

It's a paradox of photography and Photoshop software that a gloomy spring can result in some very bright shots.  Delia and I have been birding around Washington state lately and we've had to retreat at times to the car or the house to get warm.  We've felt sorry for depressed swallows lined up on branches that weren't chirping like they would have been if they'd been happy.  But… some of the shots haven't been too bad!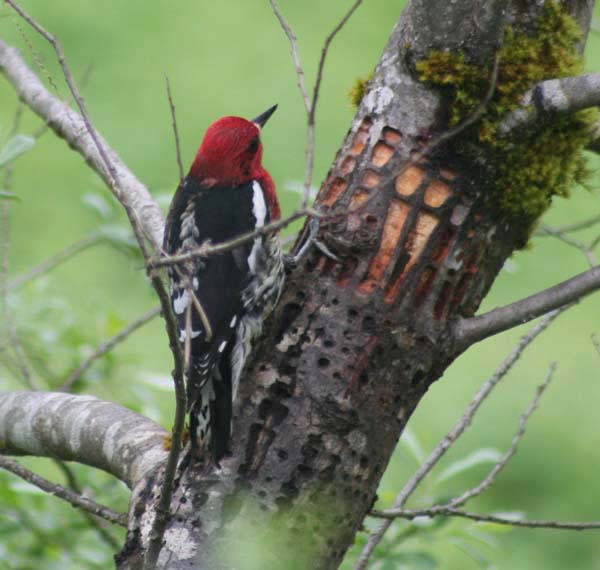 This Red-breasted Sapsucker at Three Forks near North Bend not only was photogenic, but he or she made sure the branch it was on was too.  Is this tool-use?  The Sapsucker cuts holes in the bark and thus uses the tree to catch insects.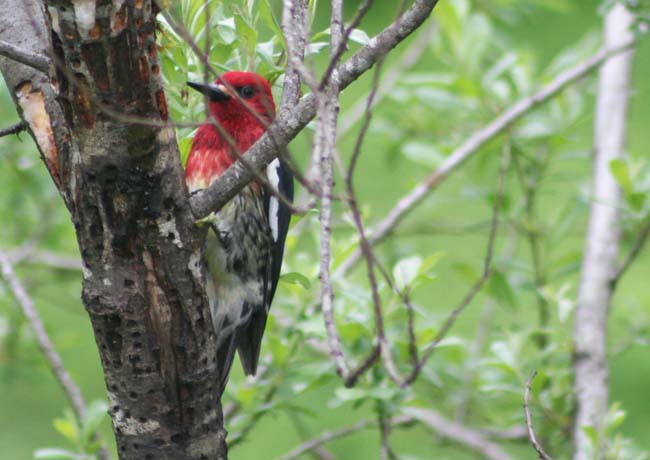 Look at the yellow in the belly, reminiscent of it's cousin the Yellow-bellied Sapsucker.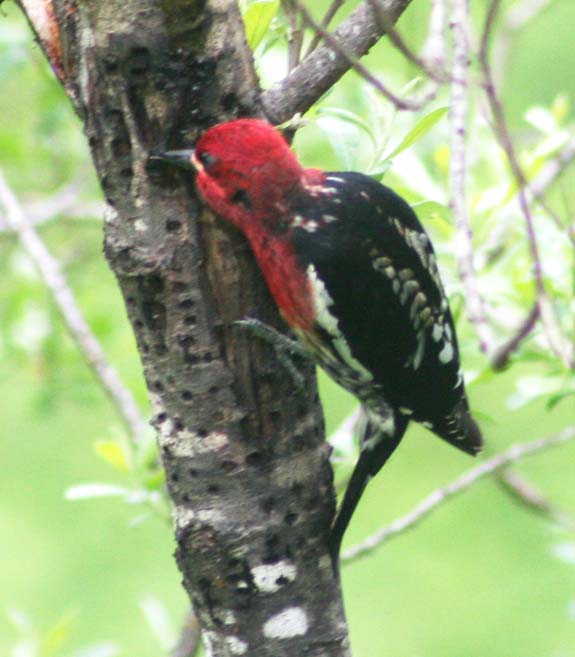 They are beautiful.  But they don't look realistic.  This can be a problem for a painter.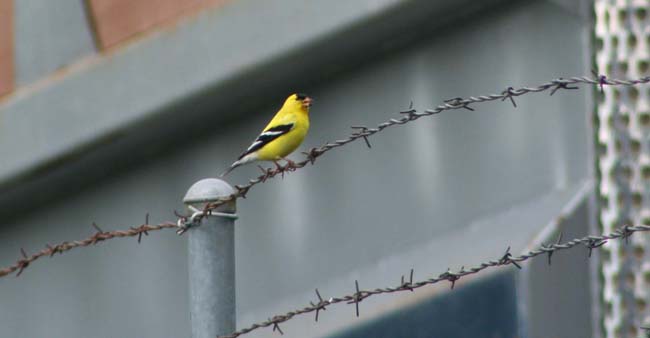 Speaking of bright, our state bird , an American Goldfinch, near Snoqualmie.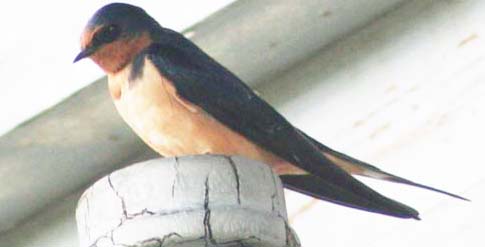 And a Barn Swallow in the same place.  Barn Swallows don't nest in "nature" anymore,  they prefer  things that humans have built.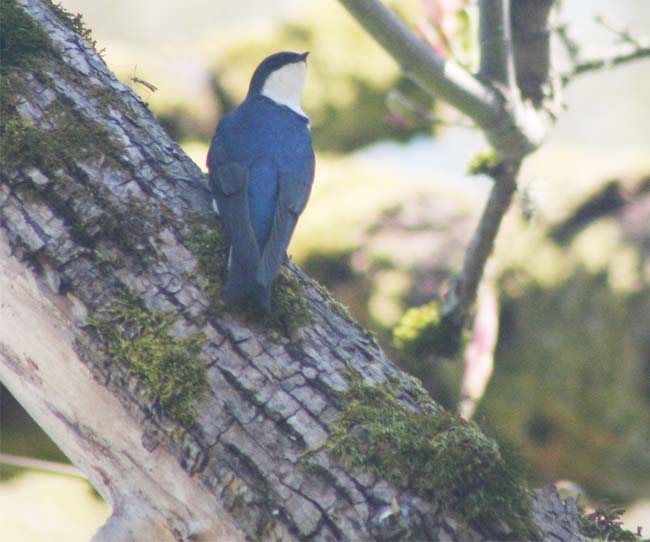 The quality of the light matters, especially with blue birds.  This Tree Swallow at the Nisqually lives up to it's name, but also shows it could have been called the Blue Swallow.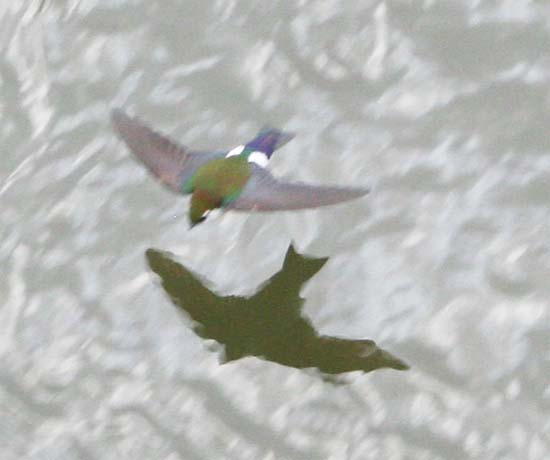 This shot is not near as good as the Marv Breece shot on this website (Helping Swallows), but shows the violet in the trailing part of the wings and the tail.  This bird is flying over the Wenatchee River.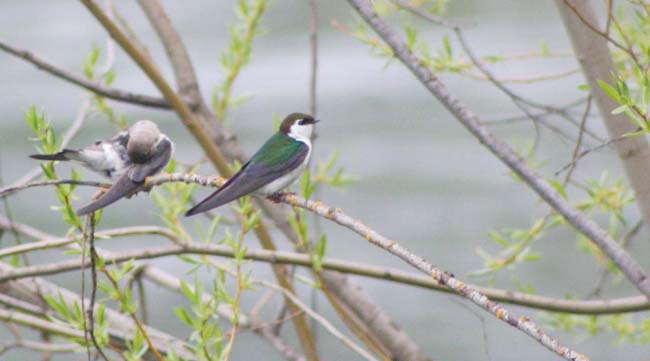 And this shot shows the green pretty well on the male Violet-green.  At Leavenworth, WA.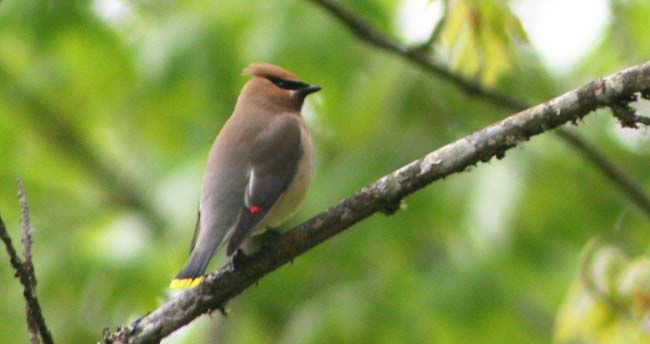 The Cedar Waxwings finally came north around the early May 20s.  This is at Three Forks near North Bend.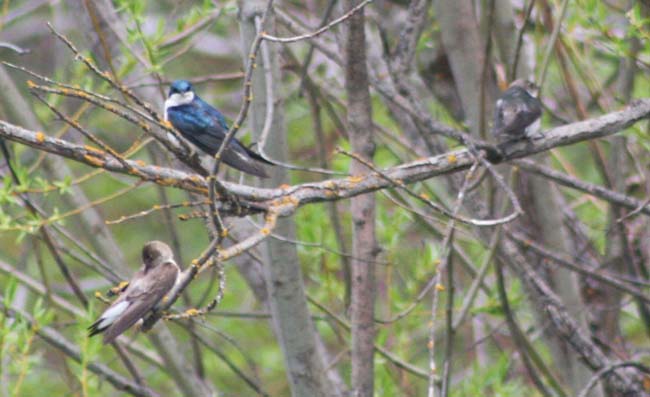 This is the first time I ever got a half-decent shot of three species of swallows together.  A Rough-winged, Tree and Violet-green Swallow at Leavenworth.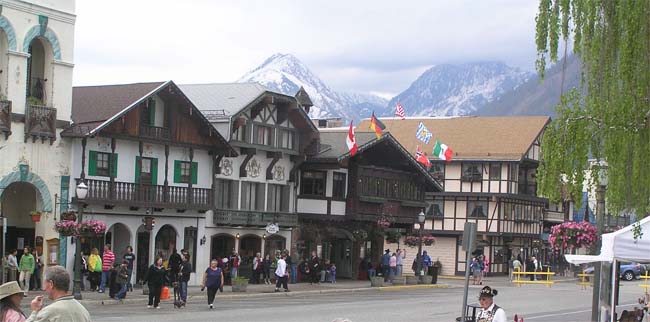 The Leavenworth Bird Fest was fun, although somewhat weather –damaged.  It was thrilling to see all the birds around Leavenworth and a few of the natural areas.  The town looks Bavarian, has anyone noticed that?  (Just kidding, I've never been to Bavaria.)  With better weather, it would have been a total blast.  Mark your calendars for next year!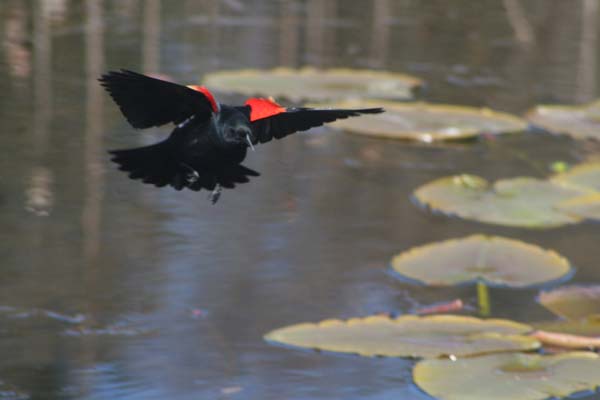 A Red-winged Blackbird in a full stall at McClain Wildife Area near Olympia.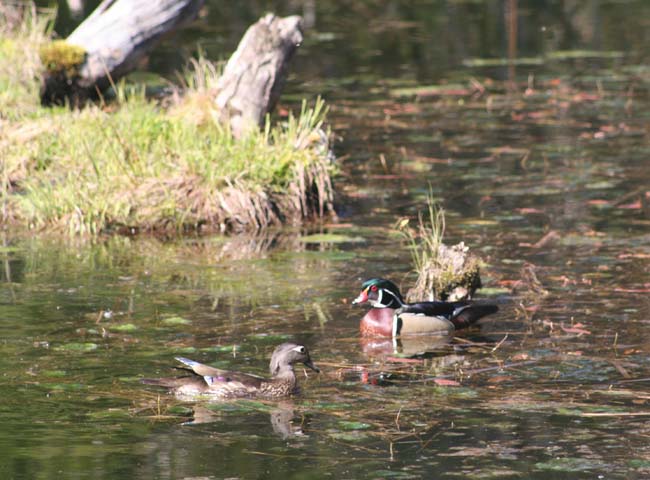 That was also where this pair of Wood Ducks were nearly blinded by sunshine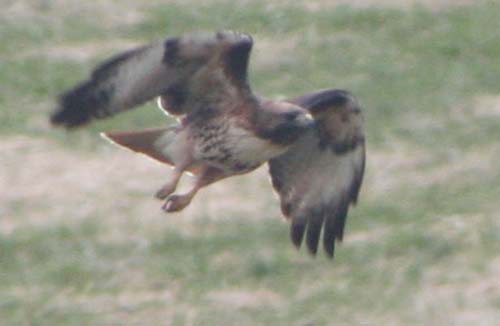 A Red-tail saw something that interested her very much around Ellensburg.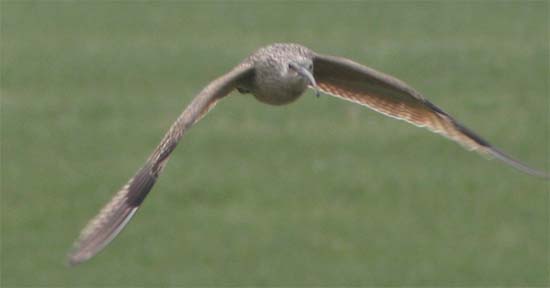 And this Long-billed Curlew answered the question," Why did the Curlew cross the road?" It's mate was on the other side in a field near the mouth of Robinson Canyon.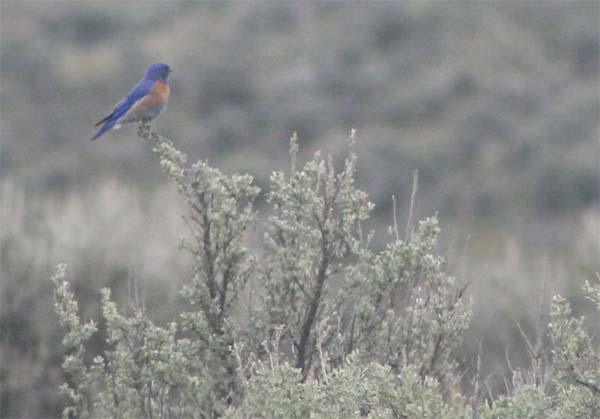 I'll end the post with this handsome (trust me) Western Bluebird that looked away from the camera on a sagebrush bush near Umptanum Canyon.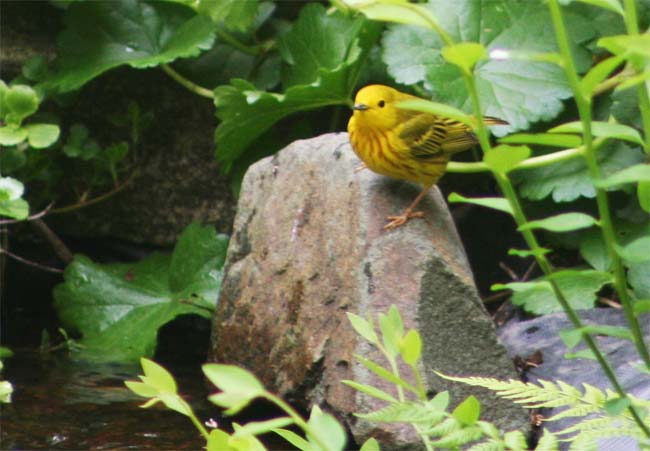 A male Yellow Warbler at Butyl Creek.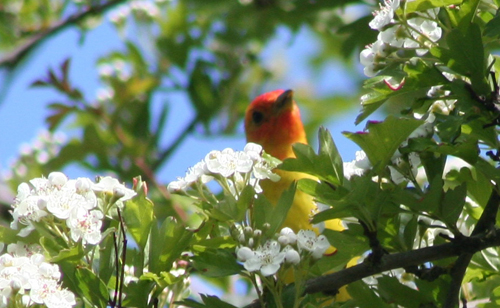 A male Western Tanager peeks over flowers on a Hawthorne tree above the creek.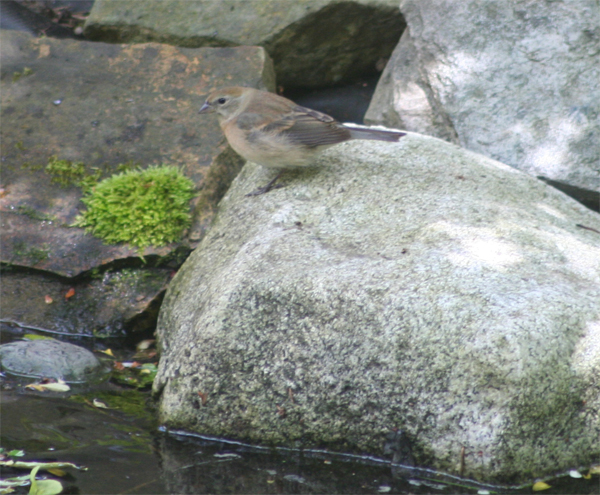 Our first ever Lazuli Bunting at Butyl Creek on May 26, a female.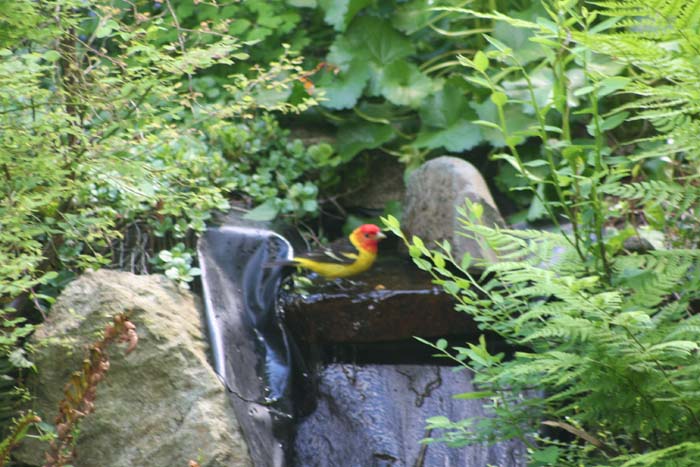 May 28, Delia took this shot of a Western Tanager bathing today.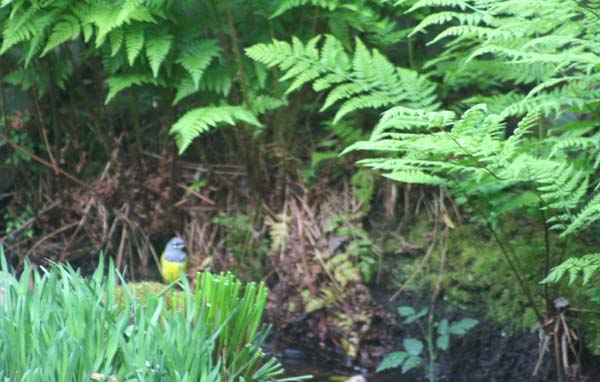 This male MacGillivray's Warbler that took three baths today was the first for the year at Butyl Creek.  (We never know if there are three Warblers or one Warbler bathing three times, but each one had this crisp bright look and the baths were spaced so we're guessing one.)