31 Mar

Butyl Creek draws first-ever vagrant: Indigo Bunting

March 30, 2011 updated March 31, 2011

This morning it was so windy and upleasant, I forgot to turn on Butyl Creek, our 8 ft. backyard artificial creek that Delia named for the Butyl it's made out of.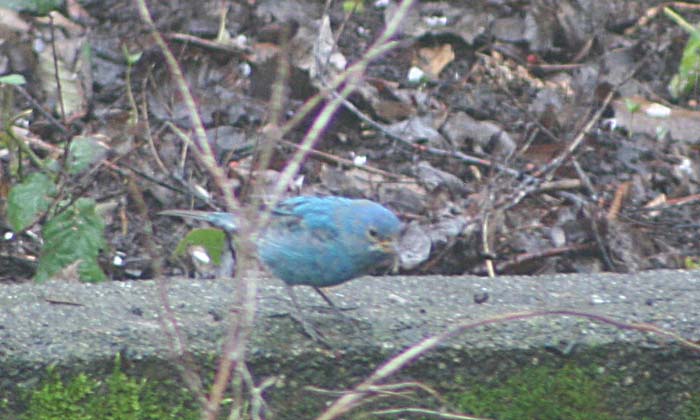 I didn't even look in the backyard till 3:15 when I noticed some action back there.  A couple Fox Sparrows and Robins were bathing in the still water at the collection pond.  Then I saw a blue bird flitting around in the brush and it came out as if to look for the creek.  I took some terribly lousy shots through glass and the one above is the only one that wasn't completely out of focus.  It decided to go bathe in standing water near the creek but behind twigs.
The bird appears to be a first-year male Indigo Bunting.  The ID will be getting a passive expert review insofar as this blog has been posted  Washington's birdline, Tweeters and if I goofed or overinterpreted the data, I will hear about it.
Under the right conditions the Indigo Bunting is a bird that can be so beautiful as to unnerve a person.  My (paternal) Grandmother always promoted this bird to me and kept encouraging me to look for it.  One late afternoon in PA in 1963 I looked out over a field and my eyes came to rest on something blue.  I ran for the binoculars and was thrilled to see such an electric-blue bird sitting contentedly on a Multiflora bush.  And I was delighted to be able to report later to my Grandmom that I had indeed seen an Indigo Bunting.
Indigo Buntings aren't regular breeders in WA (that I know of) but as there are breeding populations in New Mexico and Arizona, they do show up now and then.  One spent last summer at Stillwater in the Snoqualmie Valley.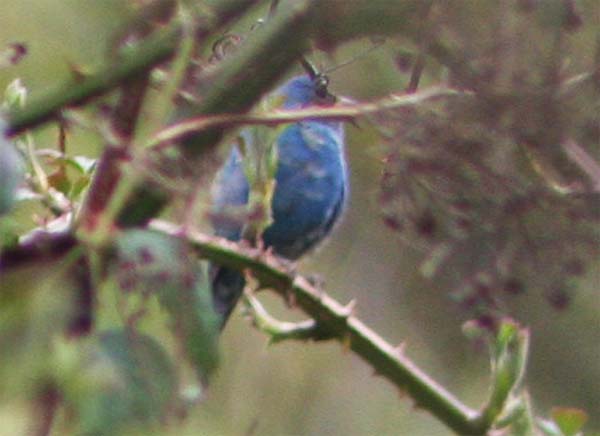 Today March 31, Thursday Curt & Bobby Pearson came over and found the bird again.  Thanks to them, I'm 100% sure I would have missed it because it was high in vegetation and didn't come down to bathe–at least not yet, it hasn't been 24 hours!  This photo is poor also, but shows the build and color better.