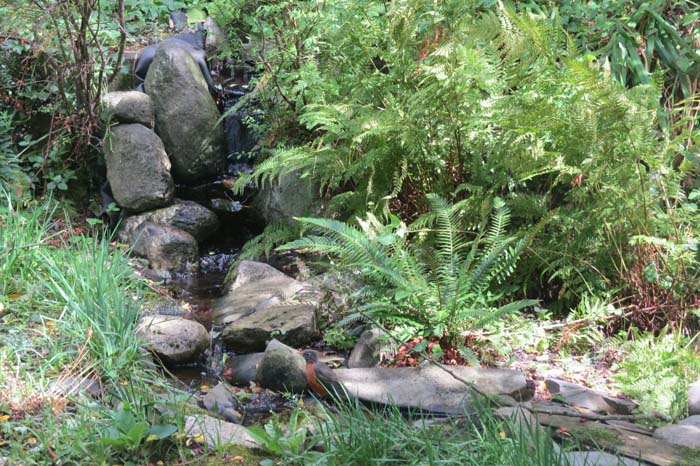 02 Sep

Butyl Creek gains Wild & Scenic status; Mouth of the Cedar shots

Posted September 2, 2015 from Seattle, WA; updated Oct. 5, 2015

The big news from Butyl Creek is that Delia and I have designated the entire length of the creek, all the way from Butyl Falls to Pumphouse Lake as a "Wild and Scenic Creek."   No dams and no development for perpetuity, or until somebody turns off the electricity, whichever comes first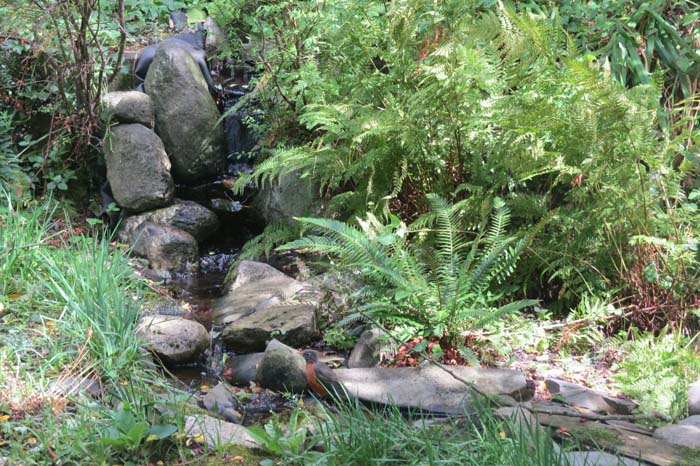 Butyl Creek is the 10-foot long recirculating creek in our backyard.  "Pumphouse Lake" is four ft. x 3 ft.  Although this creek is small, it's important to the birds of our neighborhood.   I just took this shot of Butyl Creek and it happens to show two permanent residents, a Robin and a Song Sparrow, holding court.  About ten to twenty species a day bathe in the creek but it's the Song Sparrows who patrol and "own" the creek—Song Sparrows as a species are very creek-loving.  Although we would no doubt have them in our yard, these birds are clearly ecstatic to have a creek in their territory.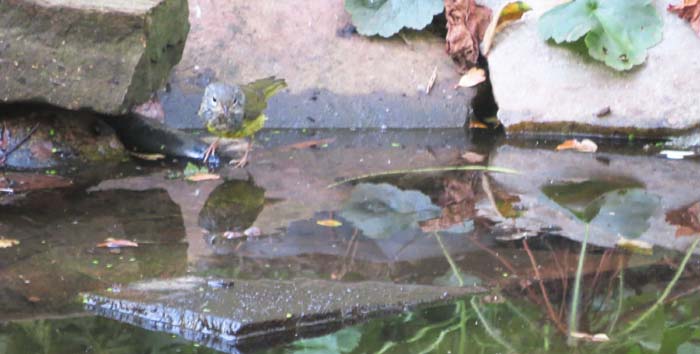 During migration we get visitors on their way to Central America.  This female MacGillivray's Warbler was by in August.  Other neotropics that have visited already this fall migration season include Yellow, Wilson's, Black-throated Gray and Orange-crowned Warbler plus Swainson's Thrush, Warbling Vireo and Willow Flycatcher, as well as the next two: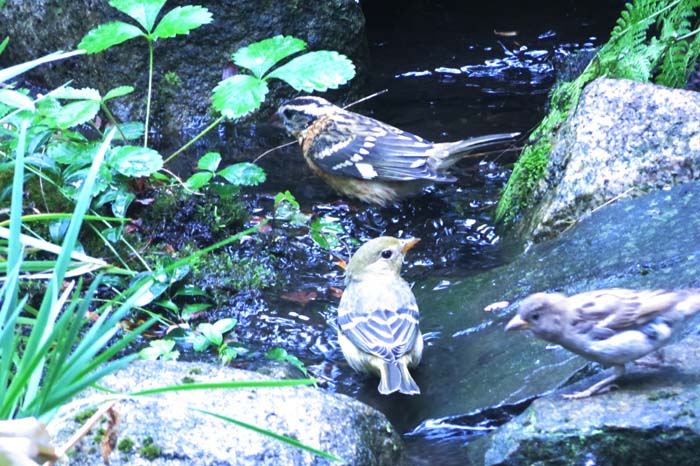 I had my camera on a weird setting for this shot of a Black-headed Grosbeak and a Western Tanager bathing, with a female House Sparrow on deck.  The Tanagers have been by on a number of occasions.  Because of the weird setting the shot is washed out, sorry about that.
Here's a male Flicker taking a bath from a week ago.   Today in the way of migrants we've already  had Yellow Warber and Orange-crowned Warbler, and we'll be watching for more.   A Brown Creeper and a Red-breasted Nuthatch came by on 27 August, both seemingly very excited to bathe but very skittish about being away from the big trees.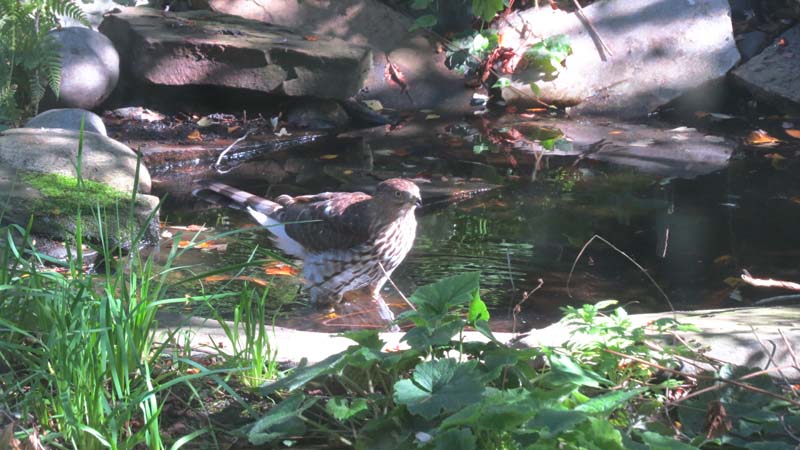 On October 3 this Cooper's Hawk spent about 20 minutes on Butyl Creek.  Here she's about to take a bath in Pumphouse Lake.  She later walked up the creek toward the waterfall as if to inspect it.  She is a young-of-the-year bird.
The Cedar River is not a mighty river compared to many others, but it sure has Butyl Creek beat, and a longer species list.  This male Osprey was resting on a sandbar at the mouth of the Cedar River.  I had never seen an Osprey looking so long and sleek.
Speaking of long and sleek, here are two Caspian Terns.  I nominate Caspian Terns as among the most under-appreciated glamour birds in Washington state.  They look good just sitting around, and in flight they define elegance.  That's a young Ring-billed Gull asleep.
This Sora was right near the mouth of the river.  The  Mouth of the Cedar is a friendly place with exercisers, dog-walkers and birders and we were alerted to this bird's presence by other birders.   My camera was on that wrong setting, but the shot is still the best, if not the only shot of a Sora I've ever gotten.
Killdeer aren't exactly rare, and they can be more striking than in this shot, but how about this one at the Mouth of the Cedar?
I don't know if there are more Semipalmated Sandpipers (Mouth of the Cedar) than there used to be in Washington state or if they just stand out more since there are fewer of the Western Sandpipers and Least Sandpipers that they used to blend in with.  Note the short straight bill.   This was abundant on the Jersey shore when I was a kid—and one was clocked going from New York to Guayana in four days.
I got this relatively decent shot of a Wilson's Snipe at the Mouth of the Cedar but two Green Herons got away, no doubt gleeful about not appearing on this blog post.  It's not the first time Green Herons have gotten the best of me, photographically speaking.
(sorry comments are turned off because of spam.  I would love to post your comment, but unfortunately I must ask you to alert me that you have made one.  Email me at ednewbold1@yahoo.com and I will turn on your comment immediately.)