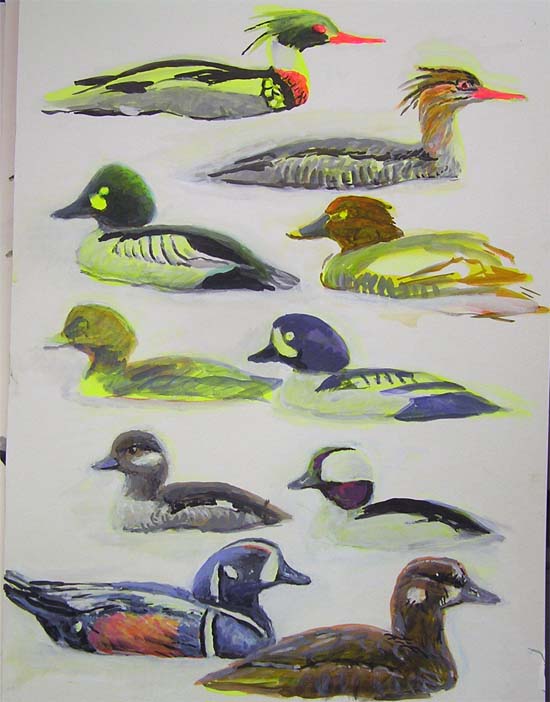 29 Nov

Full speed ahead on Seabird Poster!!!

Posted Nov. 28, 2012 from Seattle, WA

A 14 x 18 poster of Seabirds of the Northwest has been on my mind for years now. Indeed, in 2009 I went to the trouble of making cutouts of Seabirds and posting them to a board for a week so I could get a composition schematic to work from. But now I do more on the computer than I used to so I'm no longer worried about relative sizes of birds and where they are in relationship to each other. I can move them around and make them bigger or smaller on the computer, so who cares?
So I'm just furiously painting paintings of seabirds in clusters now.  Nothing is done.  Advice is welcome.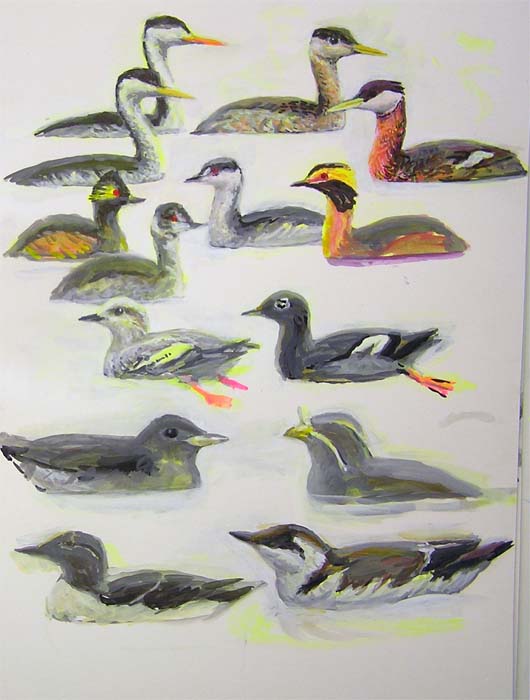 The top shot was all sea-ducks. This one is Grebes and some of the larger Alcids.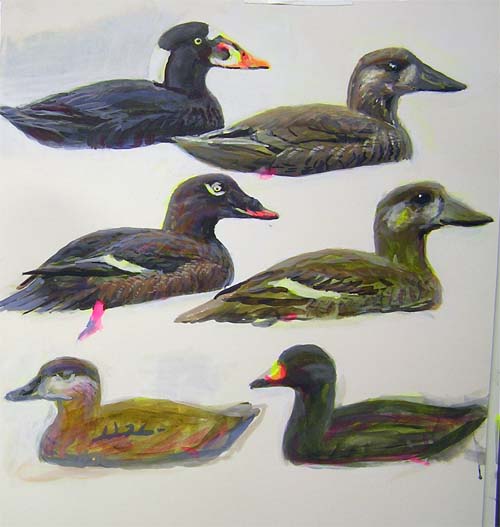 These are the three Scoters. I'm running out of room to make that Surf Scoter's body a bit longer.  Plan ahead, Ed.

And here, below,  are the Loons. I'm leaving out the Arctic Loon, which is too rare in the Northwest, but I still have to paint the Yellow-billed Loons, which are also pretty rare and yet will dominate the board because they are so huge. Maybe I'll note in the text that they are rare. Seabirds is used in an arbitrary and non-scientific way here. I'm leaving out the Gulls, Tubenoses and Terns and Jaegers. It's my poster, I guess. I still have to start quite a few Alcids, some more Ducks and Brant, and most especially I still have the Cormorants to start. In my mind, the poster will live or die with how I do the Cormorants. They are beautiful birds, in the case of the Pelagic even glamorous, but a bit challenging to make that come through in a painting.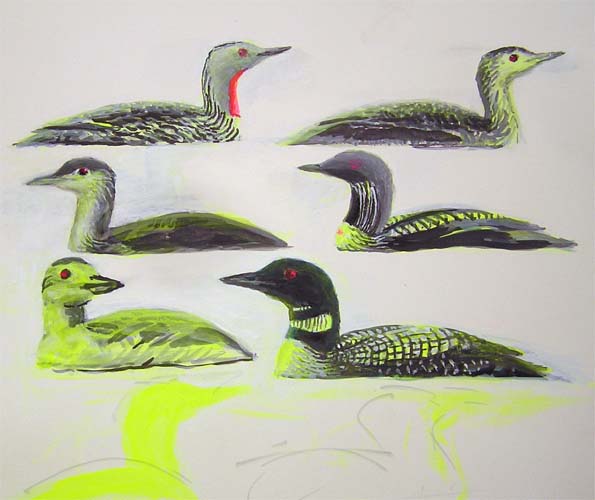 I'll keep posting progress on these component paintings. It's not going to be called "Seabirds of the Salish Sea." I already fell on that sword. I love the term "Salish Sea," but in my opinion it's still a slog selling the Salish-Sea brand and besides, I have a great outlet on the Oregon Coast. If I include Cassin's Auklet, I can title it "Seabirds of the US Northwest & SW Canada."
Projected Finish Date:  March, 2013