28 Apr

See me at the Leavenworth Spring Bird Fest!

posted April 28, 2011 Updated May 11, 2011

Here's an idea:  Visit beautiful Leavenworth, Washington for the Leavenworth Spring Bird Fest on Thursday, Friday, Saturday and Sunday May 12, 13, 14 and 15.  Here is the link:

http://www.leavenworthspringbirdfest.com/ARTS.HTM

As part of the Festival I'll be talking birds and arts with all who stop by in Plain, which is before you get to Leavenworth if you are coming from the West-side, on Friday afternoon.–along with other nature artists.  This event will be at the MOUNTAIN SPRINGS LODGE  http://www.mtsprings.com/

I will have art on hand on Friday and there will also be art by me and other nature artists at the Snow Creek Yoga center all weekend.

I've been working on a new line of 12 x 16 bird prints to debut at Leavenworth.

Some are based on old paintings that I have never stopped working on, others are new.
This is one.  It's a Varied Thrush on a Big-leaf Maple branch.  I've been working on it since 2004 and decided to put a frame on it for Leavenworth.  I can't seem to let go of originals in the last 10 years, not because of conceit but because of feeling they need work.  But this one may be to the point where more would be less, and I really like it. ($1200, and the 12 x 16 print which is new will be $16.)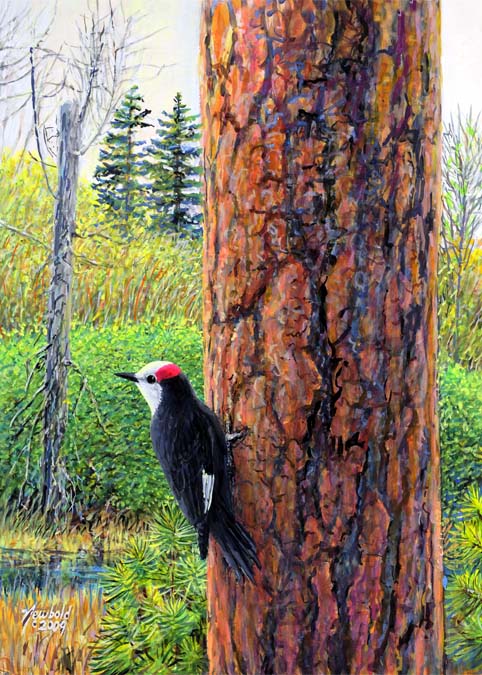 This White-headed Woodpecker painting also has a new 12 x 16 print for Leavenworth and the painting will be in a frame and on sale ($1000).  It's 20 x 26, a bit large for my paintings.  I have to research when I started this, it was before I learned to put the date on the back, so back in the 90's.  It was originally done for the book Important Bird Areas of Washington and then was used on one of the Birding Trail Maps..  I worked hard on it for a few days before calling it done recently.  This Woodpecker is a specialty bird around Leavenworth.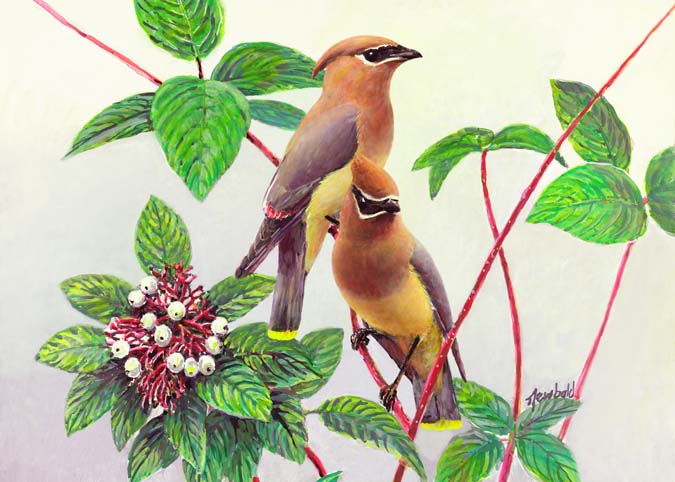 Cedar Waxwings is another 12 x 16 new print for Leavenworth.  Begun 2005, and out for quite a while in 8 x 10, I did a lot of "cleaning up" on the painting so that the artistic vision of the piece, which is meant to be somewhat ethereal as befits this gorgeious bird, comes through in the technique.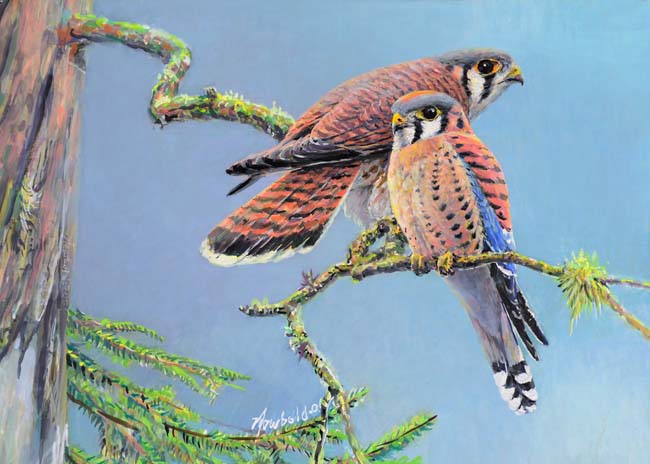 This is American Kestrels, which was begun in the 90s but which I extensively reworked. .  The 12 x 16 print will be one of 8 new prints for Leavenworth, which will have the highest percentage of new prints over total prints of any show I've done in the last of the 300 shows I've done in the last quarter century.  I may be pushing 60, but I'm still…what was that I was saying?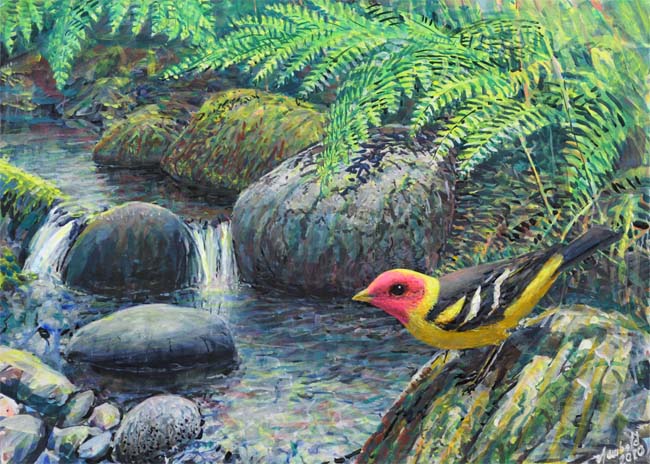 Another new one, a male Western Tanager scoping out a bath.  The idea and photo ref were from Butyl Creek.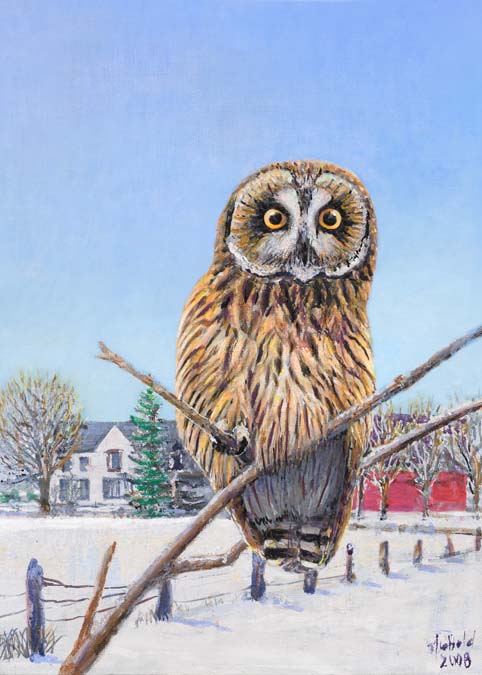 And this is a very old painting on canvas that refuses to accept any more paint–that's a typical problem I have with canvas paintings, I can't work 'em to death, what's that about?  So I had to rework it and clean it up in Photoshop.