21 Sep

I'm in the promised land with Gatorboard (not a paid ad)

Posted Sept. 21, 2012 from Seattle, WA

Maybe about 20 years ago I did a painting on Gatorboard.  I had trouble in one area—probably some animal's head—and there the gatorboard bubbled up.   I told myself: Take Gatorboard off the list of usable substrates.

 

But recently I had to do a painting of Seattle that needed to be five feet wide, the largest my studio will allow me to paint.  I painted Seattle from the Bay on it and now I've started Rainier from Sunrise on Gatorboard.  This is what it looked like only a couple days ago.

 This is Rainier from Sunrise now.  Not only is Gatorboard fast—fast isn't a primary goal for me—but the paint does what you want and it doesn't wick around to the point where you come back to the painting only to see that your last paint-mark has moved to a new zip code.   It also holds it's form.  I'm in a state of euphoria about it, because I've spent a lot of time with illustration board and canvas (30 years) but have never bonded with either.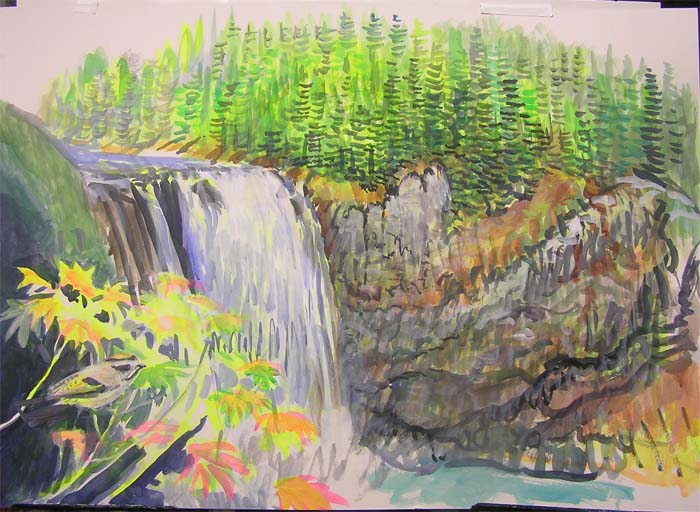 Now here are two other paintings I've been working on that are on my old default substrate, illustration board.  Snoqualmie Falls here will need a lot of work, and it's clear to me that the painting is going to fight back, and I may have to start over on the Golden-crowned Kinglet.   Still, I'm thrilled to have a start on this, which got inspired by the Gift Show when the nice people from the Lodge scolded me for not having a Snofalls painting: "Do you realize it's the number 2 tourist destination in Washington after the Pike Place Market?"  Strangely, it had never occurred to me.   But after that Delia and I went up there a couple of times—it can be a misery trying to get even a half-decent photo of it especially if you don't have a fisheye lense, and it's not a great bird spot, but it is very impressive and I'm thrilled that maybe I'll address this gaping hole in my print and poster lineup.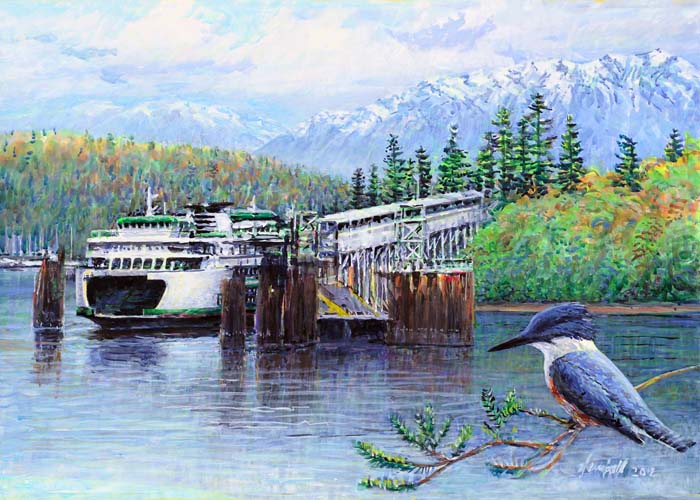 This painting of Winslow works for me.  Whether buyers will care for it, we'll see.  It's a romantization of Winslow because although there have often been Kingfishers in the bay when I've been there, there are no branches where the bird is sitting and probably more buildings, although I've never gotten a shot of the dock with the ferry there because I've always been on the ferry.