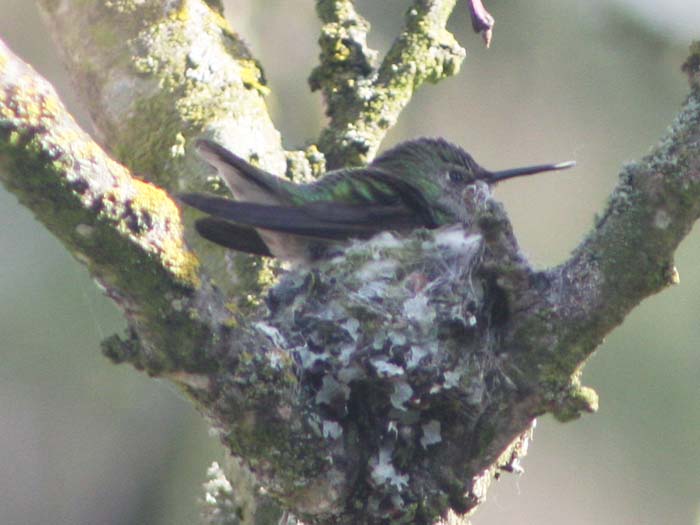 29 Feb

Is Ma Hummer's nest doomed?

Posted Feb. 29, 2012 from Seattle

An Anna's Hummingbird is nesting in our backyard Italian Plum for at least the third year in a row.   We have no way of knowing if this is all the same individual.  Presuming it is, two years ago she raised two beautiful  hummers but last year her nest was ransacked right near fledging time and we have a bit of reason to suspect Crows.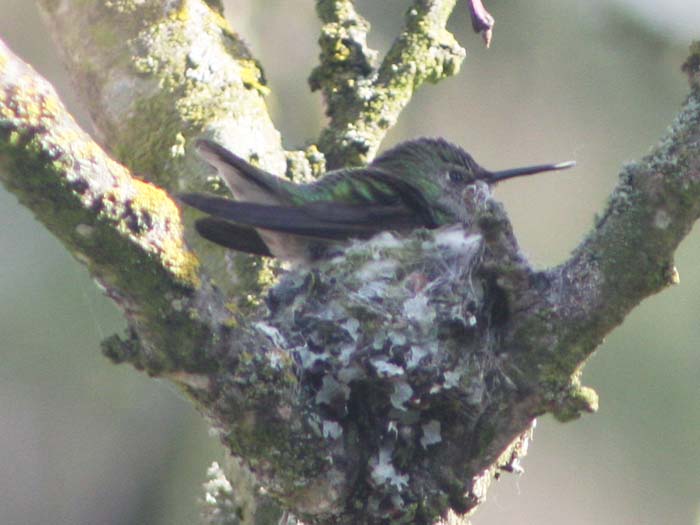 I have a suspicion—this is completely unscientific and based only on my own anecdotes—that Crows "farm" birds.  This would mean they study the land, learn where nests are, and then wait for the kids to reach maximum pre-flight size before making their move.  My only evidence that this might be so is that on the occasions when I have witnessed Crows carting off fledglings, they always seem to be really big for fledglings.

Right at the time our hardworking mom was building her nest, I noticed something unsettling.  A Crow was standing on the gutter of the nearby garage and peering into the tree.  Though I scared the Crow away ASAP, it may have gathered all the information it needed.
While this may only serve to drive away kind visitors to this page, I promise to try and monitor what happens here and post, hopefully, the happy news that I don't know what I'm talking about and Ms. Anna's has pulled off a hard  job in a dangerous world.
(I'm interested in Crow nest-predation because I feel it is a factor in why some birds no longer survive as breeders in Seattle and why others are declining.  These include the Common Nighthawk, which is gone, the Band-tailed Pigeon, which is nearly gone, the California Quail, nearly gone, the Vaux's Swift, nearly gone, Killdeers, trend unclear to me, and two Hirundines, the Barn Swallow and Violet-green Swallow, the last two of which are still present but are collapsing and most certainly have many problems in addition to Crow predation.)
(Old-timers have told me that prior to the 1960's there were virtually no Crows at all in Seattle.  I arrived in 1976 when Nighthawks were still present in seemingly all of Seattle's neighborhoods and people were beginning to remark on the large numbers of Crows they were seeing.  Crow populations reached some kind of saturation in the 80's and though I realize there is no proof in timing concurrence, Nighthawks completely disappeared as a breeder from Seattle in about 1981. Nighthawks have little ability to physically defend their nests and rely mostly on not being detected. )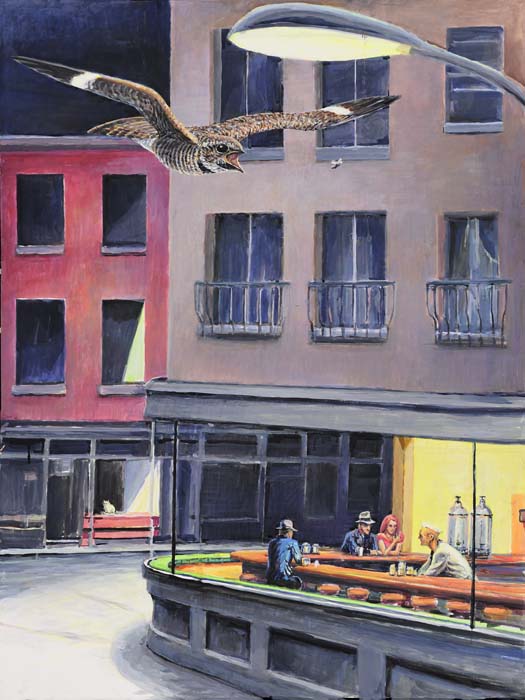 I incorporated my copy of Edward Hopper's "Nighthawks," into my tribute to the Nighthawk, which is declining in much of it's range.  Perhaps it's ironic that in western Washington, they are reportedly hanging on as nesters by breeding in large clearcuts, where there is a low density of predators.