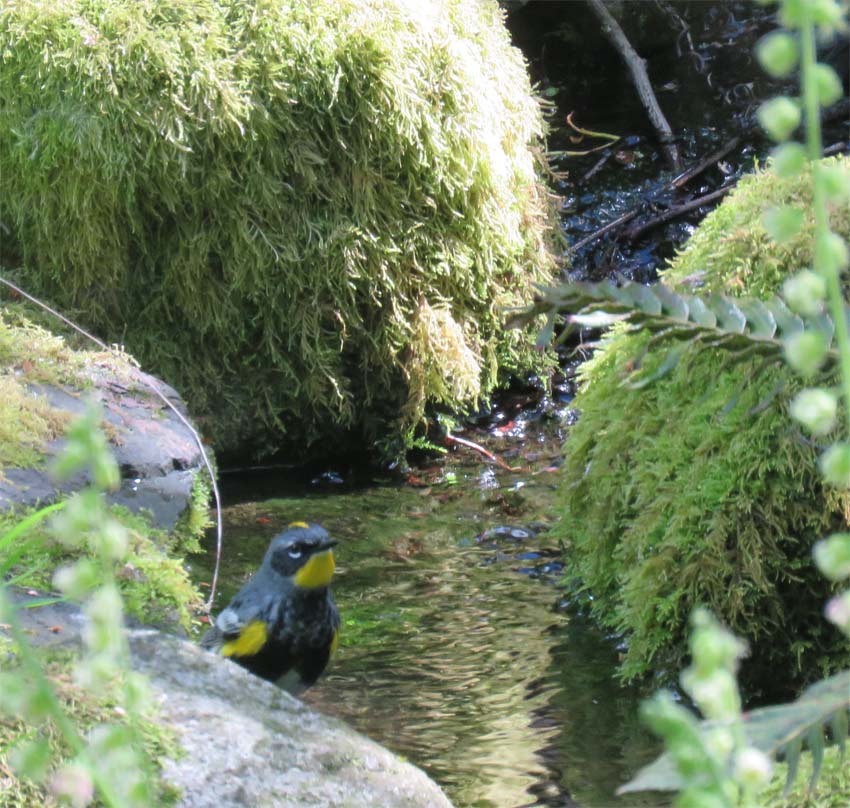 02 May

Migration is on at Butyl Creek
Posted May 2, 2019 from Seattle, WA
Birds love to bathe and no longer have much opportunity in urban areas where all the runoff and most of the creeks are sent immediately down manholes and shipped to West Point, i.e., Seattle.
So we provide the birds with a 12-foot long recirculating creek that Delia has christened "Butyl Creek." It's made out of butyl. During migration, the creek is in almost constant use. To paraphrase the song, "The creek goes on forever and the party never ends." Only difference from the song, is nobody gets shot.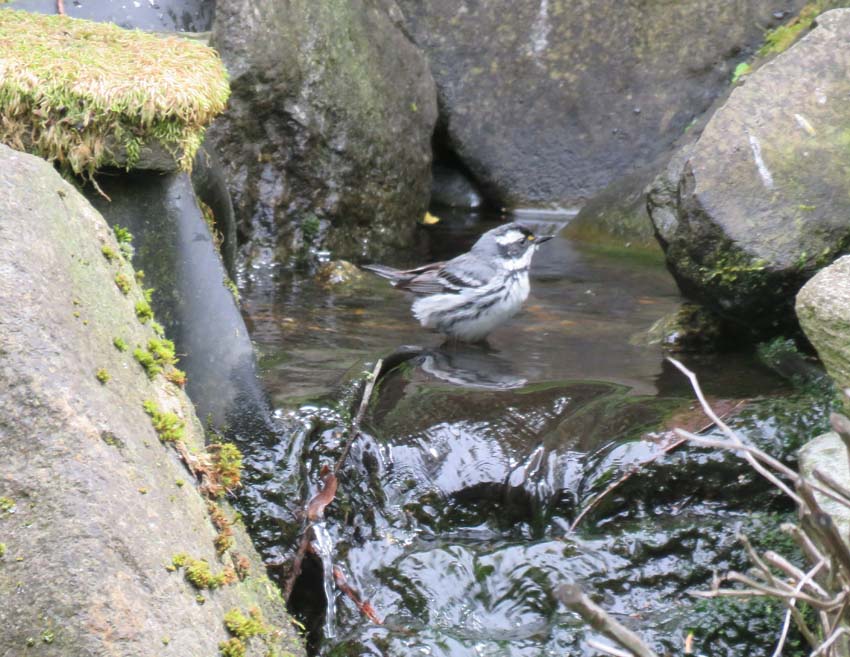 Today, we tied for a Butyl Creek record with 5 species of Warblers bathing. Only one Black-throated Gray Warbler came in for a bath, shown here at the top of the creek above the waterfall.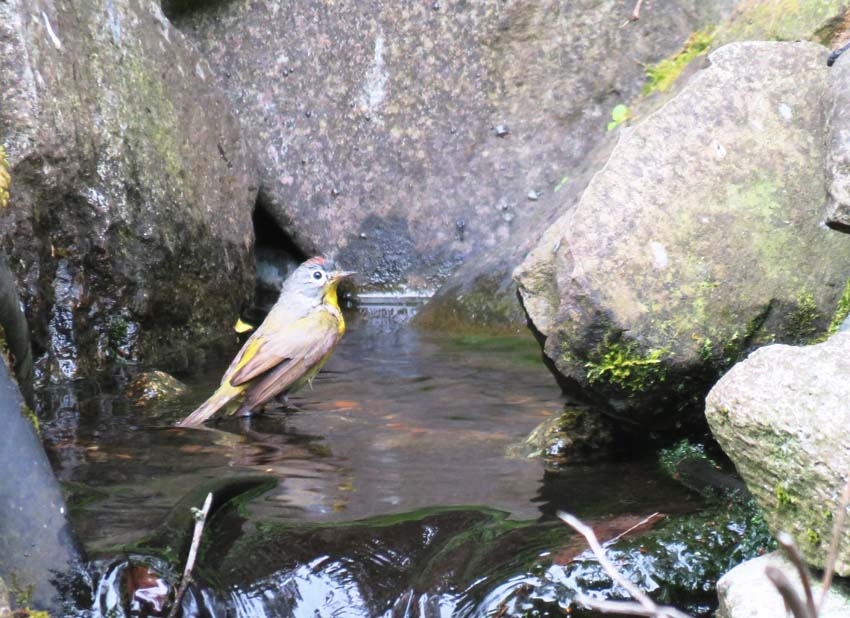 In the morning a Nashville Warbler came in but I couldn't get a shot. I think she was a female. Then in the evening this brighter male showed up. Note the red on the crown which is very evident when the bird takes a bath.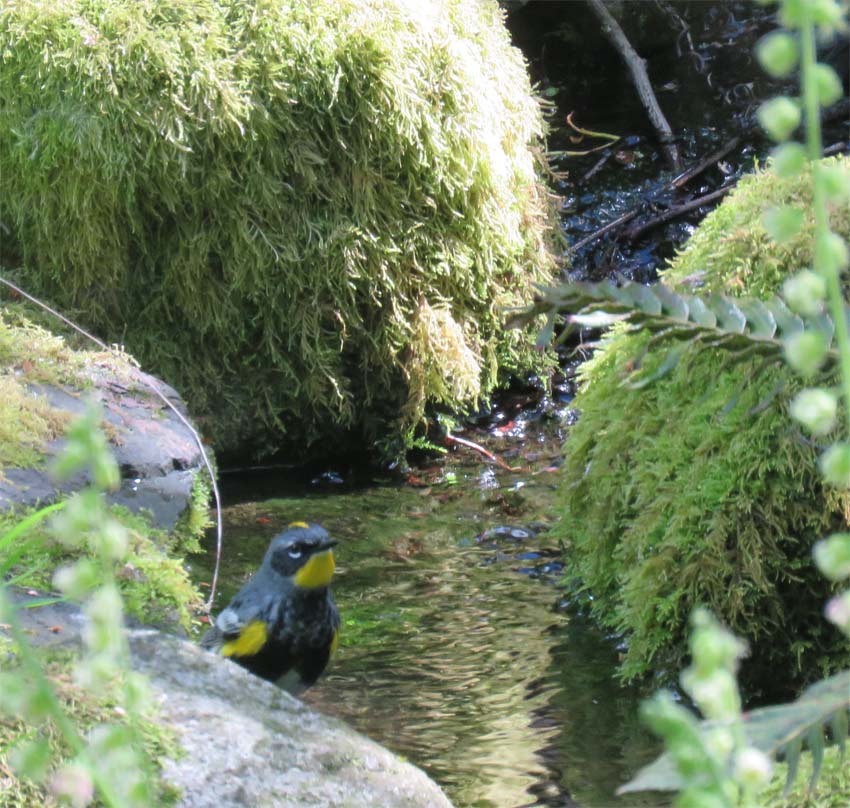 Only one Yellow-rumped Warbler showed up today and I missed the shot, this male is from April.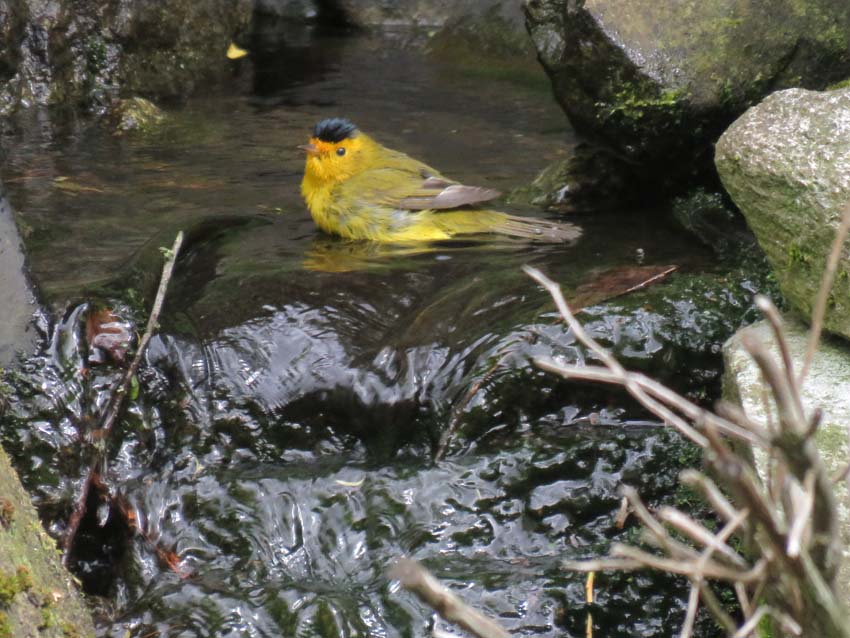 Wilson's Warblers adore our plum trees, where they forage for insects. We must have had 3 or 4 hanging out all day.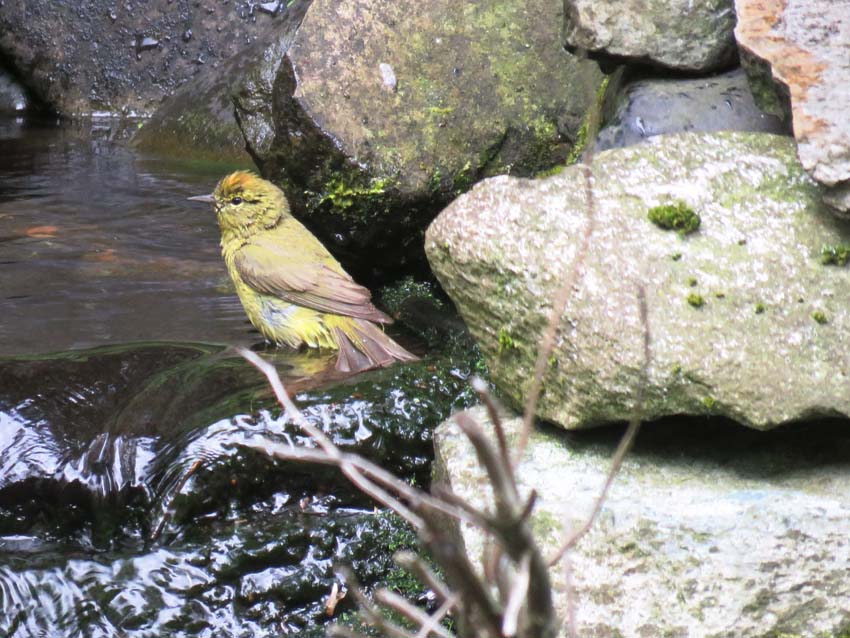 Orange-crowned Warblers were around all day also. Like the Nashville, they'll keep the orange-crown under wraps most of the time, but not when bathing, it's always visible then.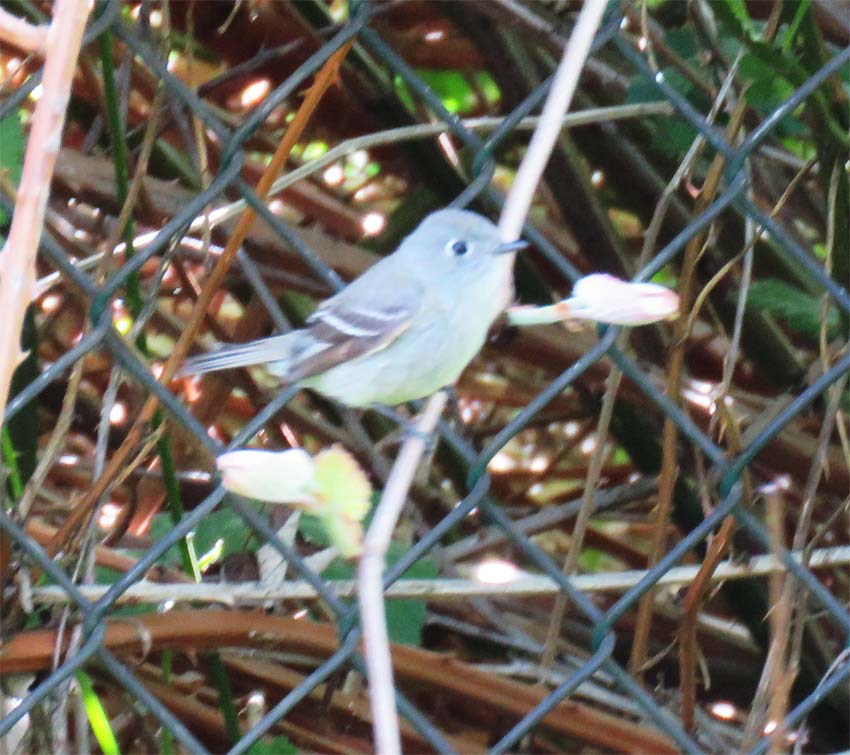 We were delighted to have a Hammond's Flycatcher visit on the 28th of April.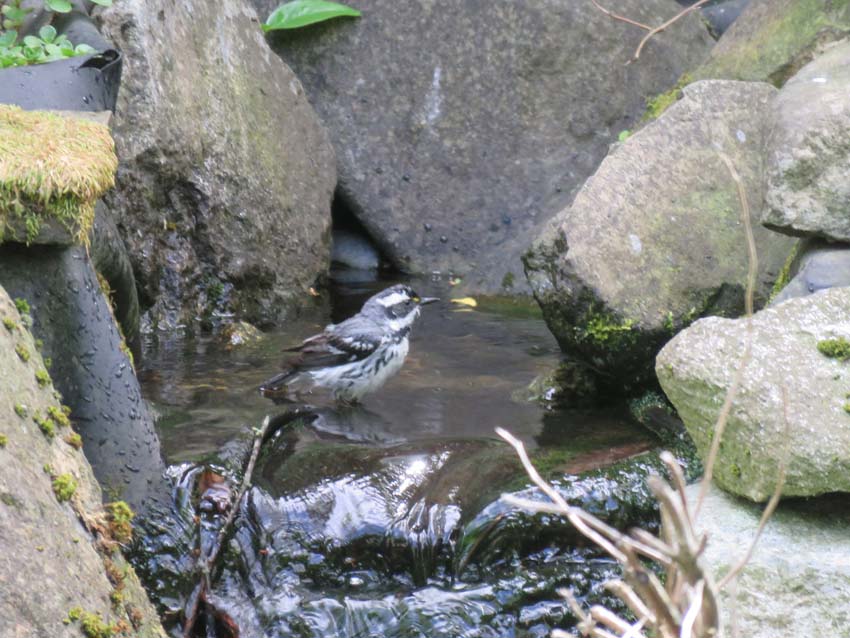 Other visitors from the spring migration so far that we didn't snap photos of have included Hermit Thrush and Warbling Vireo. This is another shot of the Black-throated Gray Warbler.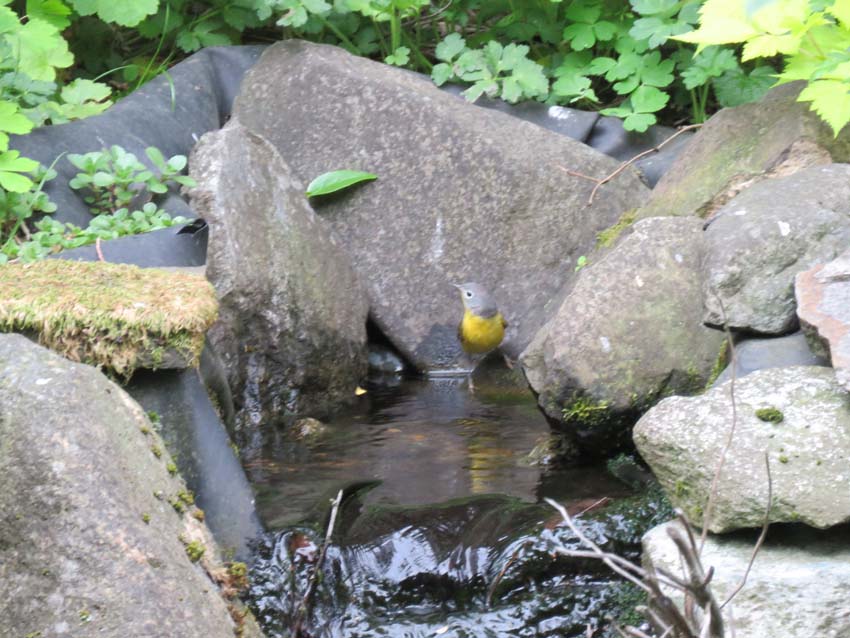 Here's another shot of the male Nashville coming in for its bath.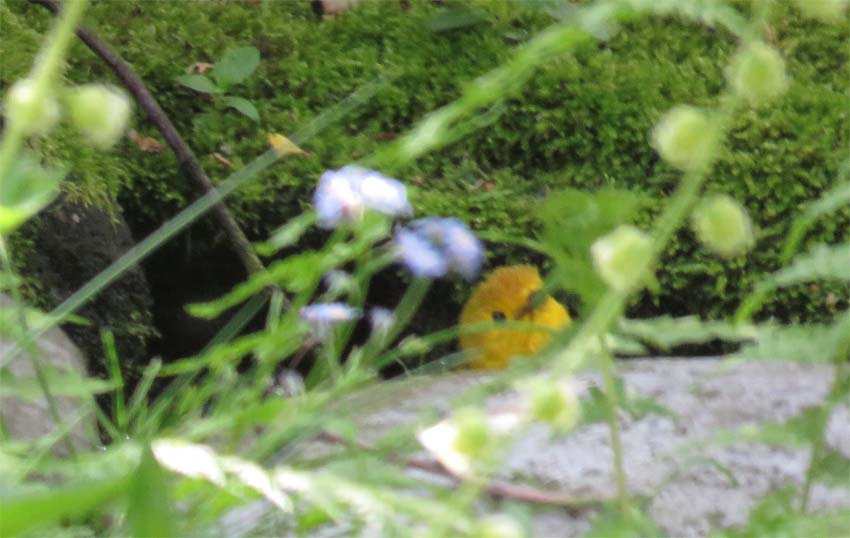 This shot is from May 5. Our first-of-year Yellow Warbler taking a bath in Butyl Creek. This bird was a little bit furtive and that's the only shot I got, but it's all you need to identify a Yellow because a Wilson's would have a black cap.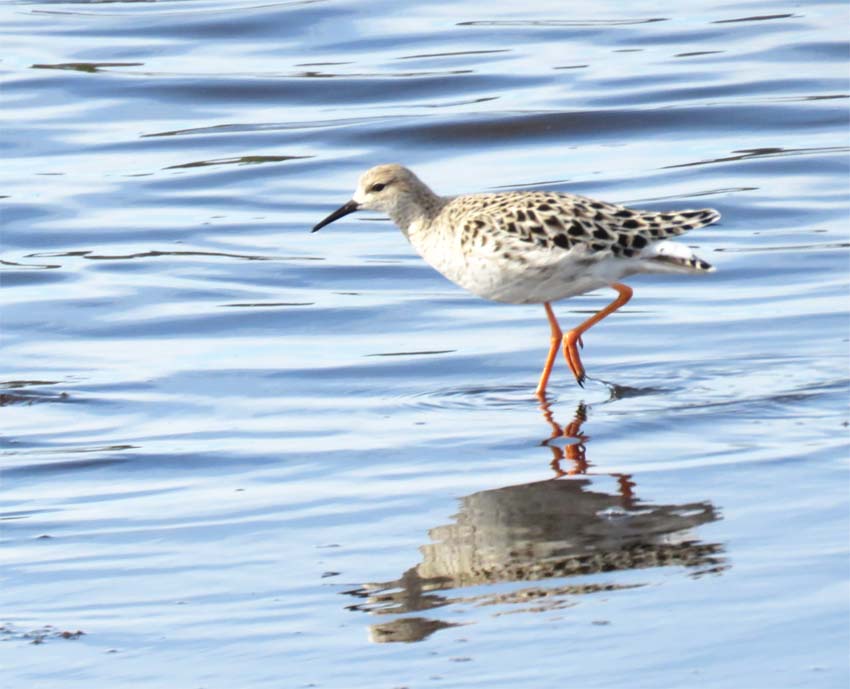 This is a Ruff that was at Crocket Lake on May 5. What a cooperative, gorgeous bird. Didn't realize that young birds could look so spectacular.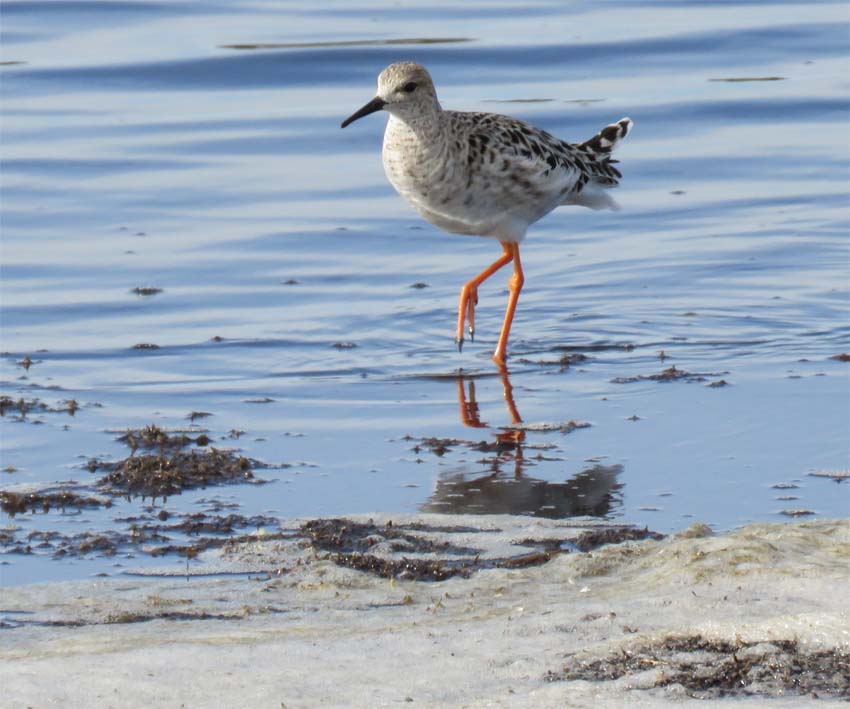 We aren't totally certain what the age and sex of this bird is. She or he was quite cooperative. The feathers pointing upward are not the tail or the wings but the tertials; this species is known for high-energy foraging with it's tertials flopping around all the time so it is surprisingly easy at times to pick out and identify, but this bird was very close and in perfect light so even more so.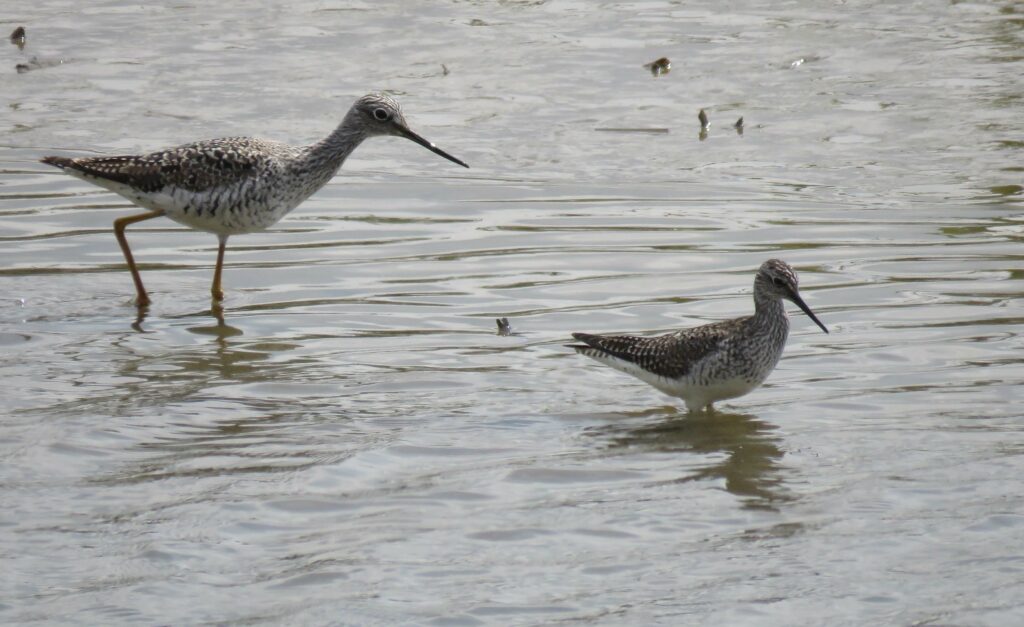 At Wiley Slough near Conway, WA this Greater Yellowlegs and a Lesser Yellowlegs posed for a nice comparison shot.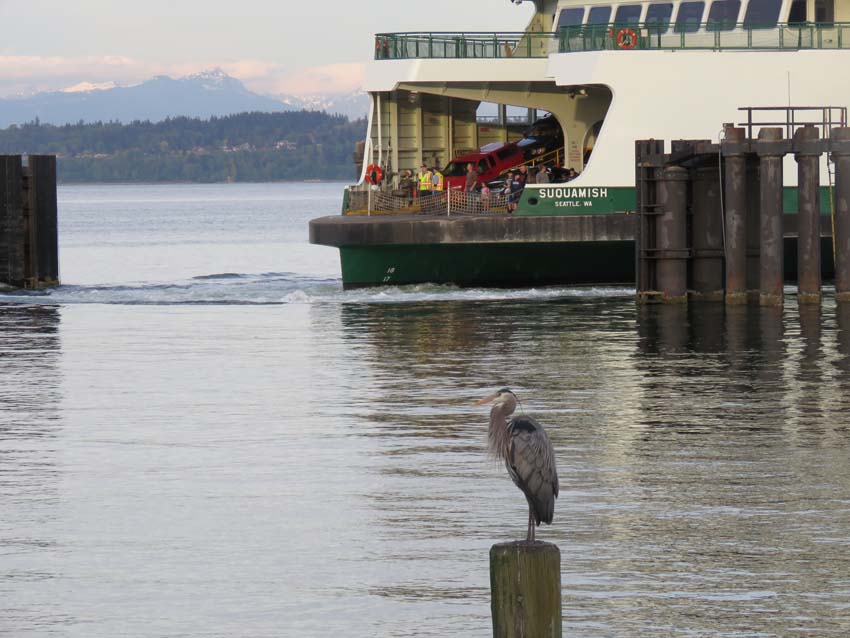 At the Clinton Ferry Dock on Whidbey Island we encountered this classic Northwestern scene. Our Great Blue Herons are a different subspieces from the rest of the country and look more rustic. The mountains by the sea are a signature, and one thing our state does right is put a great paint job on the nice-looking ferries.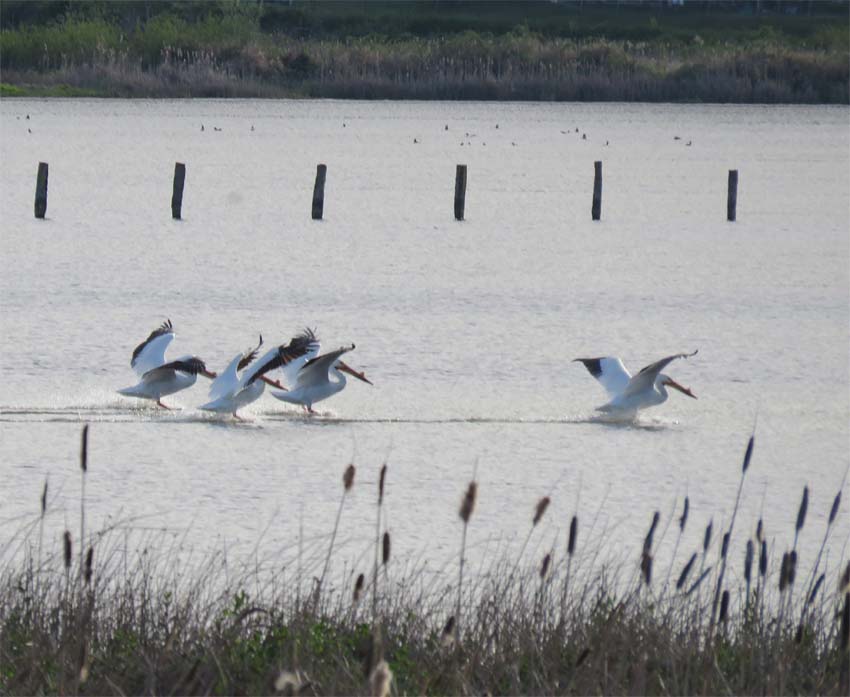 White Pelicans aren't a bird we normally associate with the west-side, but Deer Lagoon on Whidbey Island is a special place and about 25 White Pelicans appear to be happy there. This is one big bird, much larger than a Brown Pelican and always exciting to see.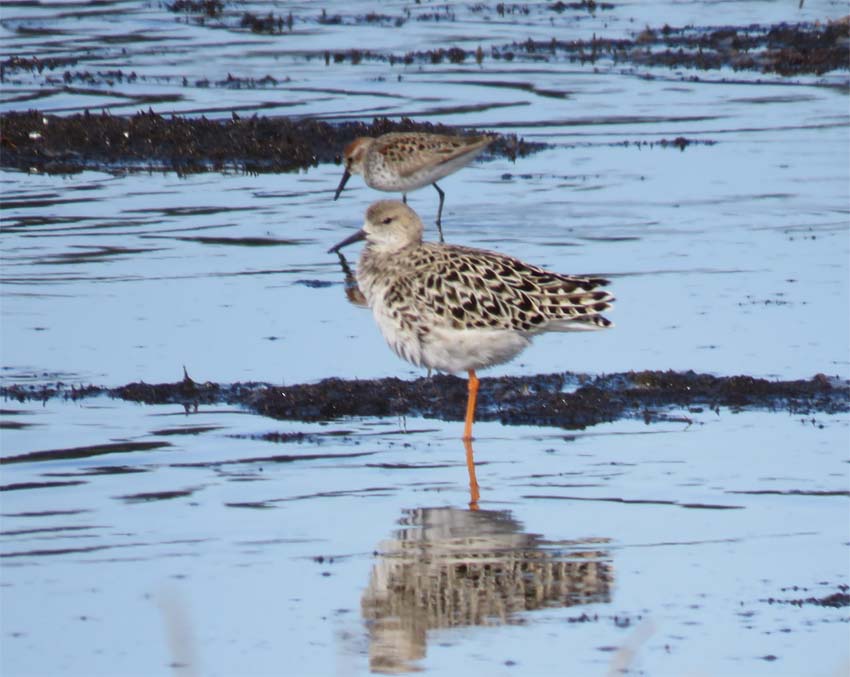 Here's another shot of the Ruff, this time with a Western Sandpiper in the background. Ruffs are rare visitors to North America from Eurasia.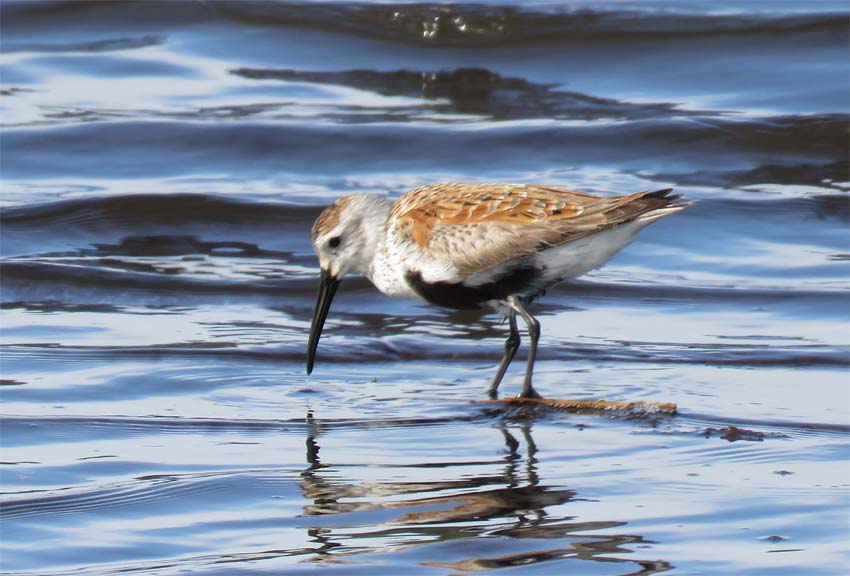 Here's a Dunlin in nice breeding plumage at Crockett.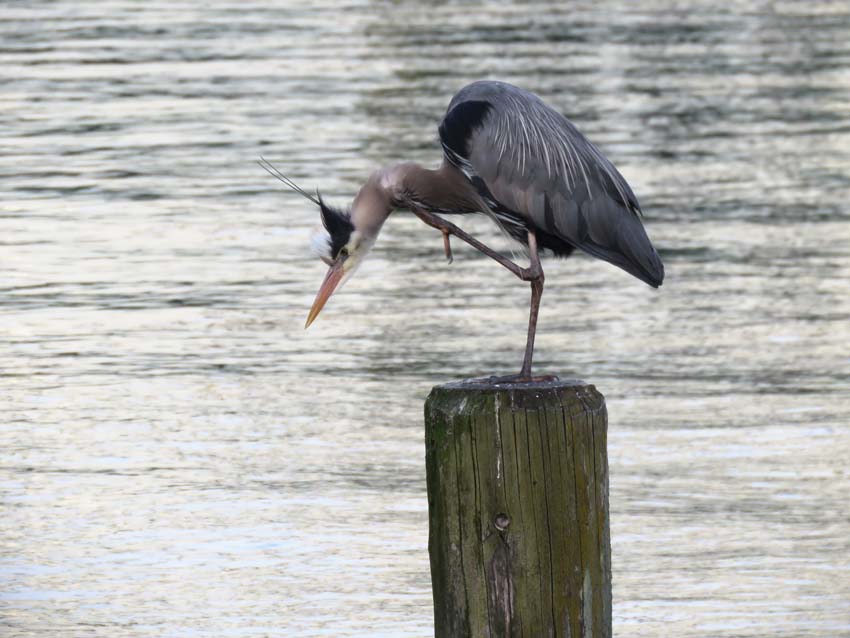 The same Great Blue Heron in Clinton. No one would believe you if you tried to paint that.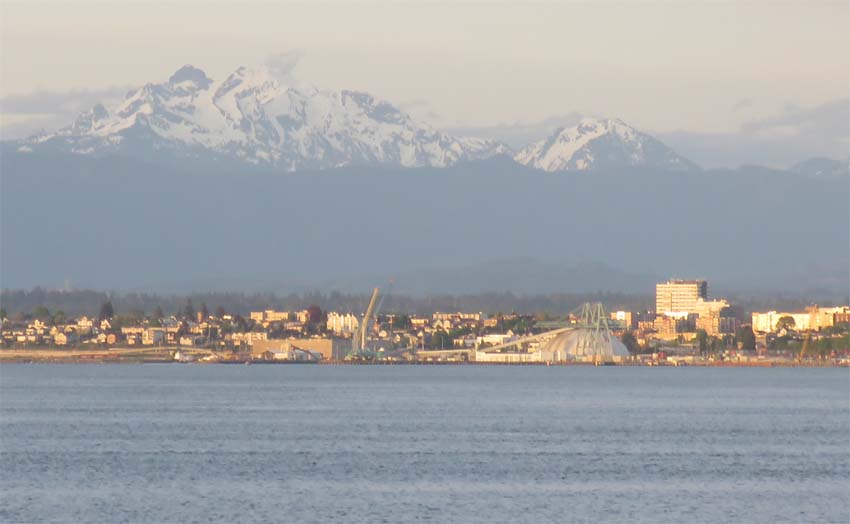 That's Everett from the Clinton Ferry with Whitehorse in the background. Of the four Westside cities, (Everett, Bellevue, Tacoma and Seattle) Seattle is the hardest to get to pose in front of dramatic mountains. Oddly enough, it's possible if you head over to Manchester or other spots in the Port Orchard area and shoot the city from there: Glacier Peak, surprisingly, appears to tower dramatically over Seattle, but the skyline is pretty distant.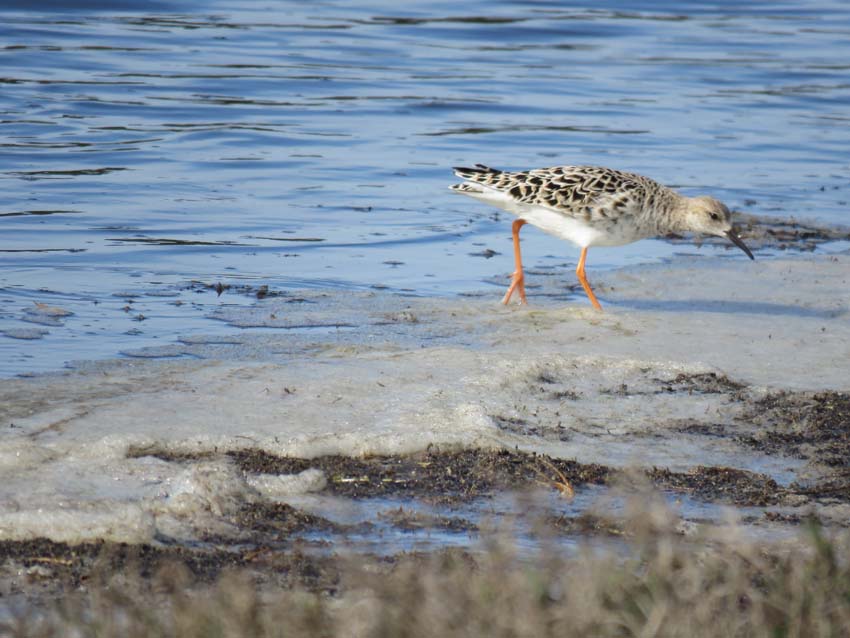 Here's the Ruff again.

Here are the White Pelicans foraging.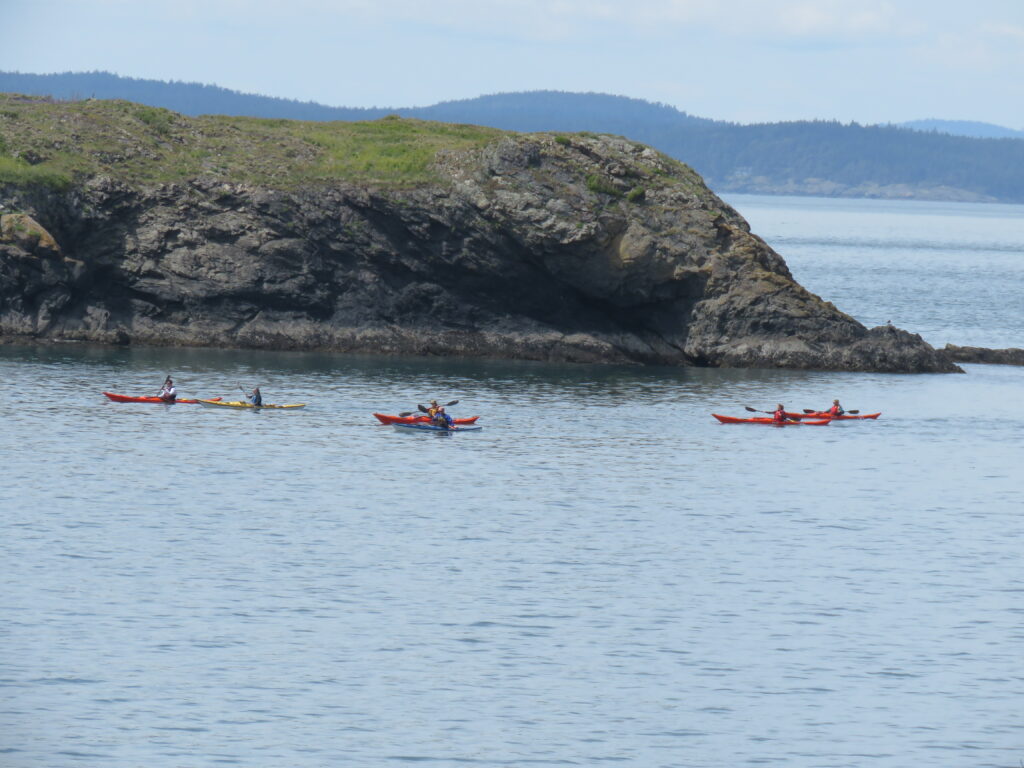 It's nice kayakers don't go in for camo, I like the primary colors. There is a Black Oystercatcher on the far right round bump of the island, looking like a faint dot.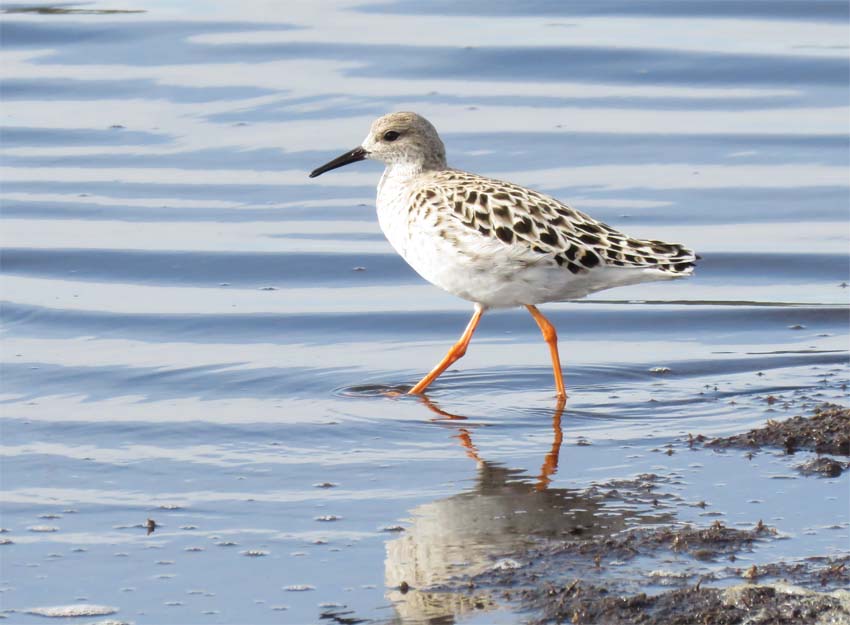 Here's the Ruff again. Not the long confident strides. Let's all take a page from this bird's book.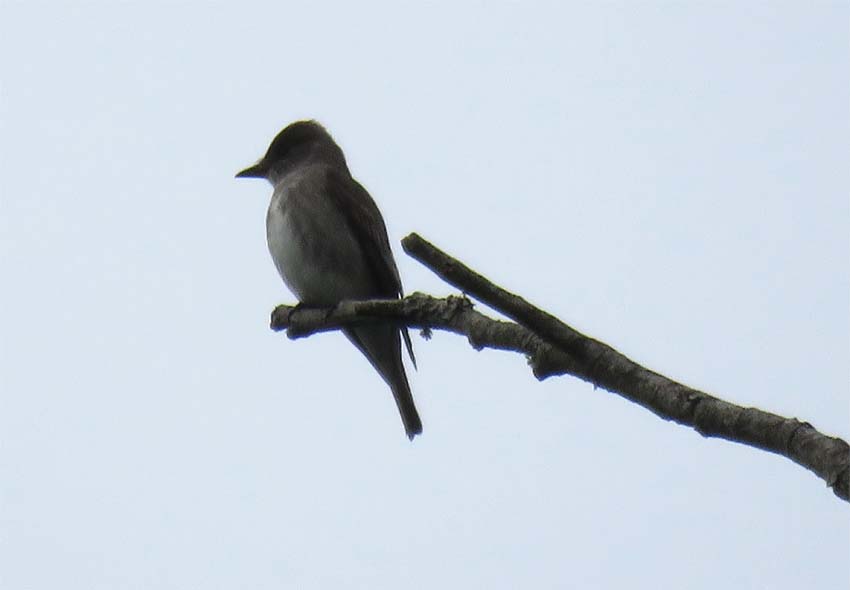 This Olive-sided Flycatcher was perched at the top of a snag in the Cheasty Greenbelt on May 30 2019.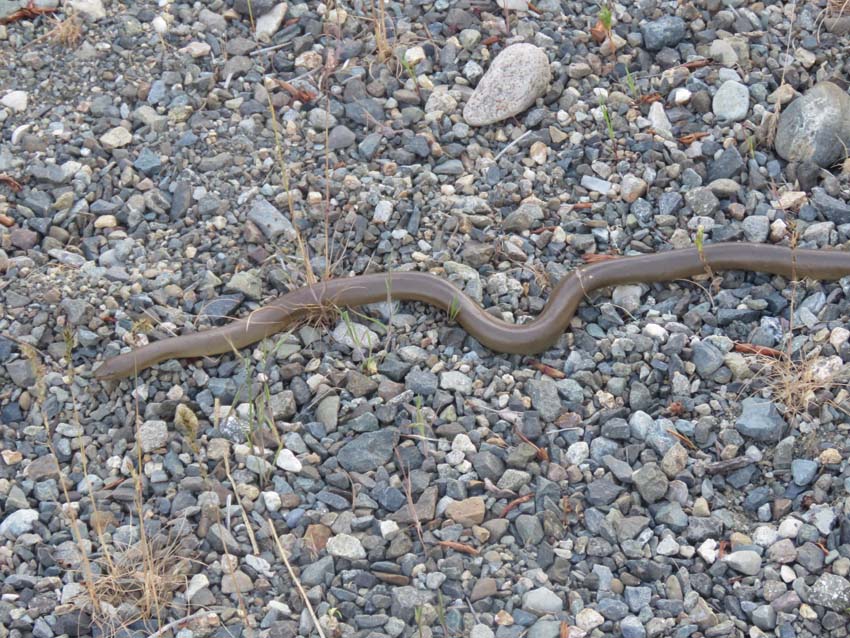 Delia noticed this huge, (in my experience) Rubber Boa at Bullfrog Pond. Well, it was maybe 16 inches long.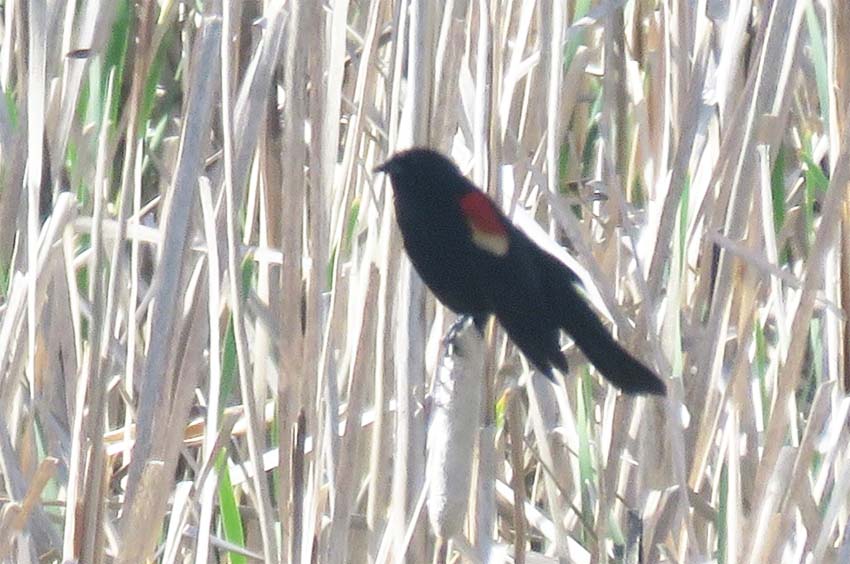 (The bird above and below is a Red-winged Blackbird, not a Tricolored Blackbird. A deep thank you to Marv Breece, who in one year–before the advent of E-bird–recorded 359 bird species in Washington, resolved the issue for us. So ignore the words I initially posted below)
Delia and I were at the Quincy Wildlife Management Unit on May 24 and I saw a Yellow-headed Blackbird and a Red-winged Blackbird fairly close together and I snapped a few shots that turned out to be pretty out-of-focus. But when I uploaded the shots to my computer, I began to think the bird on the right was actually a Tricolored Blackbird. I was using the white not yellow and very wide patch on the wing and the strange shape of the bird, with long primaries and tertials, and the sharp pointed bill which shows in the next bad shot. I'm hoping experts will review this photo, and I apologize for giving these experts a headache.