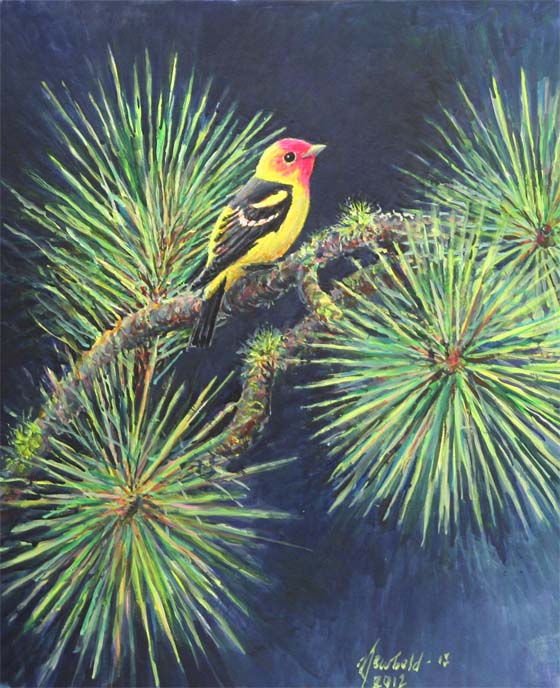 29 Apr

New originals on sale at Leavenworth Spring Bird Fest!

Posted from Seattle, WA April 29, 2012

I'll be at the Leavenworth Spring Bird Fest!  What's more, two new originals will be on sale there.  Events like these force me to part with paintings so are a essentially a rare opportunity to buy Newbold originals.  (I don't hang on to my originals out of sheer narcissism.  I tend to believe I can still make improvements on them down the road, which can at times be nothing more than a pathology.)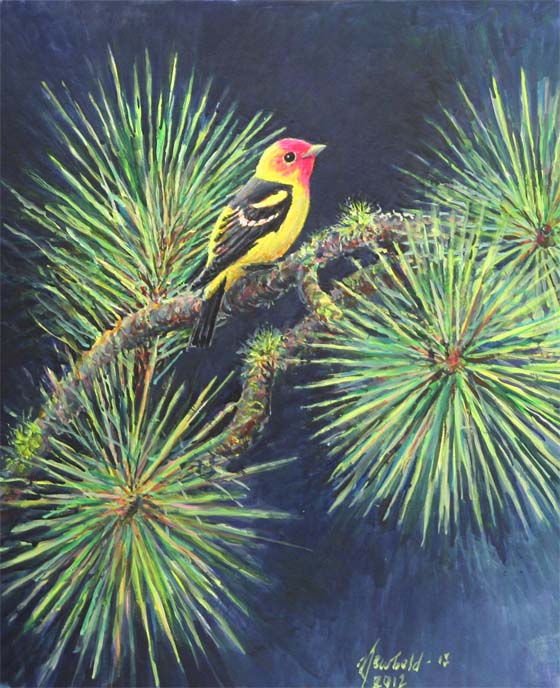 This is a painting I began in 2009 and was languishing with a white background.  I blackened the background—(more like the photo I was working from)—and suddenly I'm thinking this could be the best of the 6 or 10 Western Tanager paintings I ever did. 14 x 16″ painting size. $750 framed in gray drift with white liner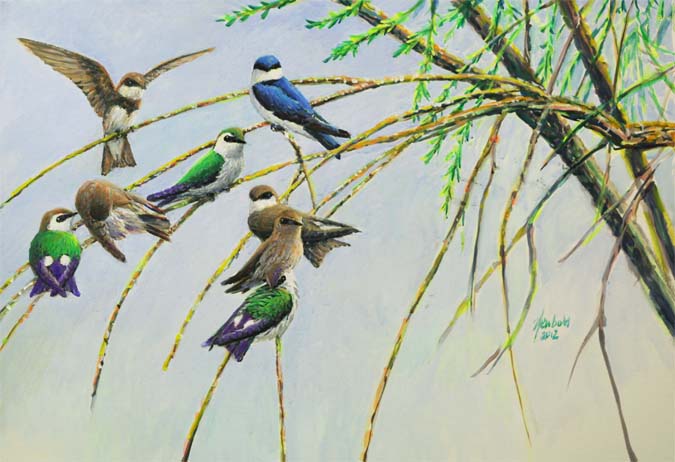 This is appropriately based on a photo I took of Swallows in Leavenworth at the Festival last year.  The day was miserably cold and the Swallows were struggling, but you can't tell that from the photo and in the painting, life is wonderful, the way it should be for Swallows and all of us.  17 x 24″ painting size.$850 framed in gray drift with white liner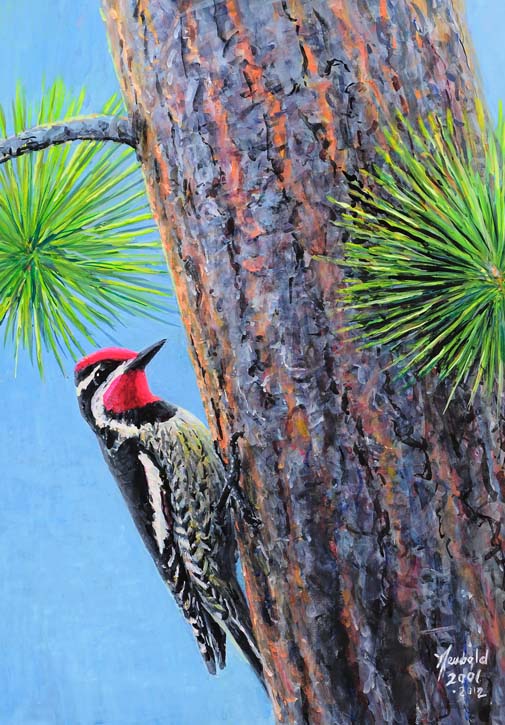 This is the third original for sale, "Red-naped Sapsucker" celebrates one of America's least-appreciated glamour-birds.  On a recent trip to the Eastern slope of the Cascades, we saw what may have been two males in a dispute, both with their head and neck feathers in a crest.  My trusty friend auto-focus let me down that time so there is no shot, but it was a sight to behold.   16 x 20 painting size, masonite. $750 with wood frame and liner.
.
Here is information on where these paintings will be hanging with other great paintings by Leavenworth area wildlife artists: here's a note from the organizer, Heather MacAuliffe.
 "Nature Artists at Icicle Studios".  We have a wonderful "stable of artists" this year, with 21 of us presenting our art! Please read the blurbs out of the Bird Fest pamphlet below. 
The show is open noon to 5 pm on two weekends, plus Thurs/Fri of Bird Fest.  May 12-13 (Saturday and Sunday) and May 17-20 (Thursday thru Sunday).  See the website – http://www.leavenworthspringbirdfest.com/ARTS.HTM