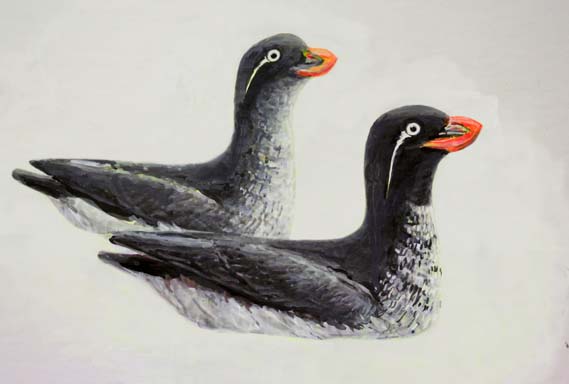 18 Mar

Northwest Seabirds: Make room for Parakeet Auklet!

Posted March 17, 2013 from Seattle, WA

 If I had asked an expert in the 1970s if the Parakeet Auklet should be included on a Seabirds of the Northwest Poster, I'm sure they would have said, "No, you don't run into those until you get pretty far up into Alaska."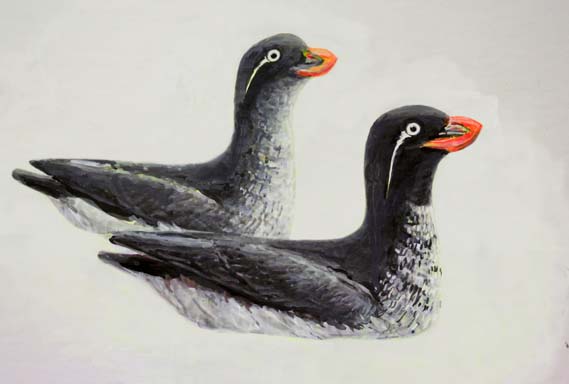 But a few weeks ago Ryan Merrill and Scott Mills conducted a survey of seabirds off the WA and OR coasts  and they found Parakeet Auklet to be the second most common bird, with about 2400 seen.  I don't know if this is surveillance bias or something else—I'll ask the next expert I see, it could be that Parakeet Auklets are wintering further south than they used to.
But in any case, this makes them the Ferris Wheel of the Seabird poster.  I had to go back and redo the Seattle skyline painting to get the Ferris Wheel in.  Now I'm going to insert this painting shown of Parakeet Auklets into the Seabird poster.  The poster sans Parakeets is below, I'll put them next to the little Murrelets.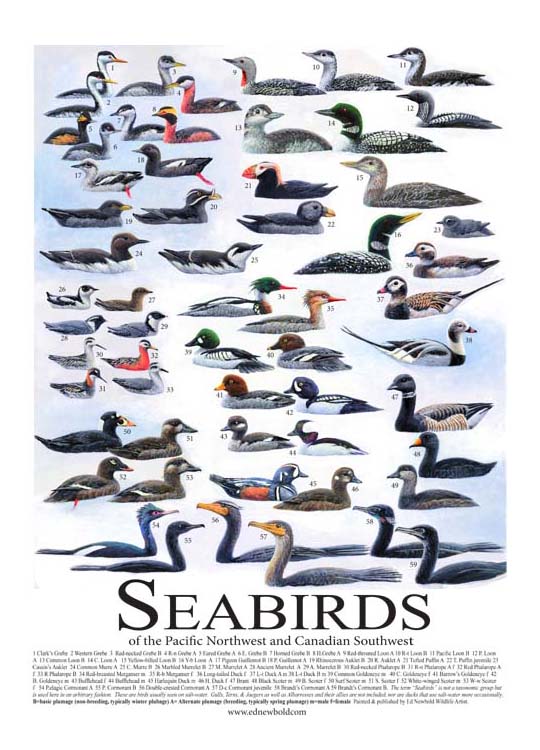 It's cute bird, small, the same size as a Marbled Murrelet which is the length of a Robin.  I hope my painting does it justice, and if no one else has said this: Welcome to WA state bird status, Parakeet Auklets!
Two birds that I am controversially not including are Arctic Loon and Thick-billed Murre.  Both are very rare and closely resemble species that are relatively common, so I feel their inclusion would actually mar the poster in the sense that it would mislead anyone who wasn't already well-versed in NW Seabirds.