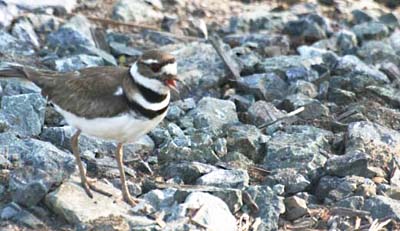 22 Jun

NPR distracts listeners from the costs of ethanol

Posted June 22, 2011.

When a Killdeer doesn't want you to know where the nest is, it creates a distraction display and determinedly leads you somewhere—anywhere–else.  The Killdeer shown below was getting excited in the early stages of a distraction display at Spencer Island in Everett,WA last year.

NPR recently has been behaving  like a Killdeer that doesn't want anyone to think at all about the single most addressable cause of food price increases.  It is directing attention to other causes as effectively as it can, and seemingly keeping to a do-not-mention-the-biofuel-mandates rule.

The bad job NPR is doing is of importance precisely because NPR has such a great record of reporting the news in general.  The repeated criticsim of NPR biofuels reporting from this site has nothing to do with hating NPR:  in fact I was an underwriter last year of an NPR-affiliate station, KPLU.

In today's example (June 22, 2011) a lead story covered the G22 meeting in France and set the stage by reminding listeners of the spike in food prices three years ago that sparked deadly riots on three continents.  It went on to blame droughts, certainly a huge factor but not one that is in anyone's immediate control, and raise the issue of speculation, which this page would call a complete red herring, but which some actors on the international stage believe is contributing to the problem.

But as seems to be usually the case with NPR, no mention at all was made of the fact that governments of US, Europe, and to a lesser extent other countries like China and Brazil are mandating a massive diversion of food crops to motor transport fuel.  In the US, the diversion amounted to 40% of corn, by far the number one agricultural product by acreage.