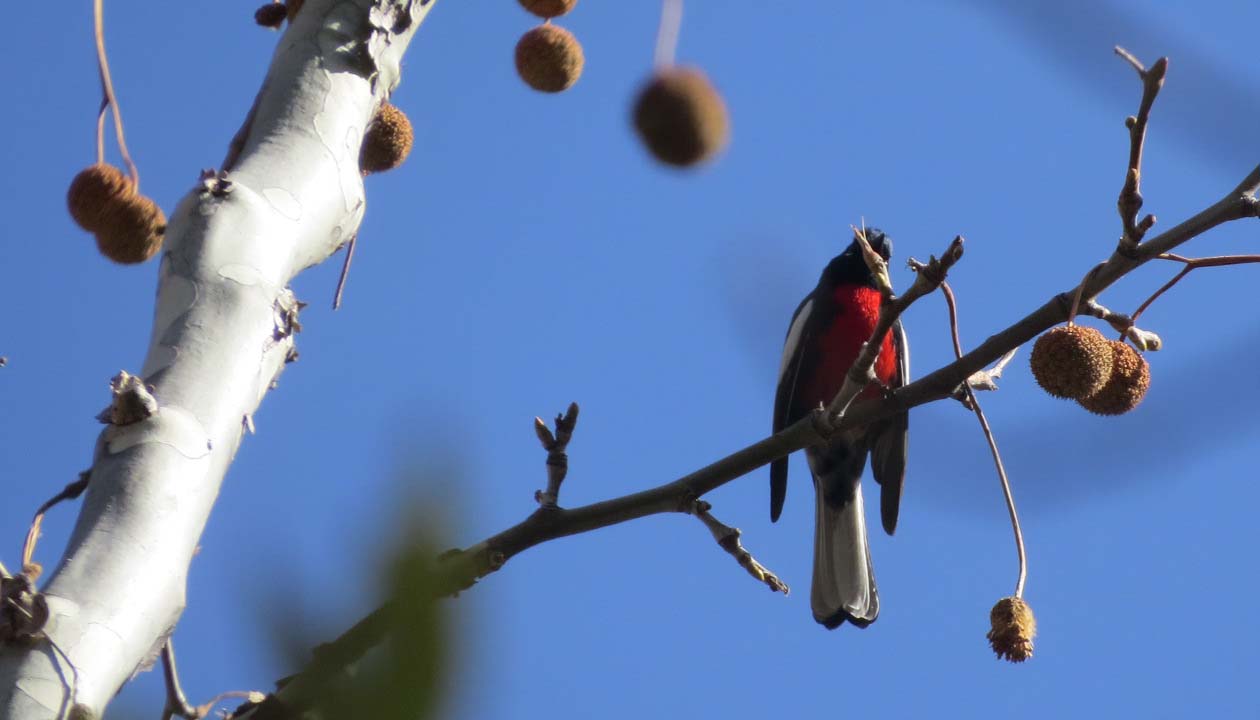 06 Jan

Rainbow in the Bootheel
Posted from Rodeo, New Mexico Jan 5, 2016
I guess it's the 6th Extinction, but the Christmas Counts were down this year.  We found a Gray Flycatcher on the Portal Count and we flushed five Montezuma Quail on the Peloncillo Count.  The next day we went up Cave Creek and found a wintering Painted Redstart, photo below.
The Peloncillo Count was challenging.  The road in across the million.point 3 acre Diamond A Ranch was bad.  More concerning, there was a thunderstorm coming out of the South and I'm terrified of lighting.  There are cases of people surviving lightning but being in a permanent bad mood for the rest of their life and I don't need that.  At least there were lots of rainbows that day and lots of rushing water all over the normally dry outback there.  Below is Rainbow #7, a particularly good one, excuse the rain drops on the lense:Heading over to the Section Pasture Pond from the Line Shack, Delia and I found this very fecund-looking Agave.  The reddish-colored grass is Texas Bluestem.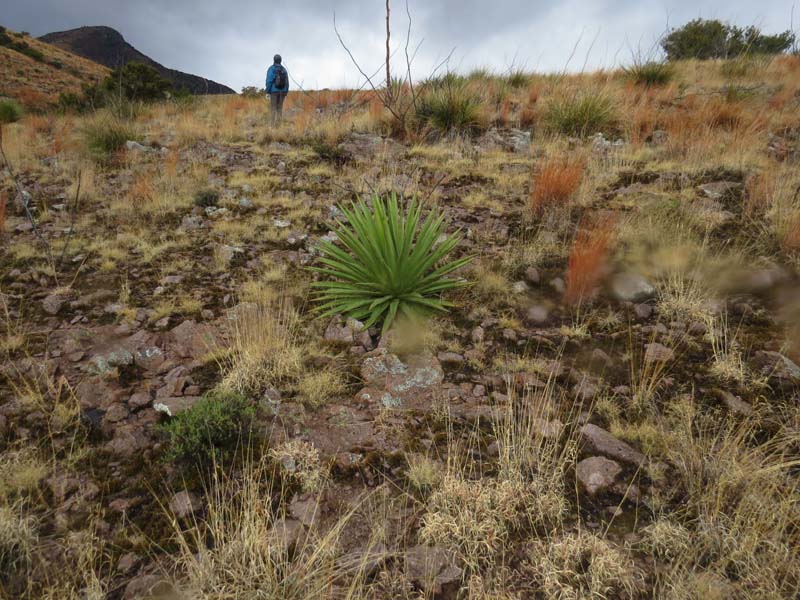 At times the wind was so bad, you had to hold on to your hat, this is Delia walking from Clint Donagin's last pond toward the line shack, in front of a row of Emory Oaks.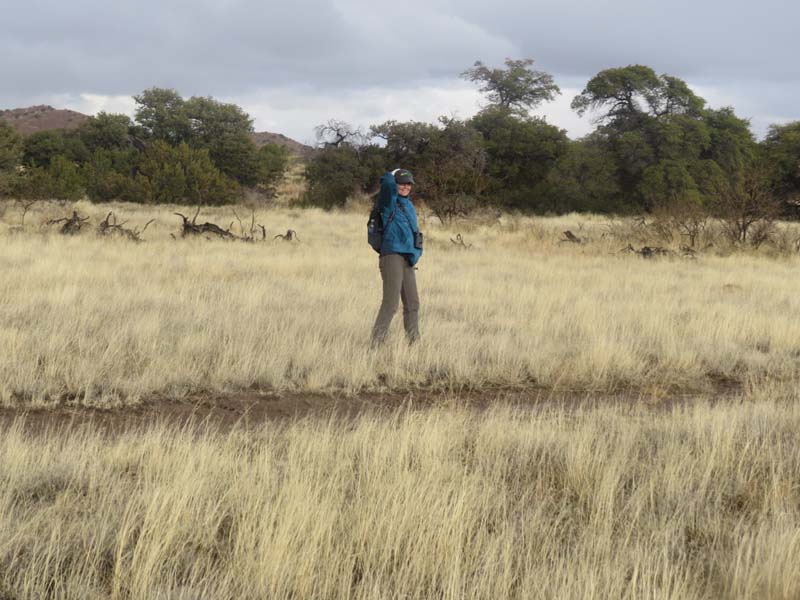 All the clouds had the central Peloncillos looking pretty good.  This (below) is looking east in the direction of Las Cruces:
We stayed in Portal at the Cave Creek Ranch while we did the Christmas Counts.  We woke up to lots of great birds on the grounds including these Acorn Woodpeckers that liven the place up on a regular basis, below:
Heading home from the Peloncillo Count right before sunset the sun came out and the wind calmed down.  We found a faraway Ferruginous Hawk that seemed very happy about it and was preening and fluffing its chest feathers:
Here's another shot from the Peloncillos.  This shows some of the standing and running water: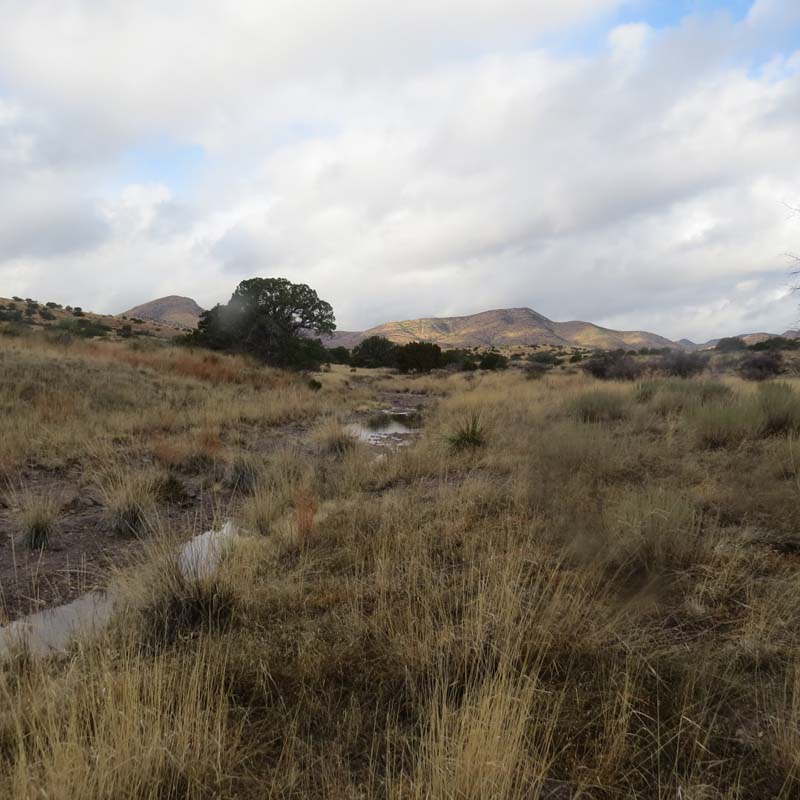 The big excitement on the Portal Count was the presence of a female Streak-backed Oriole, a bird whose range kicks in in earnest 50 miles to the south of the US border.   A White-tailed Kite was a mile south of the count area, good luck to both birds, both at the border of their current range.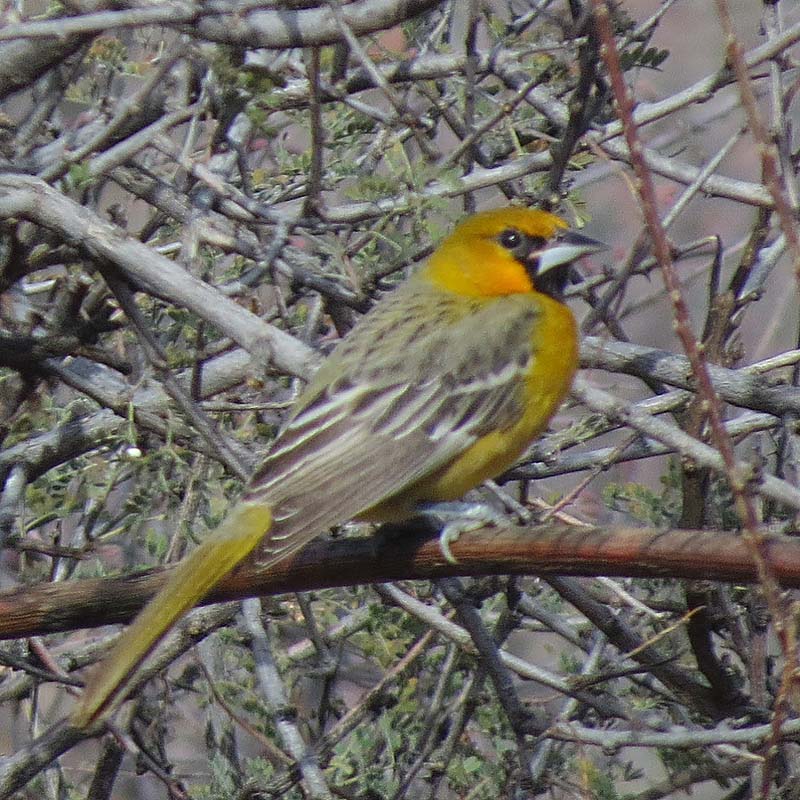 Back in Cave Creek I took a shot that is my favorite ever of this beautiful creek: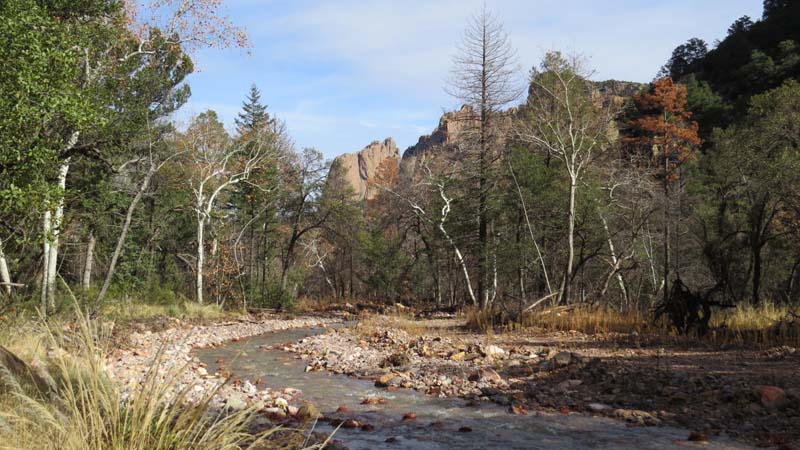 And here are two White-tails at the Creek as it passes through downtown Portal trying to get a drink: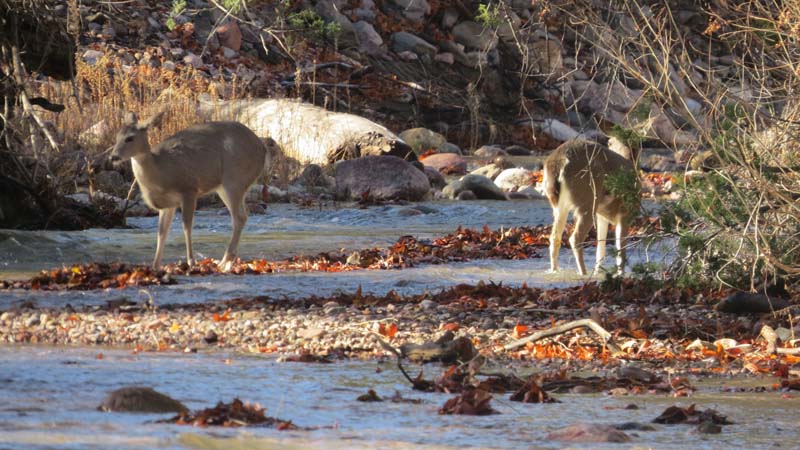 On the way from Tucson in Wilcox at Cochise Lake we found this Northern Harrier female: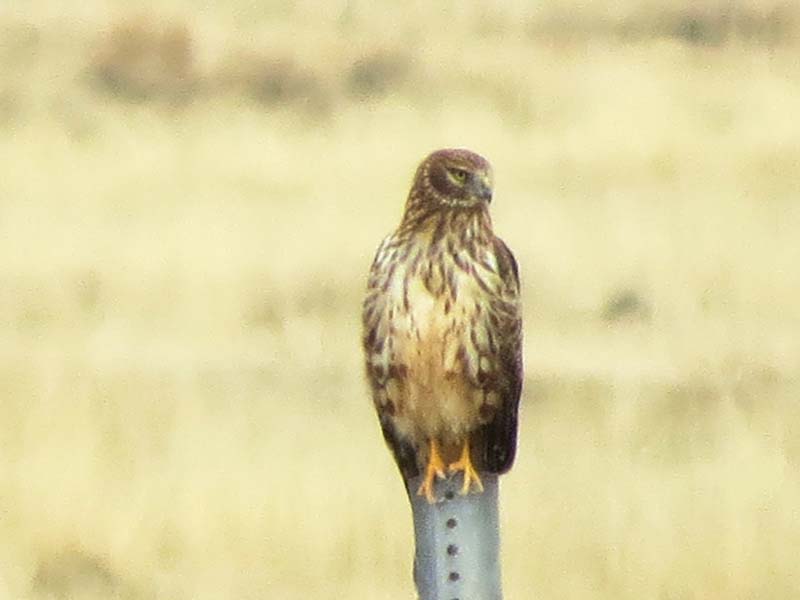 Before that in Tucson we stopped as usual at Airport Wash, mercifully not all mowed or paved.  We found a bright red Vermillion Flycatcher, a Dusky-capped Flycatcher, and this Rufous-winged Sparrow.  This species is a grassland success story and is known by it's double moustache: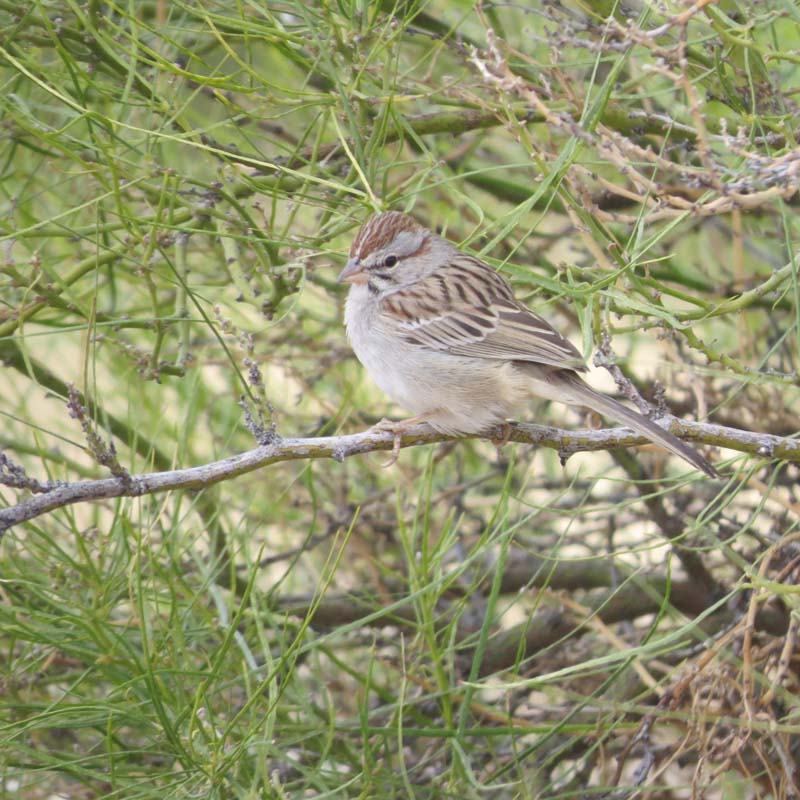 The line shack has seen better days.  Delia can remember, maybe 35 years ago, it had a homey, lived-in look but now it's returning to the Earth: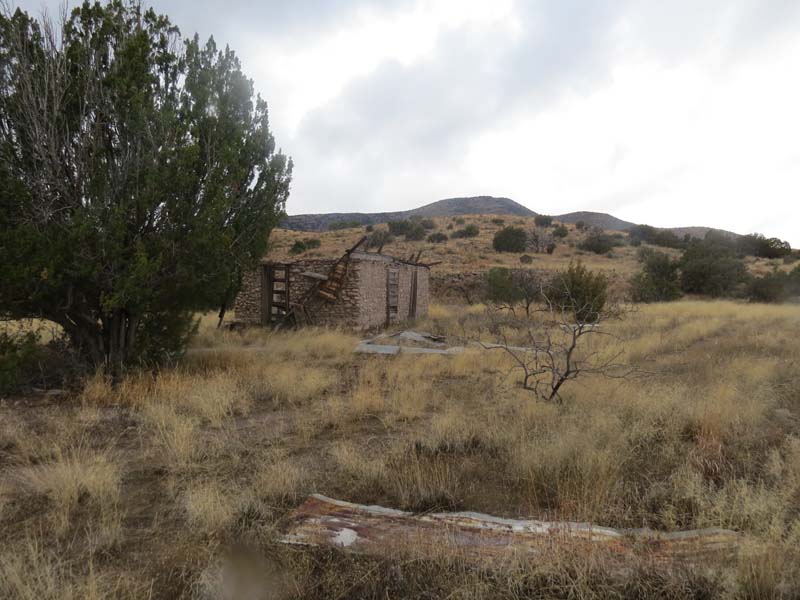 I've been disappointed about the decline of Phainopeplas in the Southwest in the last 5 years, as well as many other birds that appear to be in trouble.  We now longer see White-throated Swifts, Sage-brush Sparrows, or as many Lesser Nighthawks in the summer as we used to.  Nobody had any Sage Thrashers this year, and Mountain Bluebirds, which used to turn juniper trees a sky-blue color from a distance, were no where to be found.
But you never want to lose hope.   Early on the morning of New Years Day the dawn was dawning and we were wondering what our first bird of 2017 would be.  We were on Route 9 crossing over what passes for the  Peloncillo Mountains at that latitude and heading for the town of Animas, football team is the Panthers.  I saw a big bird flying from the south and thought, OK, our first bird will be a Raven.  But I did a double take (Delia was driving and does not bird while driving, recommended) and it wasn't a Raven, but a huge juvenile female Golden Eagle flying across the road in front of us. First bird of the year a Golden Eagle?  Never had that before.  Let's take that as an omen.
Nice way to start off 2017.  Let's keep the good news going.