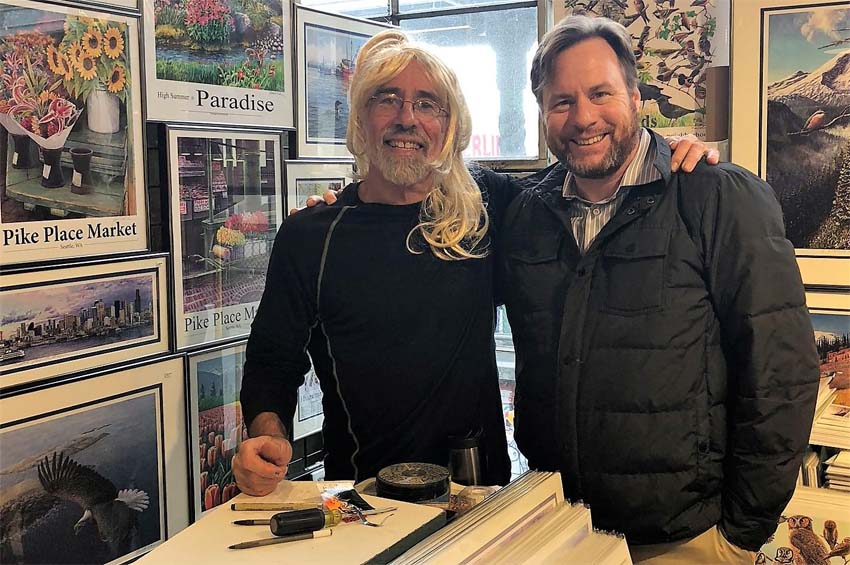 08 Nov

Rainforest Trust CEO Dr. Paul Salaman visits Ed Newbold Store!
Posted from Seattle November 7, 2018
Delia and I have become huge fans of Rainforest Trust, a 30-year old organization that has safeguarded 18 million acres of rainforest all over the world. We like to give to Rainforest Trust right up to the point of financial pain (then we stop!). Here are some of the stats this scrappy little organization has managed to compile under the leadership of Salaman. It also gets a 4-star ranking from Charity Navigator.
On a recent day in late October CEO Dr. Paul Salaman visited the Ed Newbold store at the Pike Place Market. That's Paul on the right in the picture on the top. I'm not sure who the guy is who was working the store that day in very late October, I'll have to check my records. Paul and outreach coordinator Ryan Tractenburg were visiting Seattle and between visits with serious bigtime philanthropists, they were kind enough to stop by and say hello. The organization has recently published a book "Rainforest Conservation," which draws attention to the reserves they have created in the first 30 years. Here is a link to this wonderful organization:
Home

Sorry I've been unable to open the comment section. Readers of this blog are more than welcome to email me at ednewbold1@yahoo.com