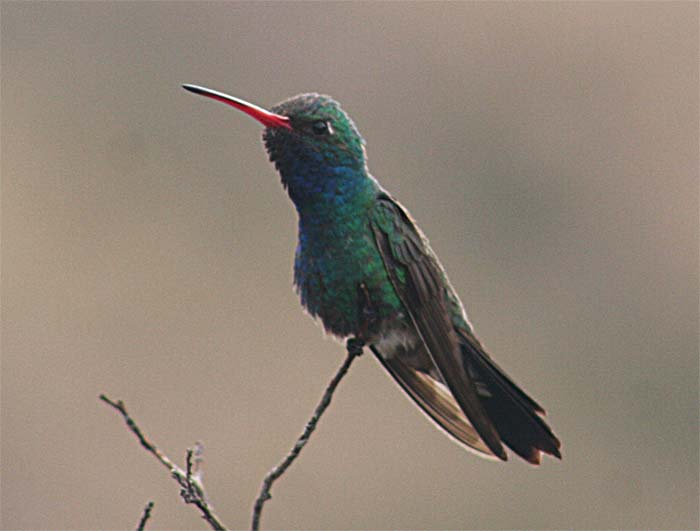 19 Jul

Rescue babies & rattling cocktail guests

Posted July 19, 2014 from Seattle WA

We're still tying up the loose ends from my beloved parents-in-law's passing, so we just got back from a trip to the land where they lived for 40 years in the New Mexico bootheel.  Getting there involves a 7 mile drive up a primitive road into Post Office Canyon in the Peloncillo Mountains.  We know we're there when we crest the last hill and see the White Cliffs, shown below, hoving into view.  Along the way we had been delighted to see the rainy season was nicely underway, with the San Pedro River flowing swiftly in Benson.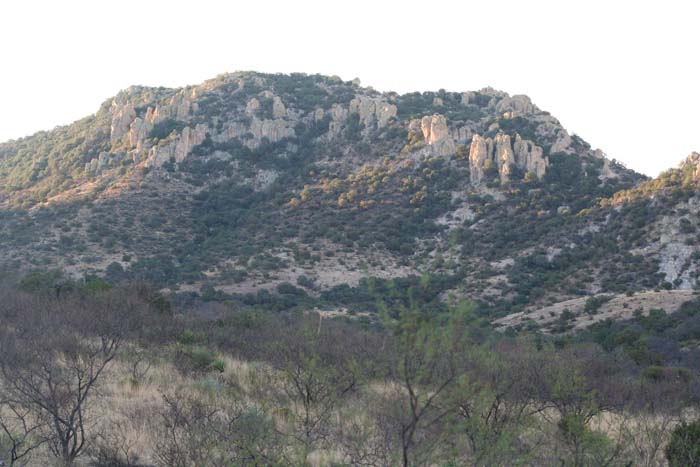 There are changes.  We used to think of Broad-billed Hummingbirds as a southern Hummer that showed up occasionally at the "ranch."  Now Broad-bills, a male is shown below, are the commonest hummers at the feeders.  Lucy's Warbler, another southern species, seems to be increasing on the ranch also.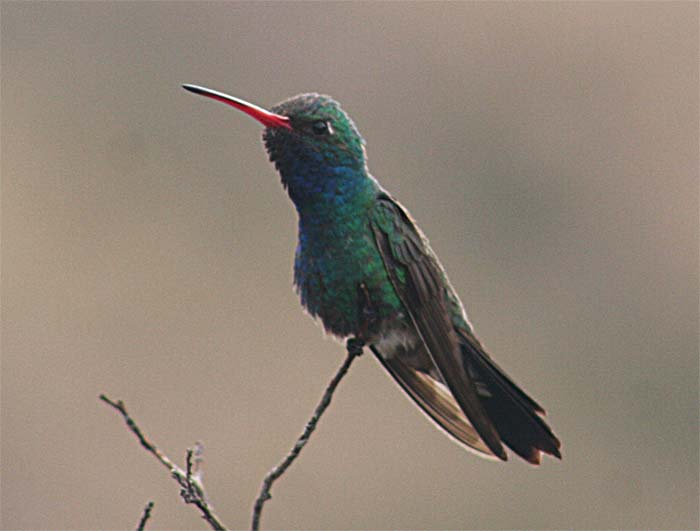 We've always been proud to have the relatively hard-to-find Lucifer Hummingbird (a male shown below) at the ranch.  Lucifers, as I never get tired of pointing out, are named for light (Spanish) not the devil.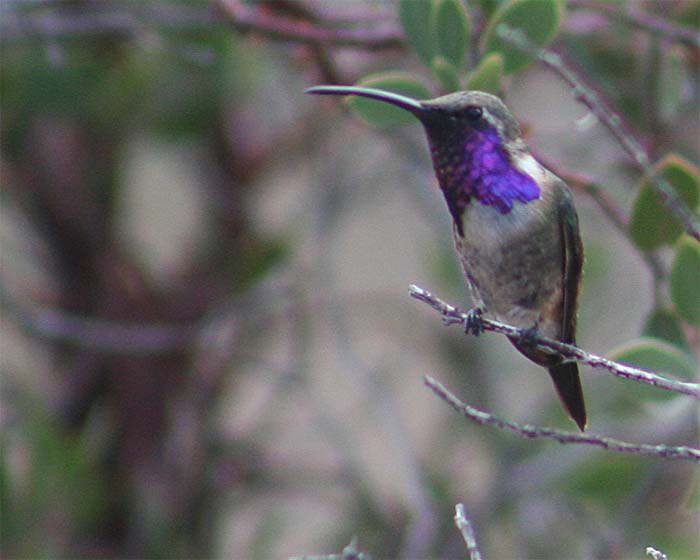 This Gray Fox visited every day while we were there.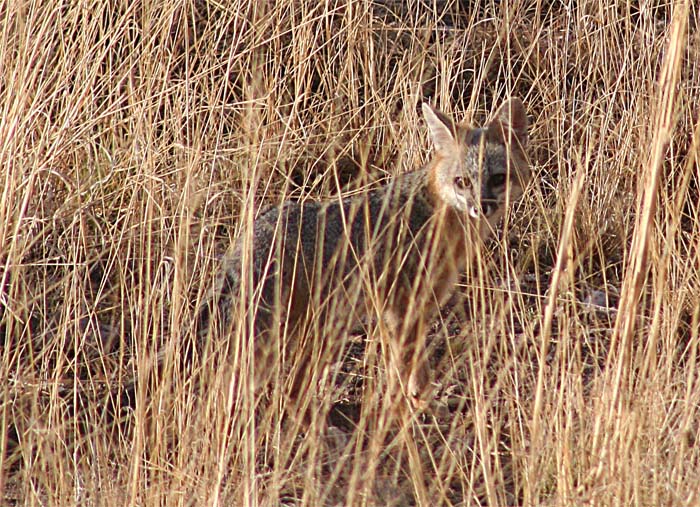 And here, below, a Blue Grosbeak visits the feeding station that CD Littlefield keeps at the house area.  These gorgeous birds are among the commoner birds in the Southwest NM SE AZ area.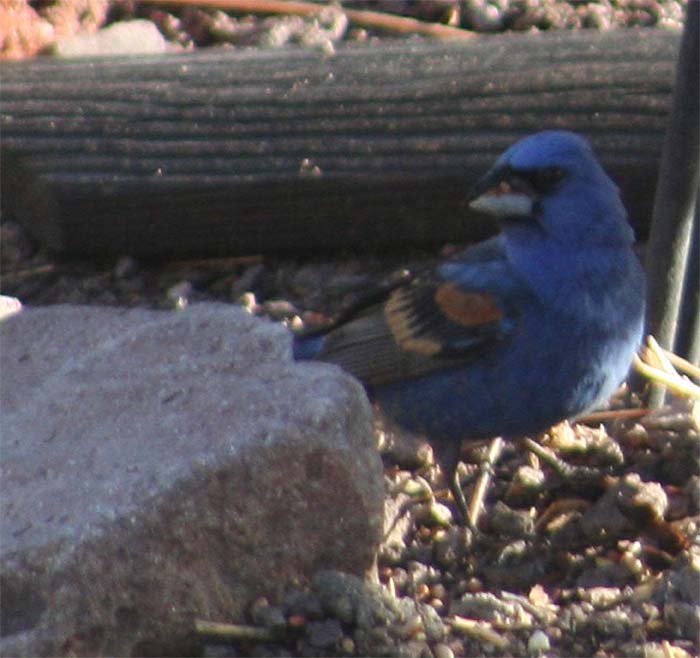 We went down to the San Simon Valley and over to Portal to visit our friend Jeanne Williams (book author, 69 books including the Cave Dreamers, No Roof but Heaven, and Island Harp).  In the valley we saw this large Desert Tortoise heading our way, but getting nervous about proceeding further when it sensed we were there, maybe 100 yards away.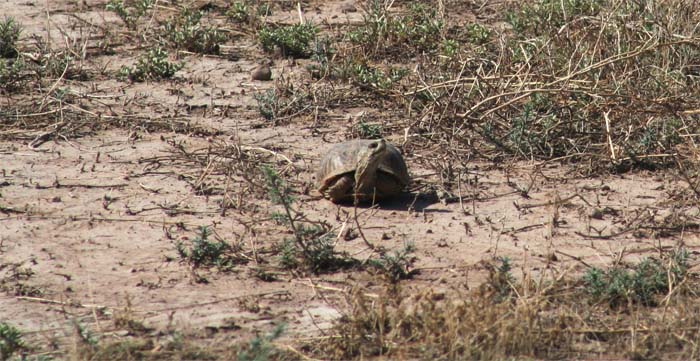 Here's a view into Cave Creek Canyon in the Chiricahuas from near Jeanne's house.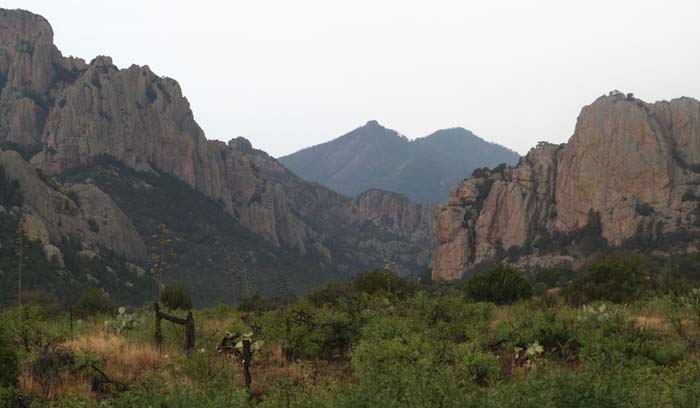 I don't claim to be a great wildlife photographer, ok?  Here's a shot of one of the Painted Redstarts we saw in South Fork of Cave Creek that at least shows the color these birds flash as they whip around looking for food.  We were surprised to see a Grace's Warbler couple in defense of their nest against an apparently marauding Hepatic Tanager couple.  We had four species of big Flycatcher: Sulphur-bellied Flycatcher, plus Brown-crested, Dusky-capped and Ash-throated.  Another birder caught a glimpse of a Trogon, we missed it this time.  Over the confluence of the two forks sailed a Zone-tailed Hawk.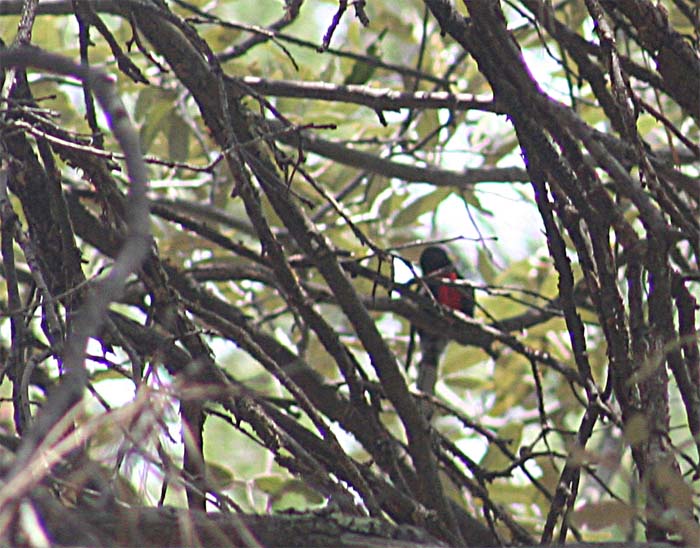 These two hoodoos are visible from Cave Creek as you head up North Fork.  Both forks of Cave Creek were flowing and it was nice to see the creek running in Portal.  (In wet times it flows a ways into the desert).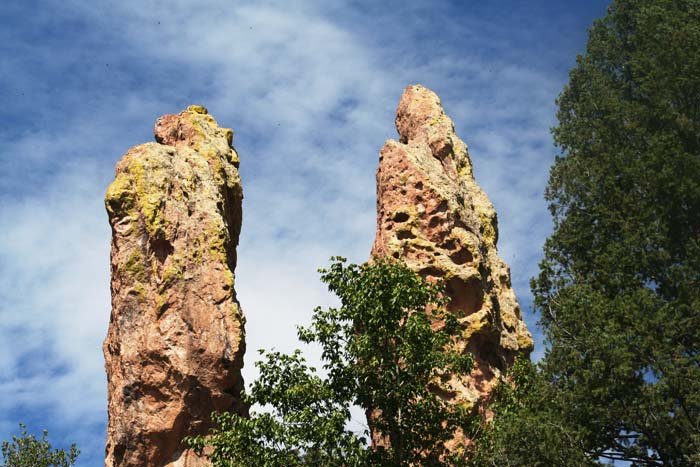 We stopped down at Cave Creek Ranch, which has nice rooms where you can stay in Portal and use as a base camp for exploring the Chiricahuas.  Reed, the owner, told us the story of this little Elf Owl, one of two babies in rehabber-provided Elf Owl housing on the grounds of the Cave Creek Ranch.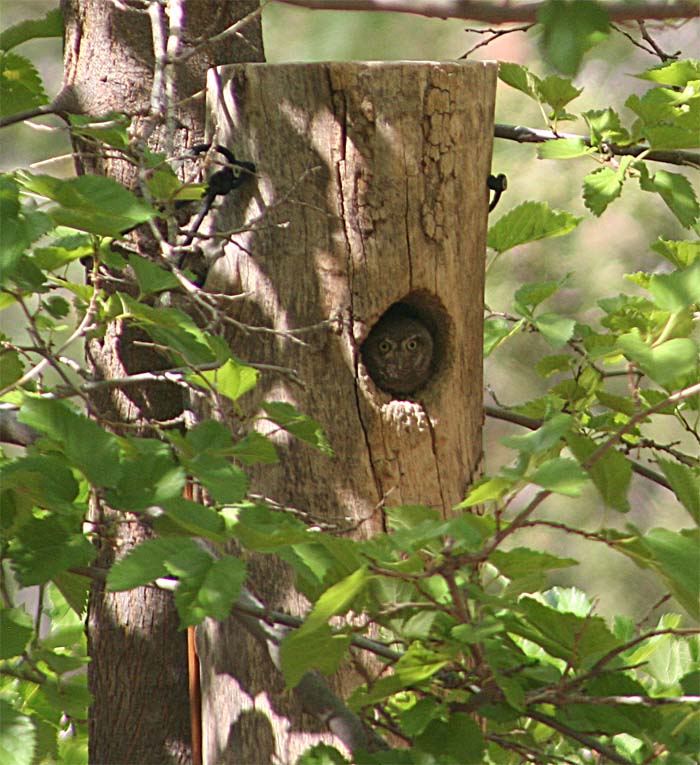 The Elf Owls were being raised in a hole in a Sycamore.  Above and below them were holes housing Acorn Woodpecker families, which drilled all the holes in question.  Apparently there is bad blood between the Woodpeckers and the Owls because, as small as the Owls are, they come along in March and choose a hole from which to evict a Woodpecker family.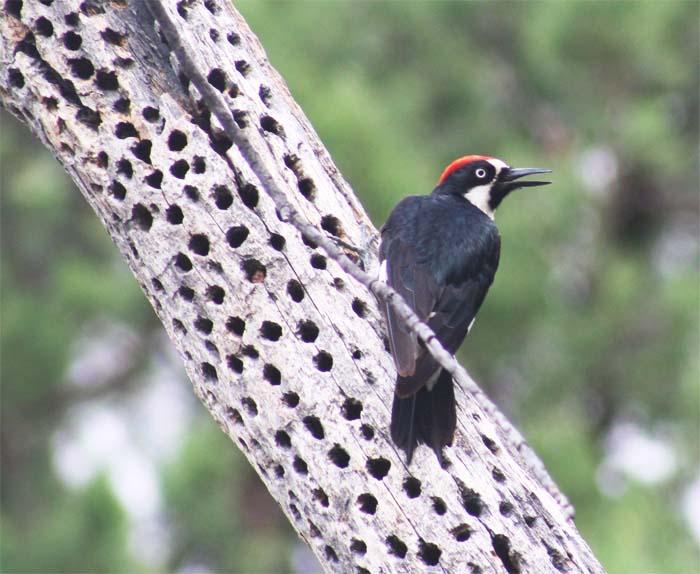 Apparently the Acorn Woodpeckers, one is shown above, got tired of the Owl babies and dragged two out on the lawn where they proceeded to try and peck them to death. 
I guess Woodpeckers aren't very good at this, because there was enough time for Reed's guests at the Cave Creek Ranch to save both the two little Owls, one of which is the bird in the photo peering out of the hole above.  Temporary Owl housing was provided in real time by experienced-rehabber Helen Snyder.  The parents tended first to the two little Owls in the new housing that had been traumatized, then went back and cared for their other three in the original hole, and this story apparently has a happy ending for the little Owl family, as Reed expected them to fledge the day after our visit.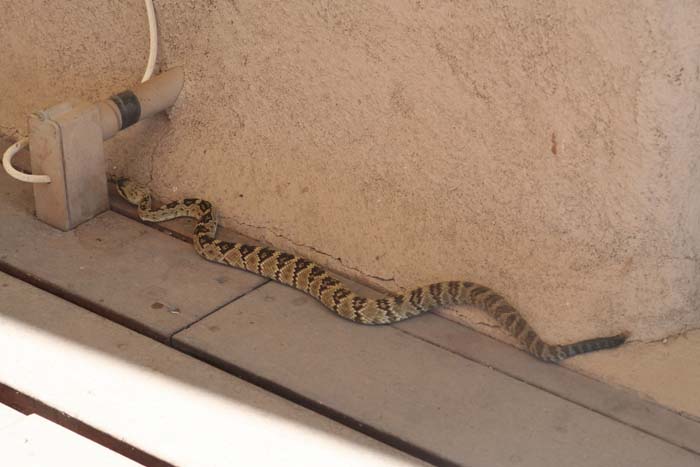 Another story with a happy ending.  This Blacktail Rattlesnake, which was only about 22 inches long, we wondered if it was a male, came by while we were having cocktails on the deck.  Delia has taken to calling it our cocktail hour but the beverage is always beer, Tecate for CD and whatever passes for a microbrew for me and Delia.   The happy ending is the next day I burst out the front door, forgetting all about this snake being in the area, and barely missed stepping on him.  He got terribly agitated and did a lot of buzzing and coiling-up.   Snakes can easily be killed when stepped on by large unthinking mammals, and while this species goes to great lengths to avoid biting people, stepping on one still puts it on the horns of a dilemma.  I made a mental note to be more aware.  We're not in Seattle anymore when we're down there, but old habits die hard.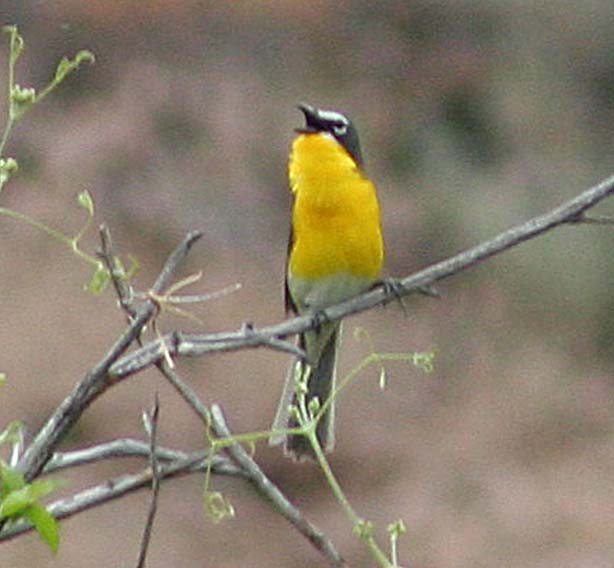 We stopped at the San Pedro National Riparian Conservation area.  What a great spot.  There were many Yellow-breasted Chats, shown above, there and we also added Abert's Towhee, Vermillion Flycatcher, Black Phoebe, Inca Dove and Common  Ground Dove to get us to 101 species of birds for the trip.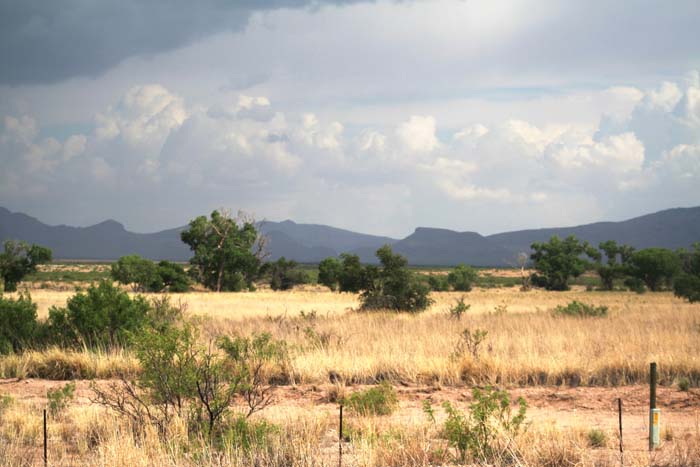 We also visited the Gray Ranch, now called the Diamond A, shown above, that occupies a million acres to the south and west of us in the Peloncillos.   We saw one Common Nighthawk, a bird I always love to see, and found Cassin's Sparrows, Yellowthroat and Hooded Oriole there.
On the 17th we drove out of the gates of the ranch.  Going there is a little bit like going to Brigadoon for me and Delia, with one big difference.  In Brigadoon, nobody ever worried about whether they were going to get enough rain.