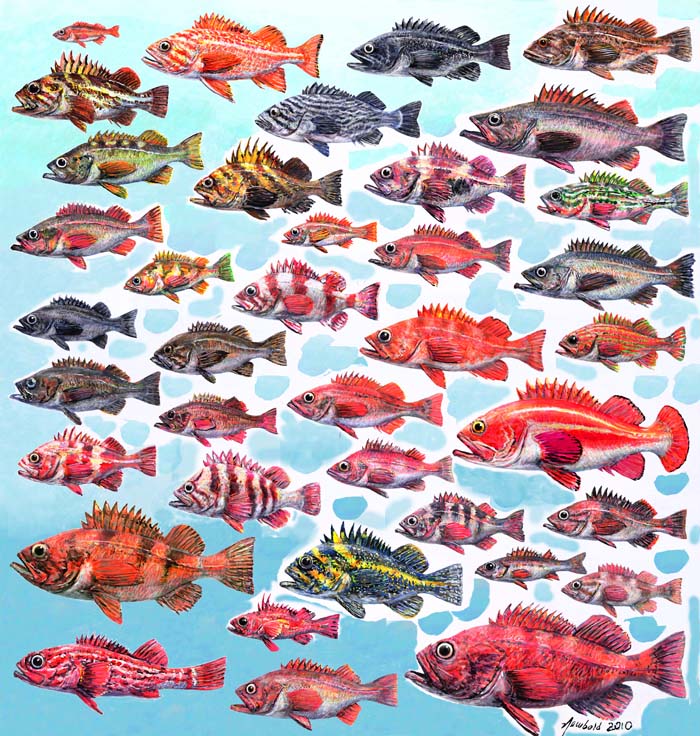 24 Feb

Rockfish remaster, Paradise and some portraits
Posted from Seattle Feb 23, 2018
The remaster of the Rockfish poster is under way.  Here's what the poster looks like now:
If you look closely, you might notice those fish which I spent many a month painting are swimming in a beige or gray sea.  I've always wondered if I could have them swimming in a deep blue sea and if that would make the poster start really singing.  Changing the color the way I do it is a tedious hand-done process in Photoshop using the clone-stamp tool.  Here is what the painting looks like now in the middle of the job: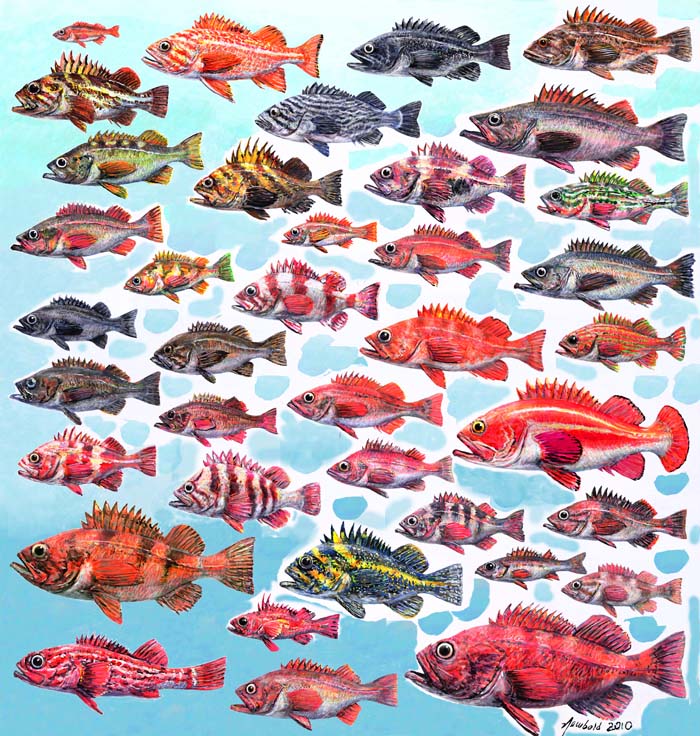 The painting Paradise I have "finished" in the past week.  I really love this painting of Mt. Rainier from Paradise with a Rufous Hummingbird on a Lewis's Monkeyflower that also features many of the wildflowers of the area. We'll see if this is one of those paintings where I'm the only one who loves it. This new finish will be available at the store soon, an earlier version is currently available there.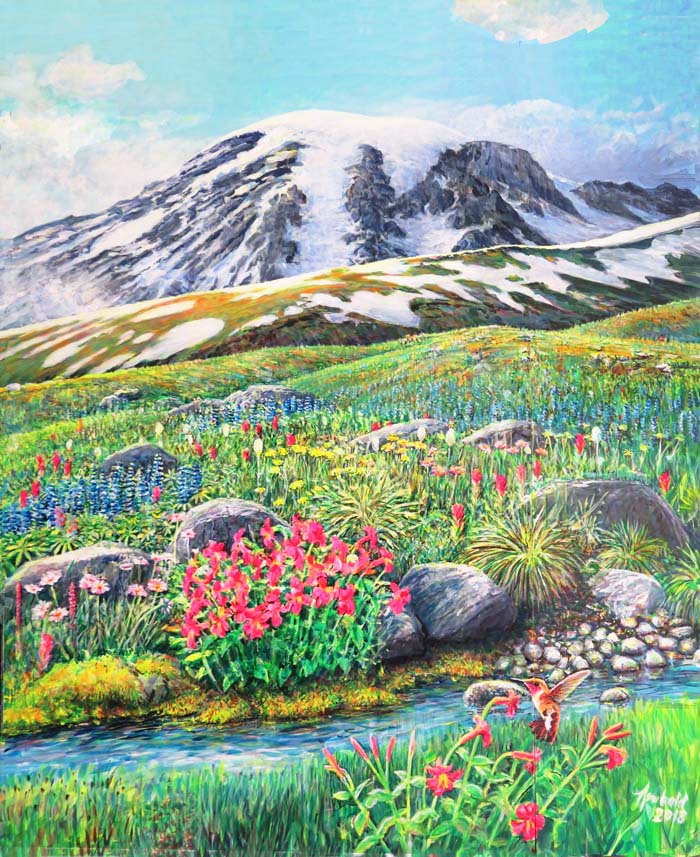 Here below is a new painting I got mostly finished in Rodeo in January but recently got to a better finish point.  Also a male Rufous Hummingbird. I'm wondering if I need a botanical in the lower part of the painting which has not much going on, at the risk of cluttering it up.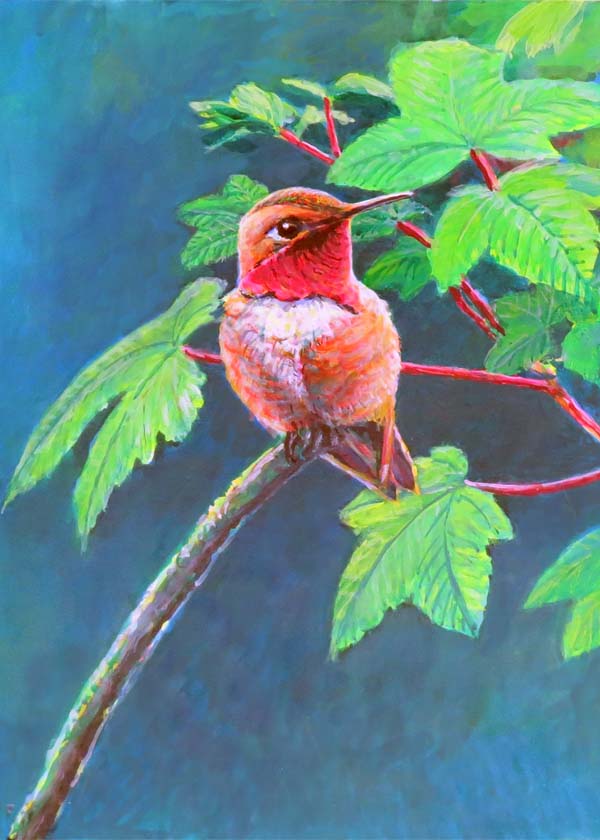 Another painting that I'm working on in Photoshop is this Townsend's Warbler that I painted for the Seattle Audubon Society.  They use the image on one of their shade-grown coffee bags.  I'm imitating the way their designer worked the painting, I like it so much, and have removed the white background. The field color I chose may be too red, however. The version on the coffee bag has more of a dark brown field and the bird pops very nicely.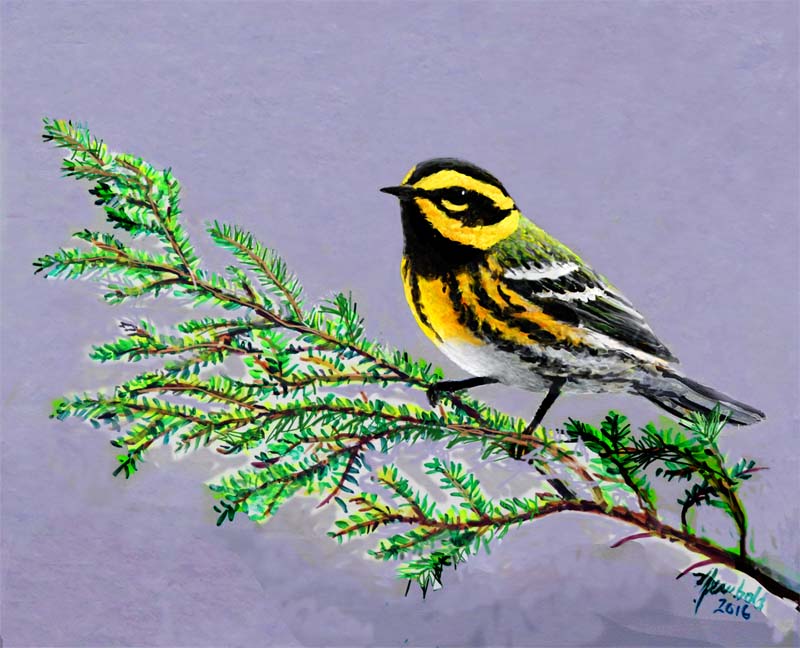 On the real easel I also am working on a Gambel's Quail couple and I'm reworking with brush the Birds of the Chiricahua, which will be a long slog, just the kind I like, and isn't different enough to put up yet.   I'll get the Quail up next time I take photographs down in the studio.
Every winter gets harder, and we have dear friends who haven't survived the winter and friends of loved ones who haven't. Winter can be a tough time. The cold snap we're getting in Seattle is perfectly, sadly, timed to wipe out the earliest wave of intrepid hardy Swallows that showed up on the Westside (We saw them near Conway and near Edison) in the last couple of weeks, mostly Barn Swallows, perhaps refugees from the California drought.
Best wishes and best of luck to all, here's hoping!