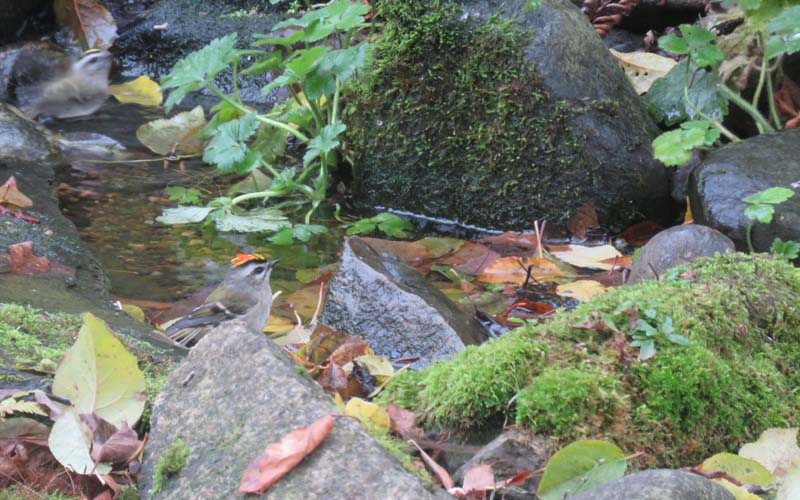 18 Nov

Shots from a dry (so far) winter
Posted from Seattle, November 17, 2018
I get it from my mom–in fact that whole side of the family, my maternal Grandfather was an apple farmer.  I hate it when the soil gets dried out. I hate droughts. Climate change has made the droughts worse two ways, by reducing rainfall in a lot of places or times-of-year but also by heating the land and therefore drying it out.  So I worry more, but I can't blame my mom for that.  She used to make fun of me for my tendency to worry. In any case, it's been a dry winter so far and a bad snow-pack so far.  Rain is predicted, I can only hope.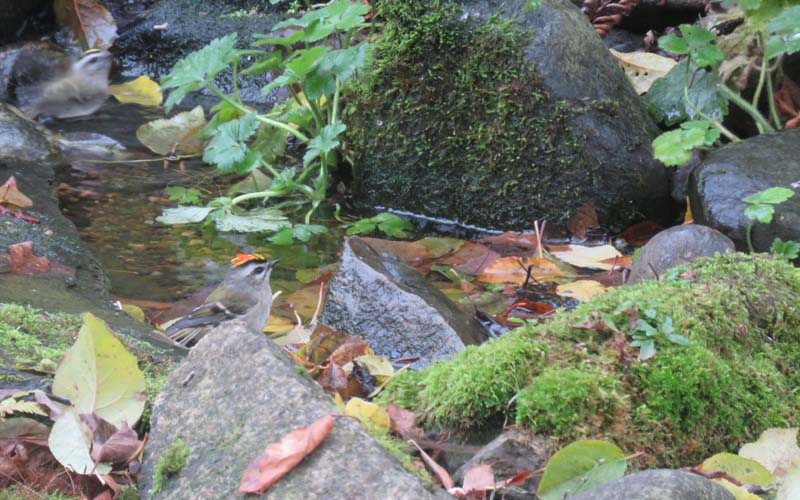 In a moment of bravado I  paraphrased a song and wrote, "The Creek goes on forever and the party never ends."  Butyl Creek that is, the recirculating creek in our backyard.  Well, the party has been pretty on this November. We had one moment when 5 Golden-crowned Kinglets were bathing in the creek at once, and Goldfinches have been showing up, we are always happy to have Goldfinches.  Above a male Golden-crowned is extending his crest, which they do when bathing.  A bird that is very similar in Europe is called a "Firecrest."  The word kinglet, after all, means "little king."  All these names are deserved.  Note the female at the far end of the shot.
Two White-throated Sparrows have been showing up in our backyard.  This is the most common winter sparrow back east but not so easy to find around here. What a great looking bird.
We were over in Union Bay Natural Area by the UW the other weekend.  In the main pond were a lot of ducks, mainly Hooded Mergansers, but a pair of Wood Ducks were there also, and this was my only shot that was barely in focus and it also wins the "Best pose by a Duck" contest I've been holding.

Meanwhile the off-leash dog problem is getting really out of hand… Oh wait, that's a bull Steller's Sea Lion at Point No Point.  I understand they can weigh up to 2000 lbs.