25 Dec

Skagit Snow Geese painting is at the Fear stage

Posted Dec 22, 2014 from Seattle WA

When I start a painting that I have high hopes for it's full speed ahead at first.  But on my best paintings I pass through a phase where they look pretty good (at least to me) really early and that's when the fear sets in and I start worrying about each new brush-stroke.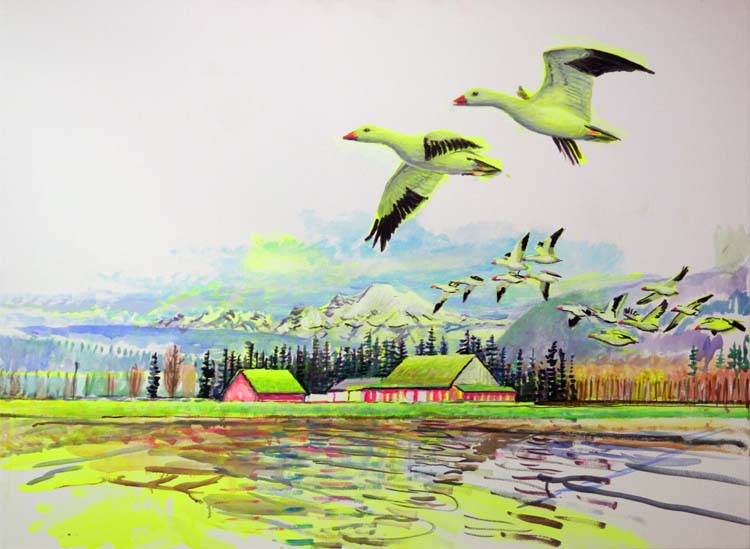 I know there are many pitfalls awaiting.  It may be that this is the best the painting will ever look (others may not be as taken with it as I am, I hope I don't sound conceited about it).  I really can't imagine holding the mood and keeping it quite as good as it is now, at least as far as the sense it evokes.
So the obvious question is, "Why don't you just put down the brush down and say it's done?  Some artists and some art teachers might well say I certainly should.
However, I can't, it's not an option.  It's not that I'm sure I can hold the level of quality, I'm actually almost in a near- panic that I can't.  It's just that it's not in my soul to not "finish" the painting.   It would be for me like getting half-dressed and going out on the town without putting my pants on.  But this attitude doesn't carry over to other artist's work—I can be totally admiring of work that has this quality, just can't do it myself, nor do I want to.
I'm planning to put about 10 more geese at the mid range in the left and they'll be in braking mode trying to slow down for a landing.  They won't be too obtrusive, I promise.  I'm most worried about deadening the foreground with too much raw umber.  I don't have too much fear for the sky, because this is on canvas and canvas always helps the painter with skies.