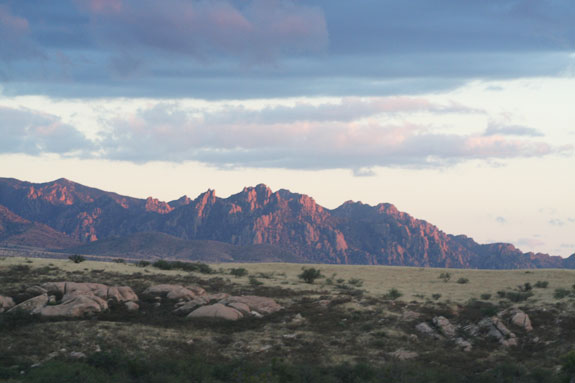 26 Dec

Sobering Borderland adventures

Posting from Seattle Oct. 28, 2010

Delia and I made another trip back to visit her folks Bob & Katie who live in New Mexico's southwestern "Bootheel." I took this shot on the way there–out the window as we were speeding along through Arizona on I-10.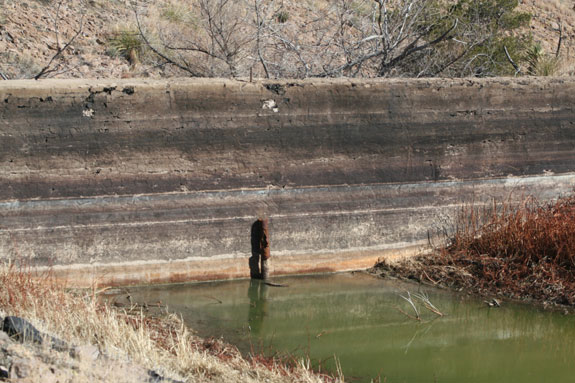 There's been a pond on the far end of Bob & Katie's property, the "Section Pasture Pond," but on the last two Christmas Bird Counts it's been dry, looking like this. Before this it had
always held water, and for a quarter of a century I've come to expect at least one wintering Black Phoebee there, and up to three species of ducks. A nearly dry pond-bed in contrast has a Scrooge-like effect on our Christmas-Count spirit.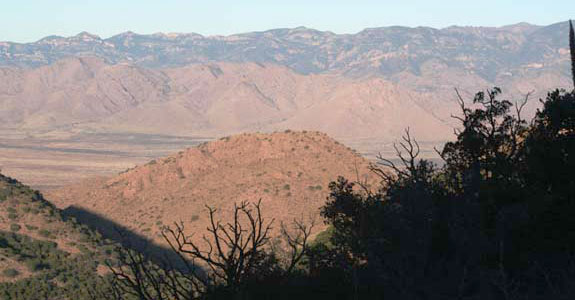 With some concrete and newspaper in hand and a plan to create a plug to fix what I assumed was a broken downpipe, and we planned a hike for that purpose this visit. We started early and reached the pass by 8:30.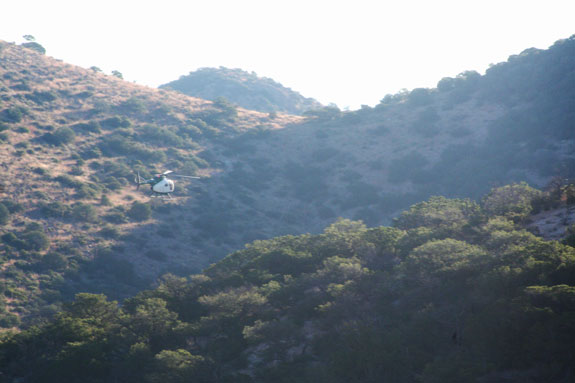 On the way down from the pass on the other side a Border Patrol Helicopter did a quick fly-around and then was gone.

We got to the Lee Place around 10. Here is his corral, the house is long gone. Lee had a Still, which he operated during the First Great War on Drugs, (Prohibition). When Prohibition was finally & mercifully ended, Lee packed up to head for greener pastures. But nothing ever changes. Now in the second Great War on Drugs, the Peloncillos have become an alternate shipment route to supply Americans with the consumer goods they demand.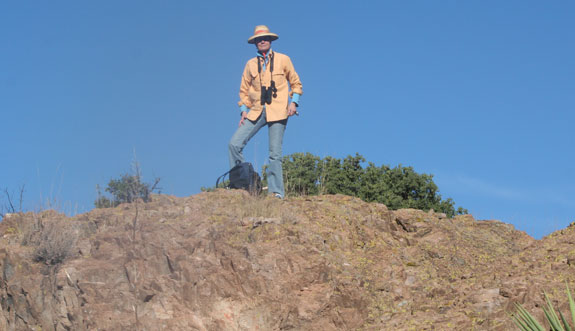 We said goodby to Delia around the Lee Place. She didn't want to miss the whole day with Bob and Katie. On the way back she encountered two very nice Border Patrol agents who were traveling by horseback.
Now it was just me and CD LIttlefield. CD is a retired wildlife biologist for US Fish & Wildlife, (author of "Birds of Malheur" and many Journal articles) an expert on Sandhill Cranes, and a great fount of knowledge who lives on the ranch and is working on transect studies of birds. CD doesn't believe in dressing up for a hike, and that worries my mom-in-law Katie. One BP officer who didn't know what to make of him had a pistol drawn and pointed in the air until they both accused each other of scaring the heck out of them and had a pleasant conversation.
A Horse Lubber was hanging out past the Lee Place. CD fills me in on names of plants and animals on the ranch that I wouldn't have much hope of knowing, including this huge fancy Grasshopper that I would have missed.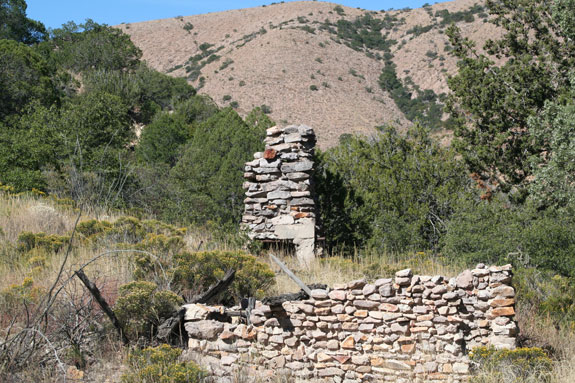 By the time we got to Shorty Miller's the sun was beating down and it was getting hot. Shorty, no relation to Bob and Katie's present neighbors, was a rustler. It's downright sobering to think how tough life must have been in the high Peloncillos less than a century ago. Shorty's grave is in the Rodeo cemetary, RIP Shorty.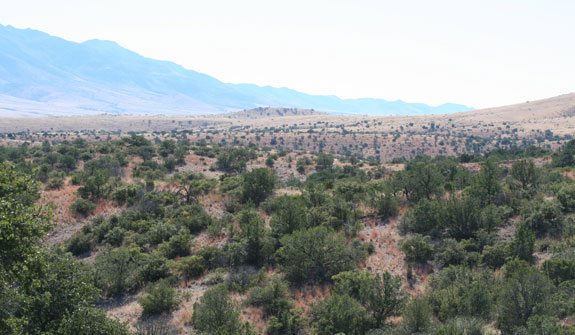 Now we were well onto the eastern slope of the Peloncillos, a very narrow mountain range, heading down to the Animus Valley with Animus Peak in the background. Animus is a much higher valley than San Simon valley and has more grassland. Straight ahead is the enormous Gray Ranch, home of cowboy-poet Drum Hadley and a Nature Conservancy easement.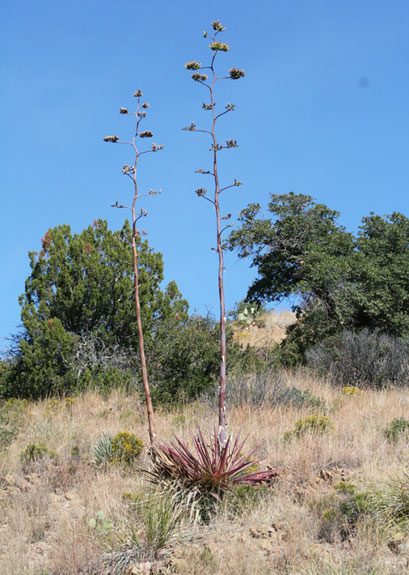 A beautiful Agave plant, so important to the Apache Indians and so important still–including for Hummingbirds. To a careless Easterner like me who did not grow up with plant leaves that resembled swords, those spikes at the base should come with a warning. Rural legend, probably true, has it a cowboy was thrown from his horse onto an Agave and was killed. I used to have a sloppier walk-style in this part of the country and I once fell headfirst toward an Agave right near this one. One of the leaves gave me a free lip-piercing–it must not have known I don't where jewelry there.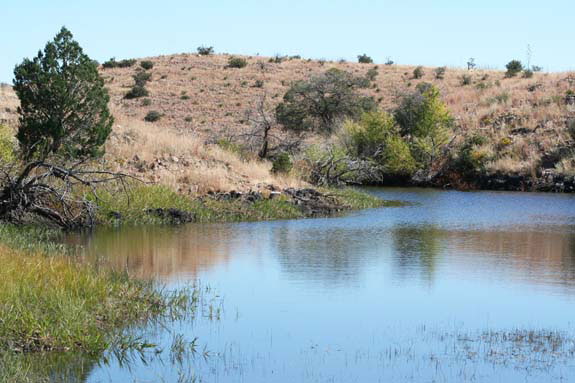 Suddenly I saw blue below me and I realized we were at the pond, which to my surprise was full.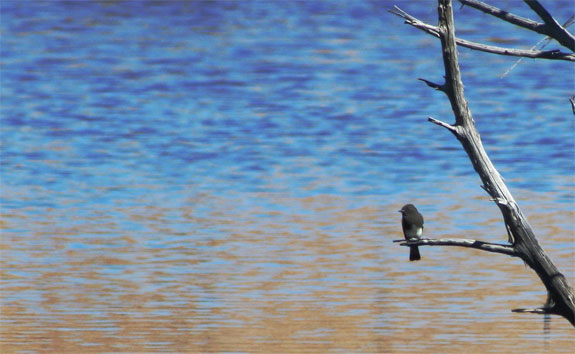 Not only that, it already had a Black Phoebee in residence. Black Phoebees, for those whohaven't had the pleasure of their acquaintance, are a really neat bird, a member of the Tyrant flycatcher family, with a sweet-sounding plaintive call that they don't hesitate to use often.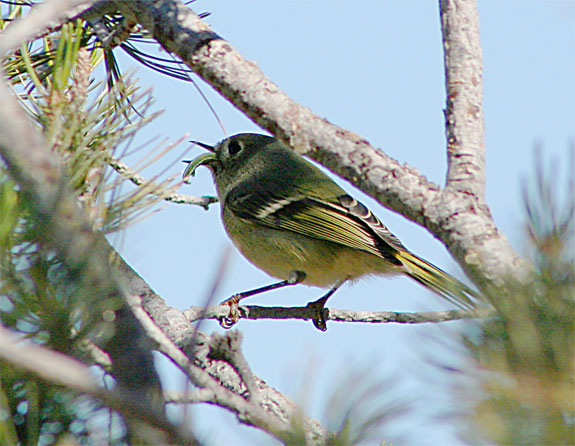 In a Pinyon by the Pond was a Ruby-crowned Kinglet that had just got lucky and had a mouthful.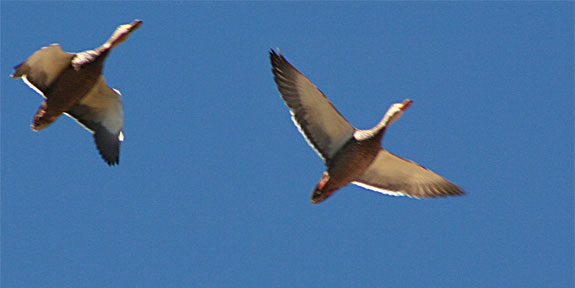 And two Mexican Ducks decided to be safe and head down to the pond on Clint Dunagin's Ranch or one on the Gray Ranch, about a mile away. This species used to be considered a subspecies of Mallard, then not, then a subspecies again, but DNA analysis recently shows it's not as closely related to Mallards as thought. It sure makes a good visual in flight.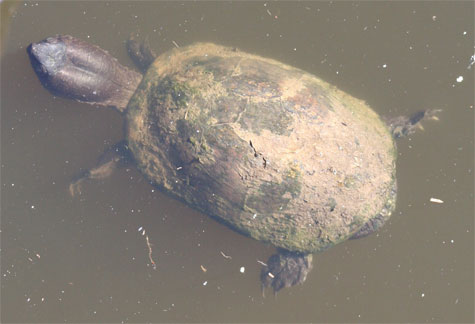 This Sonoran Mud Turtle was the first one I'd ever seen. Whether there will be water in the pond for it and the ducks and Phoebee come Christmas is anybody's guess. I remember the old saying: Things that fix by themselves break again by themselves. Maybe the dam is leaking from the broken downpipe but at a slow rate. Maybe it's leaking around the sides. Maybe we'll know something this Christmas Count.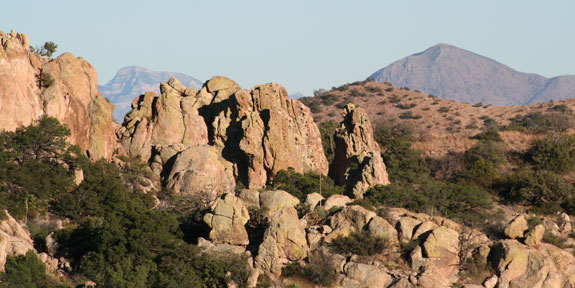 On the hike back, we had this view of Big Hatchet, the distant peak on the left. I was in pain and out of water, but CD reminded me that the hikes that are the hardest are the ones you remember most fondly later. Good point, CD. We made it home by dusk.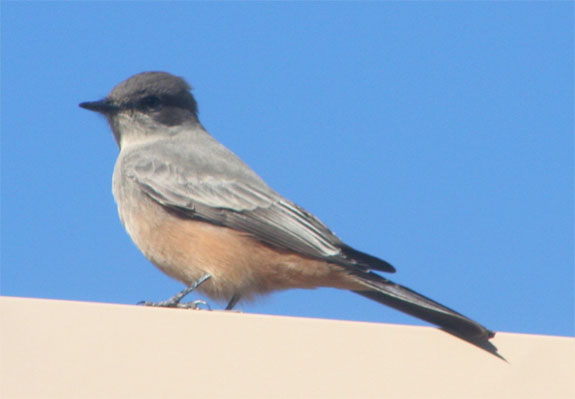 Back home next day we had a visit by the other western species of Phoebee, the Say's Phoebee. Like Barn Swallows, Say's Phoebees seek out the human umbrella of protection from their enemies. Look for them near homesteads and buildings.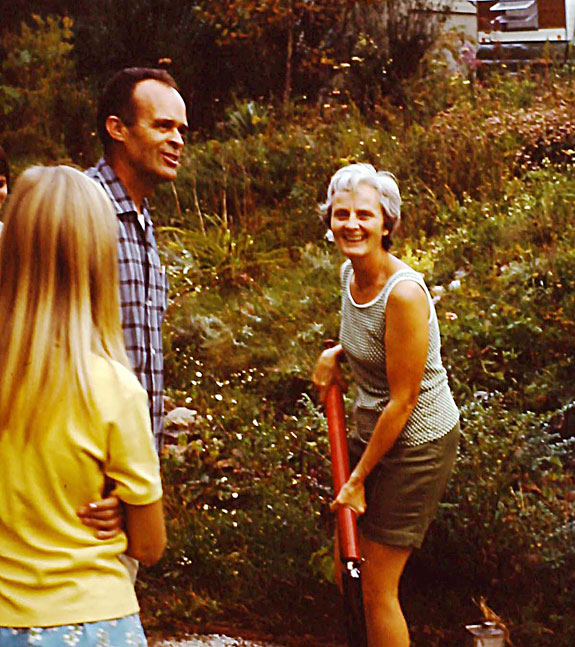 We had one more full day to spend with Bob and Katie after the hike-day. I decided to run a shot from sometime in the 1960s of Bob and Katie, because when you've known folks for a long time, you don't just think of them as one age. Bob is a Farm boy from Illinois, Katie hails from a small-town in Michigan and they met at Michigan State. Both were fearless adventurers, Bob serving as a Doctor with US AID in Panama, where Delia was born, and Bolivia and Paraguay, with Katie gamely heading households there, and where Delia grew up until age 7. If you know the Scholes, you might have heard stories of them flying on top of a load of lumber in an old DC3 huffing to make it over a pass in the Andes, or heading back from a health clinic through the Bolivian jungle on a horse that didn't want to make the trip.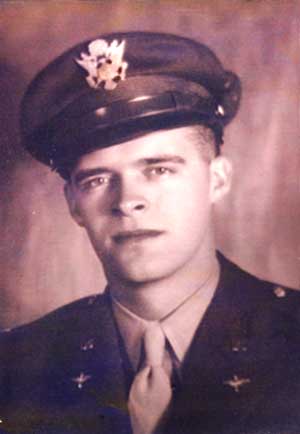 It may matter to some people that Bob happens to be a World War II veteran who served his country with the Flying Tigers in China. He's lost hearing and eyesight now, but I remember Bob as always being a much better birder than I'll ever be.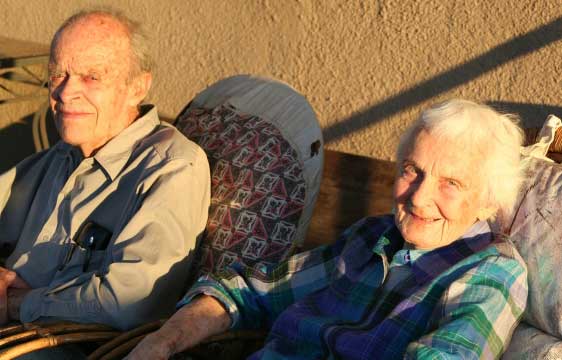 The world needs to know that Bob and Katie are virtually imprisoned in Post Office Canyon. They are not allowed to have the road to the ranch fixed or graded, so it's nearly impassable. They have been allowed only 8.4 visitors a month for the last 25 years, and in the entire history of this ruling no one has ever figured out what a .4 of a visitor would be, and not all of the jokes about it have been funny. Conditions that were bearable when they were middle-aged are less so now that they are 89 and 91.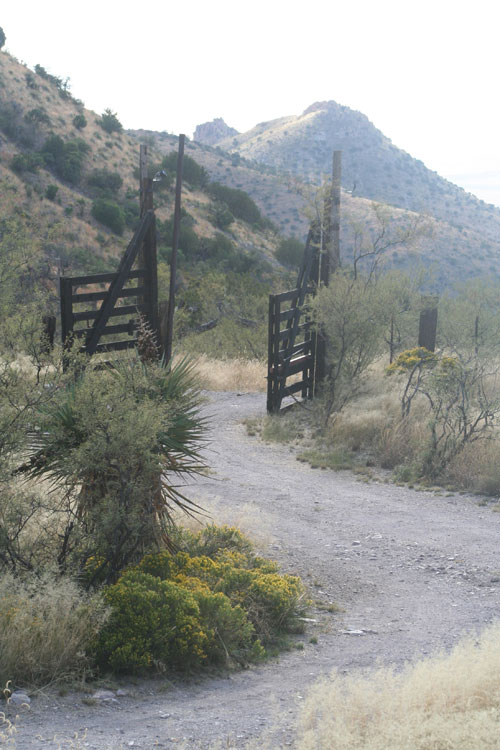 It pains me to see Delia's worry as we leave the BioResearch Ranch once again. It also seems important that I say that even though I'd like to see the whole legal dispute end, I hold no grudge against the Scholes neighbors. Once fast friends with Bob and Katie, they went all Hatfield-McCoy in the 80s. But they have their reasons, and they have their way of looking at things, and it doesn't do any good for me to say theirs is wrong and ours is right. Viewed through another prism, the Scholes could be seen as the beginning of suburbia down here, coming as they did in the early 70s when no one who lived here was not a rancher or connected to that way of life. You can see in the valley, the demographic explosion has already commenced. Maybe that sadness, about a way of life going down and the Bootheel relentlessly, inexorably, being gobbled up and spewed out as just more endless suburbia, is what this is all about.
If there were anything I thought folks could do I'd ask, but I'm out of ideas and out of my depth.
I'd rather try to fix a downpipe.