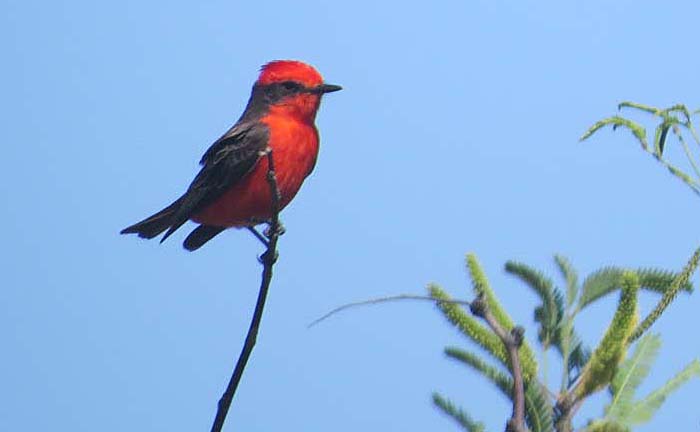 22 Apr

Spring Visit to Bob and Katie's

Posted  April 22, 2015 Earth Day from Seattle, WA

Bob and Katie are gone, sadly, but it wasn't hard for Delia and me to imagine their presence as we showed my brother Denis the "Ranch."  This was his first visit.  Springtime isn't the prettiest time in the Southwest but it was a great trip that felt too short and gave all of us plenty of golden memories.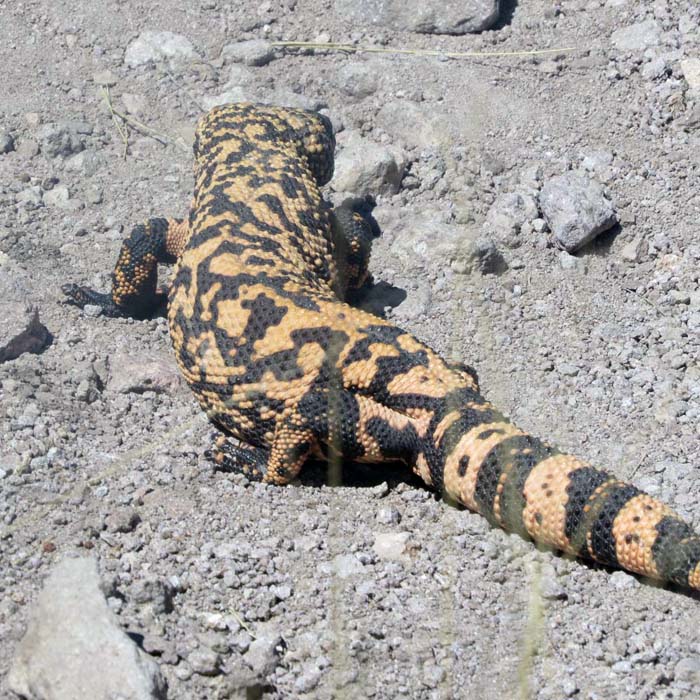 Our biggest surprise was a Gila Monster that crossed our path in the Canyon.  Despite having been going there for years, we had never seen one before and were reminded of their large size.  They were faster than I thought they'd be, which explains the lousy pics!  (Scroll down for more later)
We  took one day to go down to the Slaughter Ranch and San Bernardino Wildlife Refuge which sits right on the border with Mexico.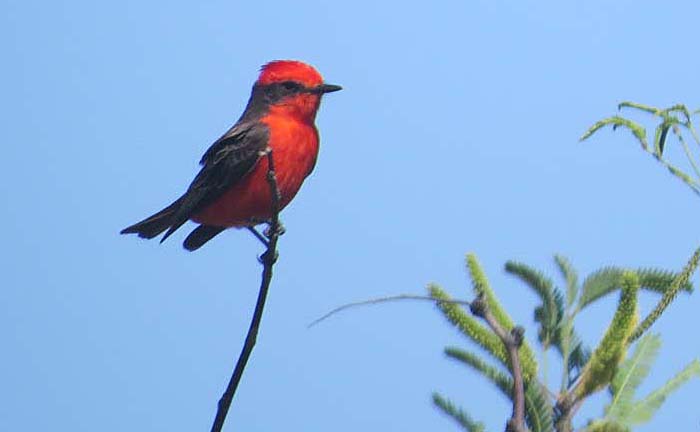 It was festooned with Vermillion Flycatchers—one of the Southwestern birds that can knock you over with its bright colors.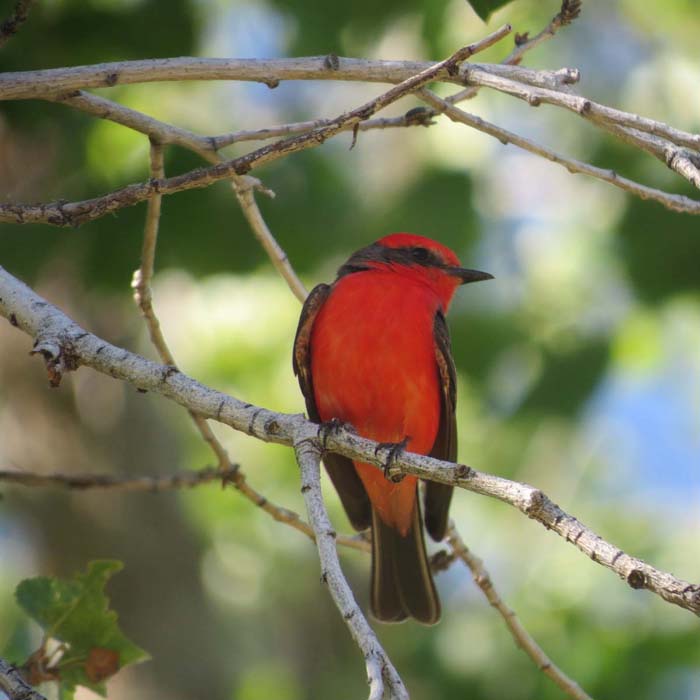 Here's another.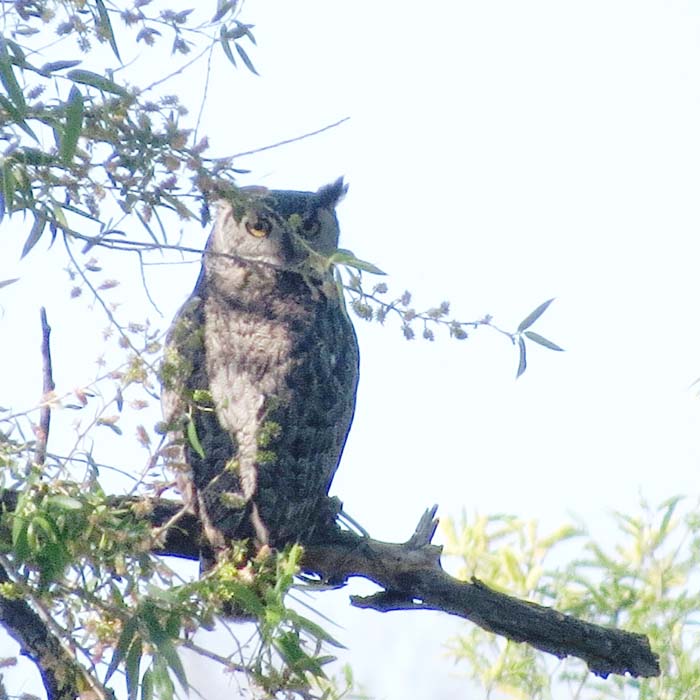 First I thought this was a Red-tailed Hawk flying in through the trees at the Slaughter Ranch, but it looked too heavy in flight.  She (she was big!) had either a ground squirrel, Prairie Dog or Rock Squirrel in her talons, couldn't tell.  After taking her prey a safe distance away across the headquarters lake, she turned her head around back for this shot.  Thanks!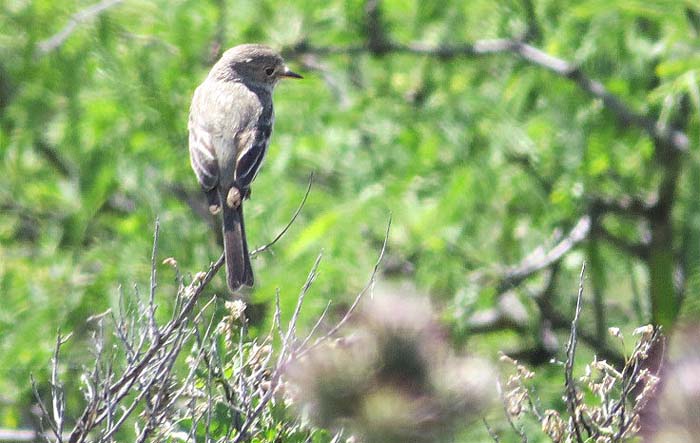 Not all the birds were bright red like the Cardinal, Summer Tanager and Vermillion.  There were also gray birds including Bell's Vireo, Gray Flycatcher and Gray Hawk, and lots of pretty white Lucy's Warblers that were moving too fast for pics. The Gray Flycatcher, shown above, is the only one of those that wanted to pose.  Notice the short wings and long bill, which help identify this species which is in a famously hard-to-identify group.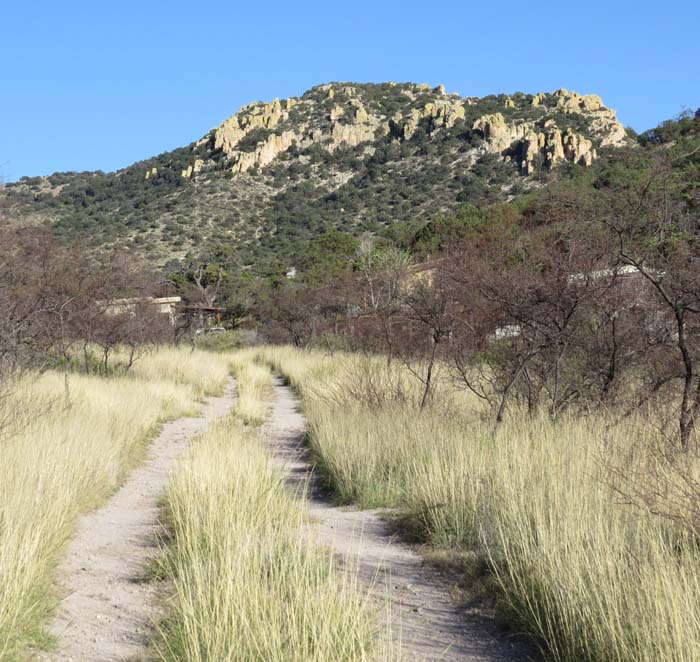 We were thrilled to find Green and Great Blue Heron there and wish San Bernardino luck in preserving and even potentially rebuilding the wetland that has historically enriched the area. Above is the view of the White Cliffs on the ranch after we returned from San Bernardino.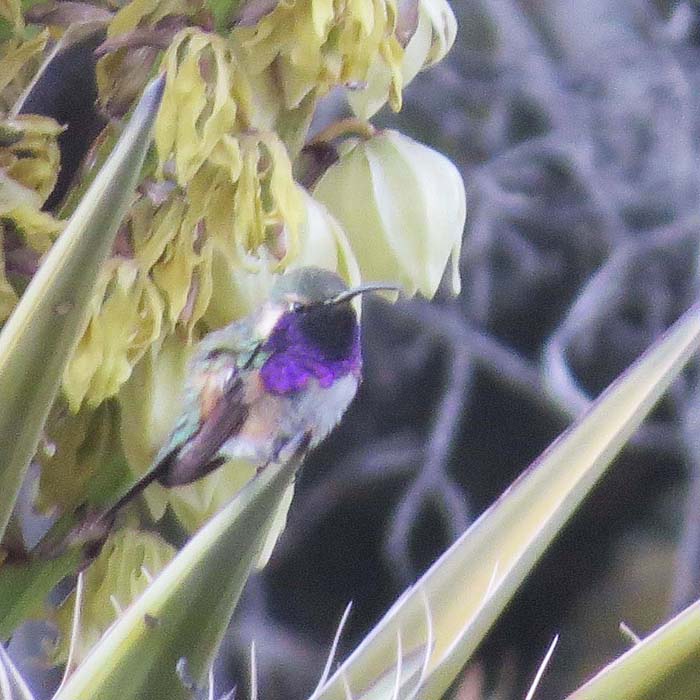 Hummingbird action at the feeders was down this year, but conceivably that is not bad news since we had good winter rains and there were wildflowers blooming in the outback so Hummers may not have needed the feeders so much.  Here is the Ranch-specialty species, a Lucifer Hummingbird, this one a male.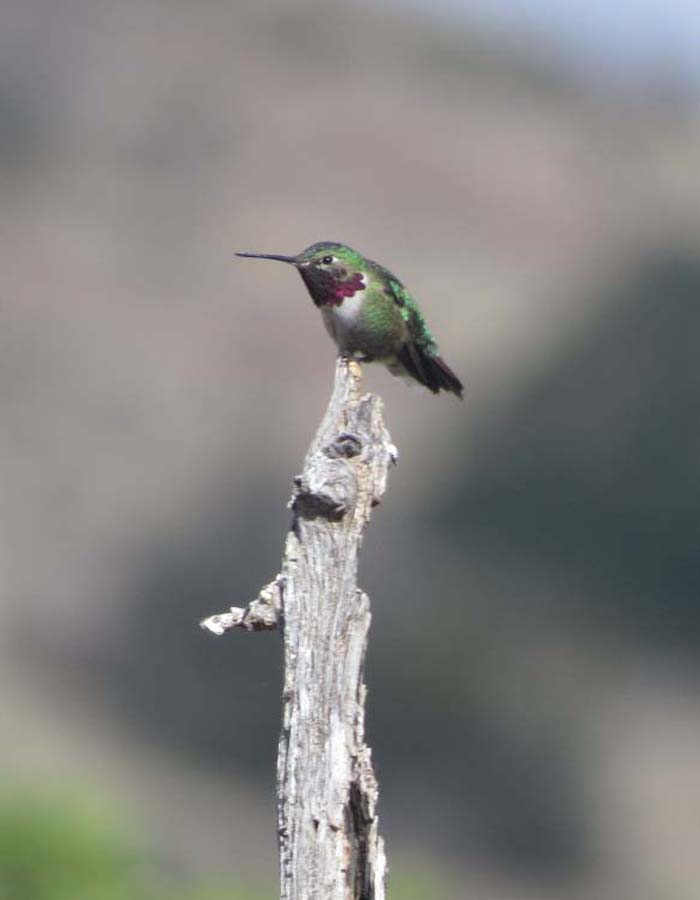 Handsome Broad-tailed Hummingbirds make a high whistle-type-noise when they fly and it was heard constantly.  They breed on the ranch along with three other species.  We inadvertently found a Lucifer nest.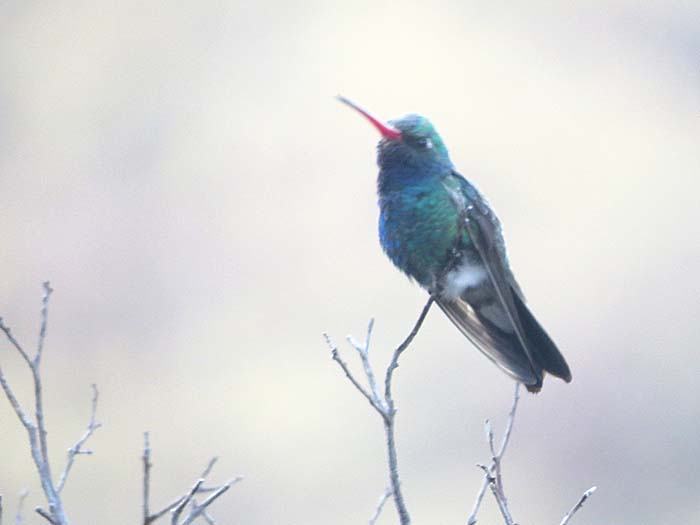 This is a Broad-billed Hummingbird doing sentry duty at the feeders.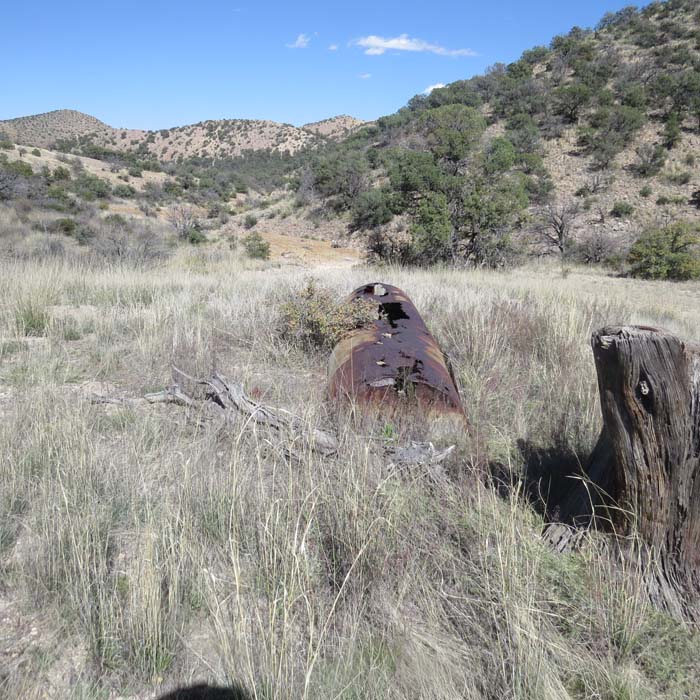 We only did one big hike and got a late start, so we only made it to the Lee Place.  We found what may be part of his old still, since Lee was a bootlegger.  (End Prohibitions against victimless crimes!!!) Lee must have been one hard-working guy and we can't see any way he didn't have a pretty tough life back there.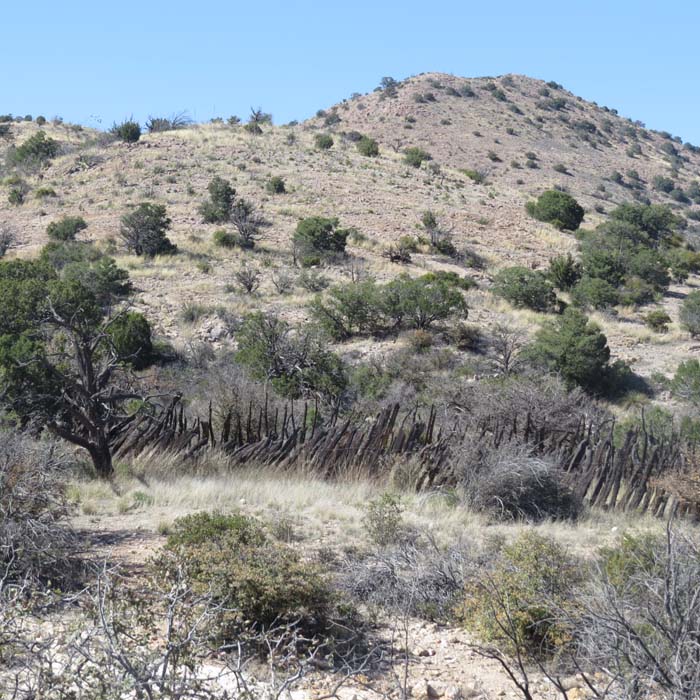 He also had a corral, here is what's left of it.
We got as far as Miner Canyon and were glad to see water in it.  A Red-naped Sapsucker came in for a drink.  We all thought it was named for some kind of mining, but apparently it was named for Elizabeth Miner, who came out to be a schoolteacher and who a lot of the bachelors in the area got pretty excited about.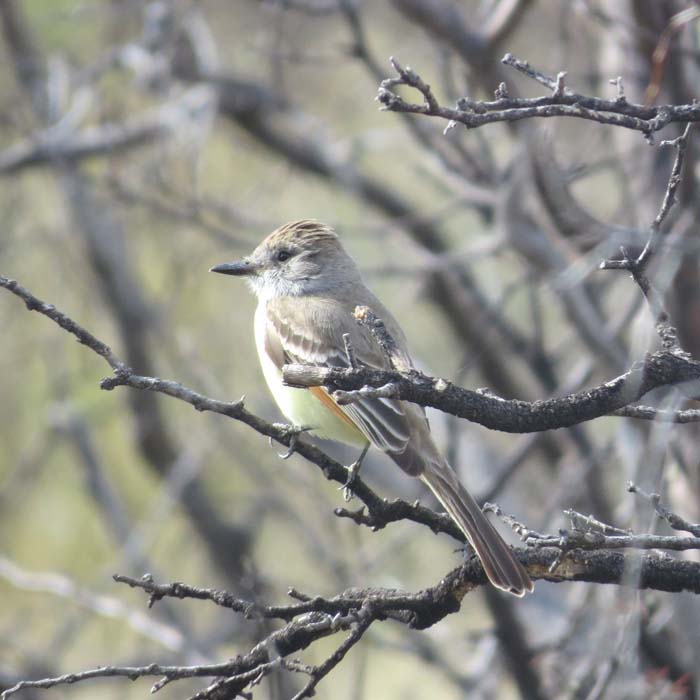 Ash-throated Flycatchers are omni-present on the Ranch and their cool nasal flute-like sounds provide soundtrack along with the White-winged Doves. The Ash-throateds get to the Southwest early and begin nesting, unlike monsoon nesters such as Blue Grosbeak, Hepatic Tanager, Varied Bunting and Lesser Nighthawk, which had not yet arrived from the south.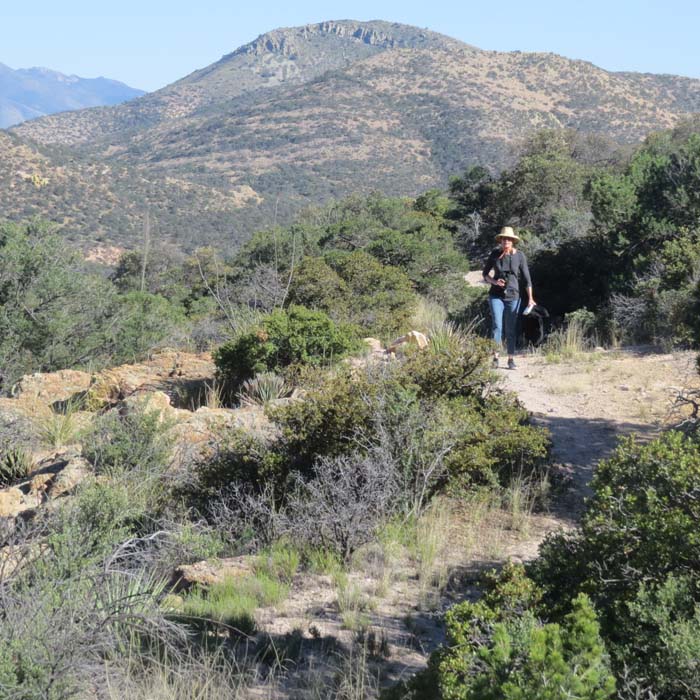 Here's Delia hiking back through Maverick Canyon from the Lee Place.  We are in the spine of the Peloncillos.  We had Blue-gray Gnatcatchers near this spot, and they were so blue reflecting the bright blue sky that I wanted to rename them Blue Gnatcatchers.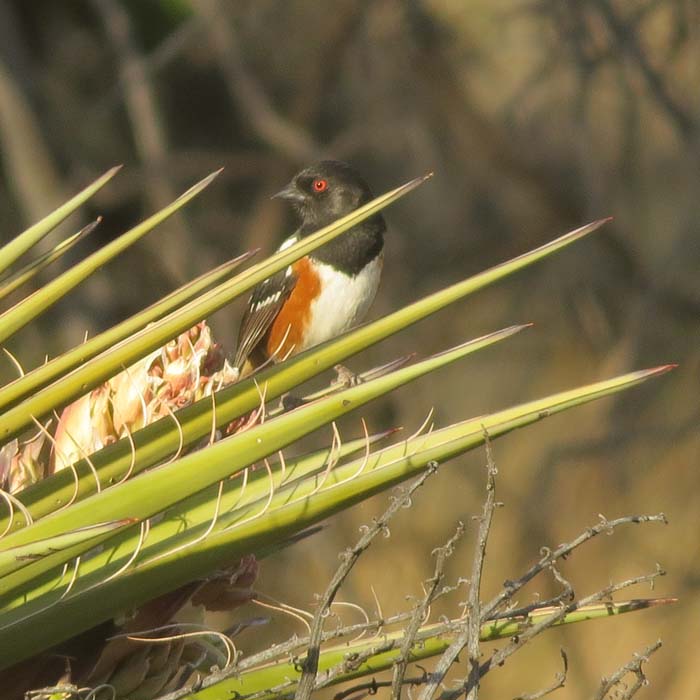 Spotted Towhees are pretty common on the ranch, this one used a Yucca perch.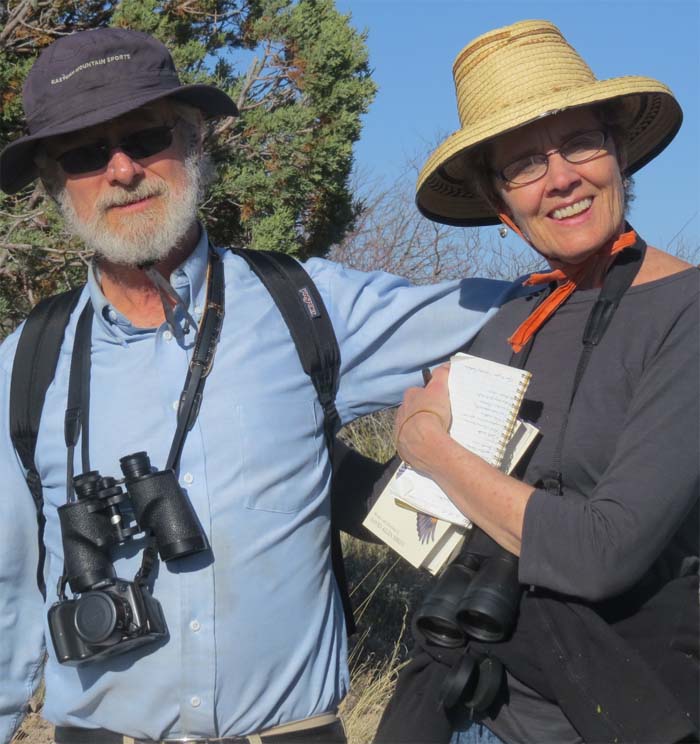 We posed for pictures at the pass, that's my brother Denis and Delia.  My sister-in-law had to stay in Pennsylvania and make a speech.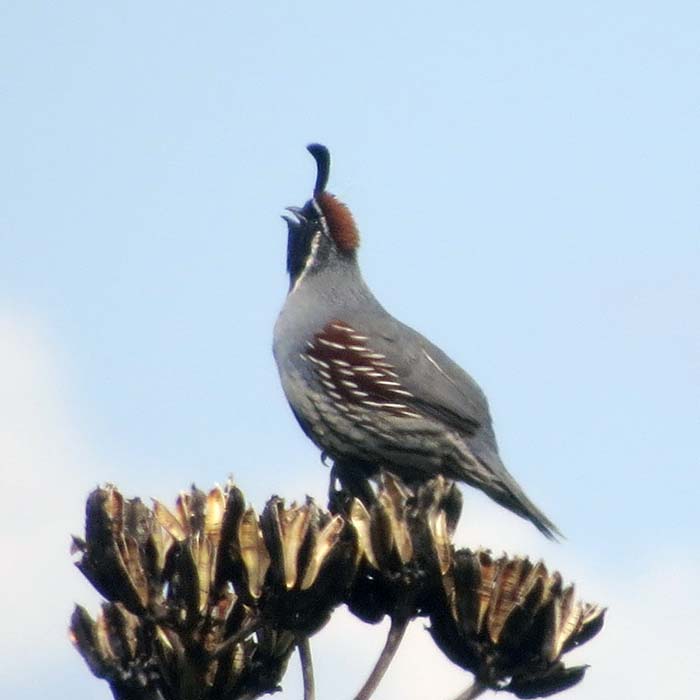 On Monday we headed over to Cave Creek in Portal Arizona and looked for birds and visited friends.  We saw Acorn Woodpeckers at Cave Creek, plus Painted Redstarts, Elegant Trogon and Dusky-capped and Brown-crested Flycatchers, Zone-tailed Hawk and many others.  This Gambel's Quail was using an old Agave as a singing platform in Portal.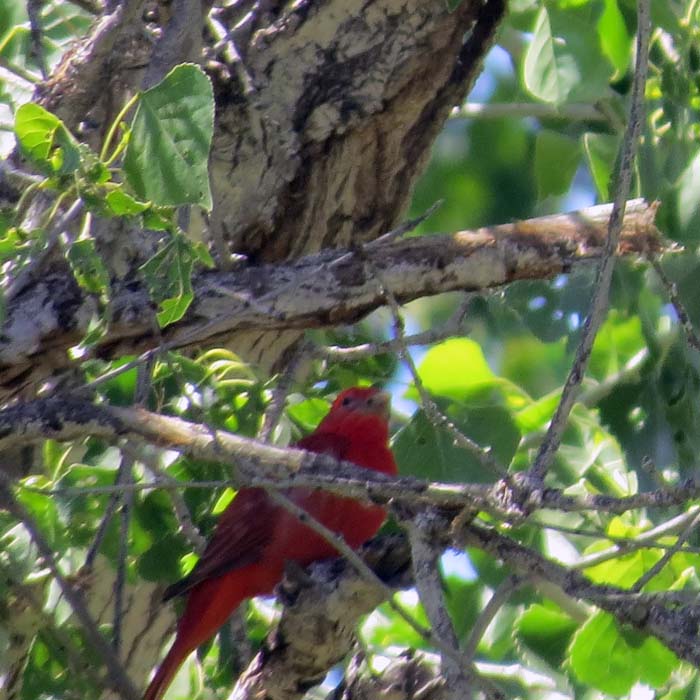 We found Summer Tanagers at Cave Creek–also San Bernardino and later on the way back at the San Pedro River Riparian Area.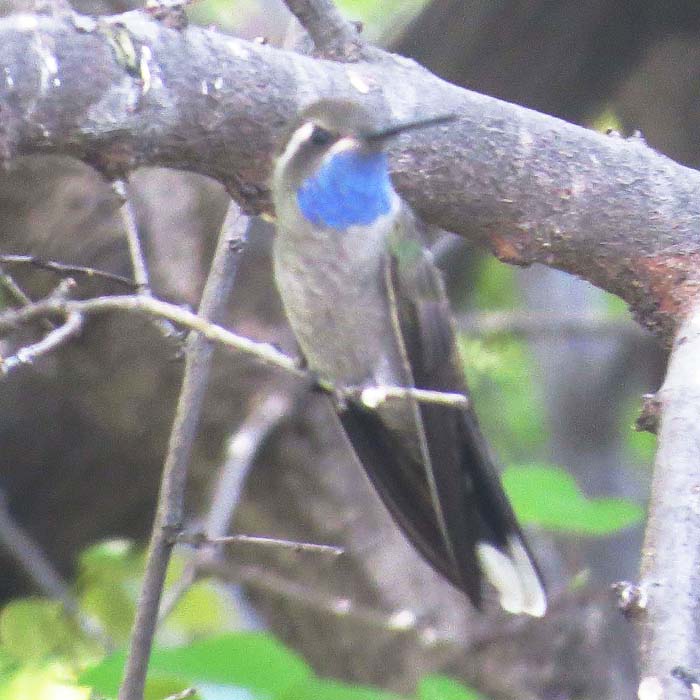 This Blue-throated Hummingbird was on the grounds of Cave Creek Ranch, which is a good place to stay as a base camp for Cave Creek and the many surrounding areas.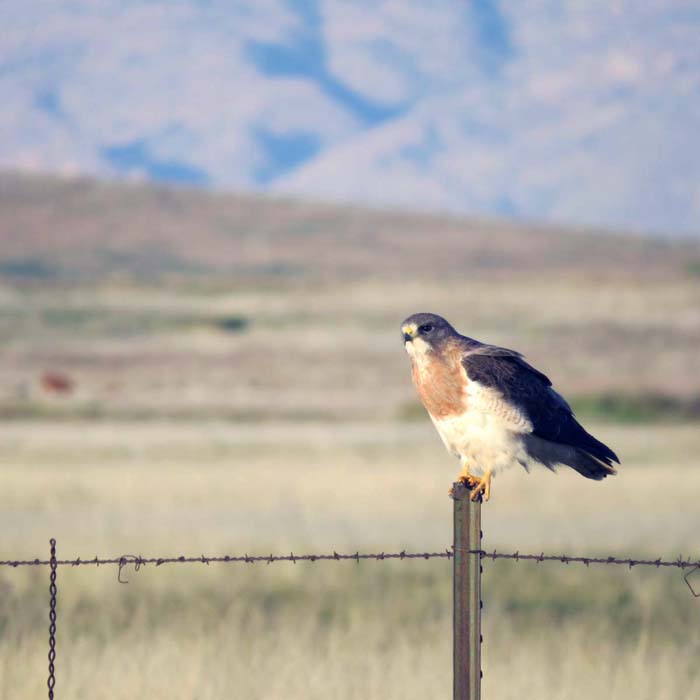 Leaving time order aside, here are some more shots.  This is a Swainson's Hawk that was sitting by the road at Apache on the way to San Bernardino.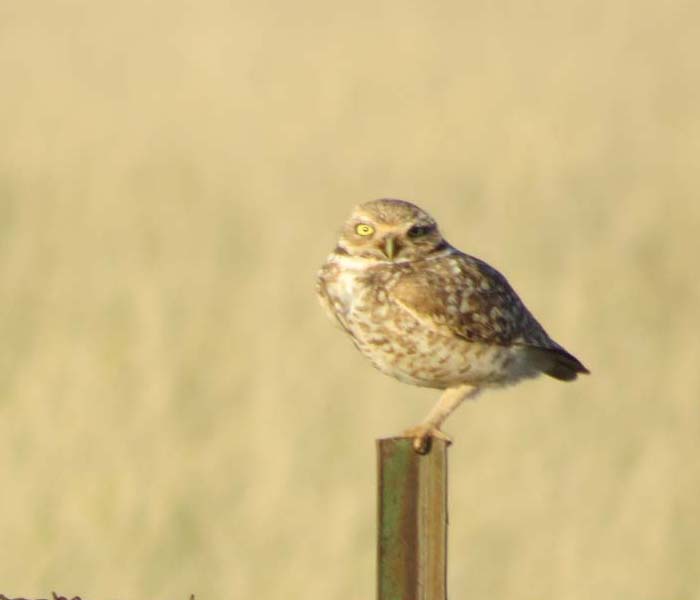 And we were delighted to find this Burrowing Owl in the same area, delighted both because they are delightful and because they are having conservation troubles.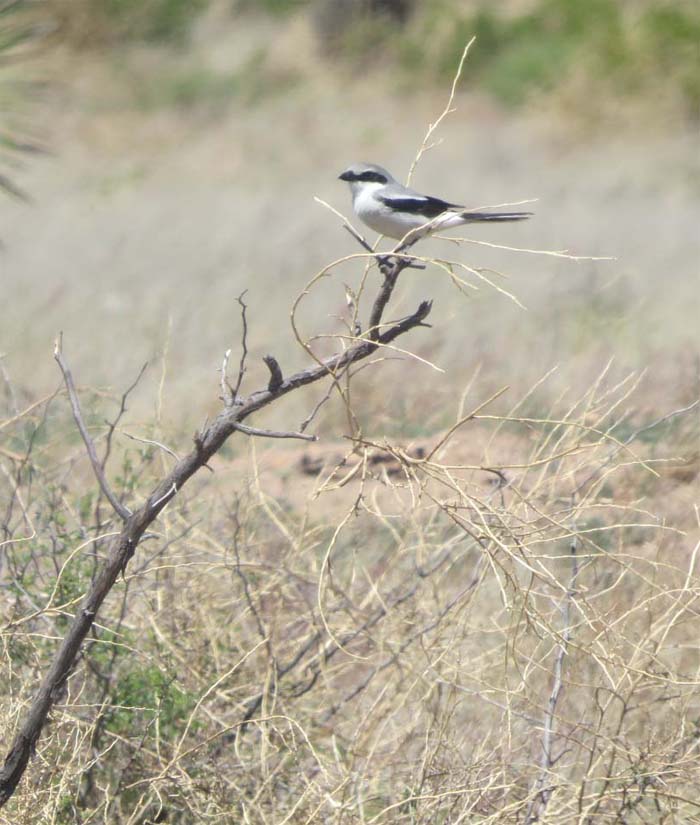 Here's a Loggerhead Shrike that was in the canyon.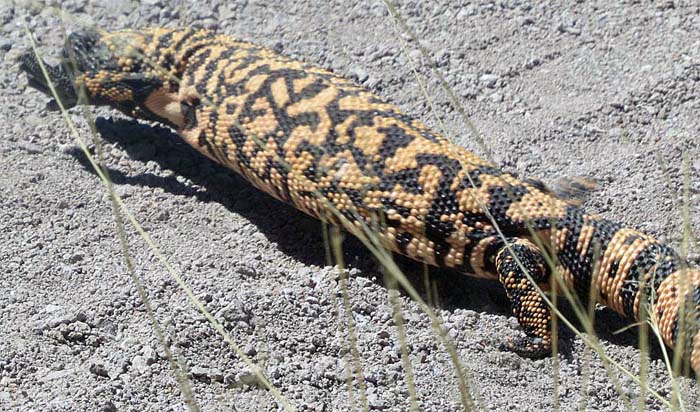 Another shot of the Gila Monster.
And one more, I didn't need this much zoom obviously, we were as close as we wanted to be.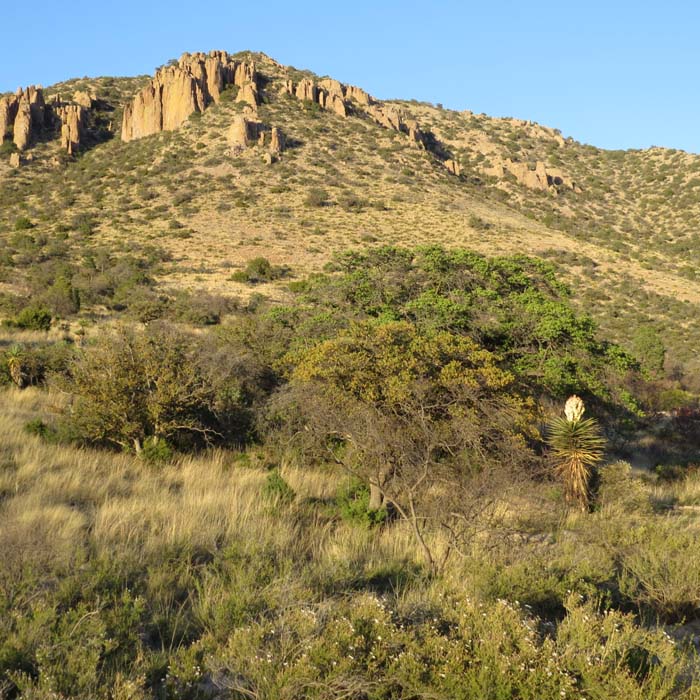 This shot is of the Red Cliffs from the veranda.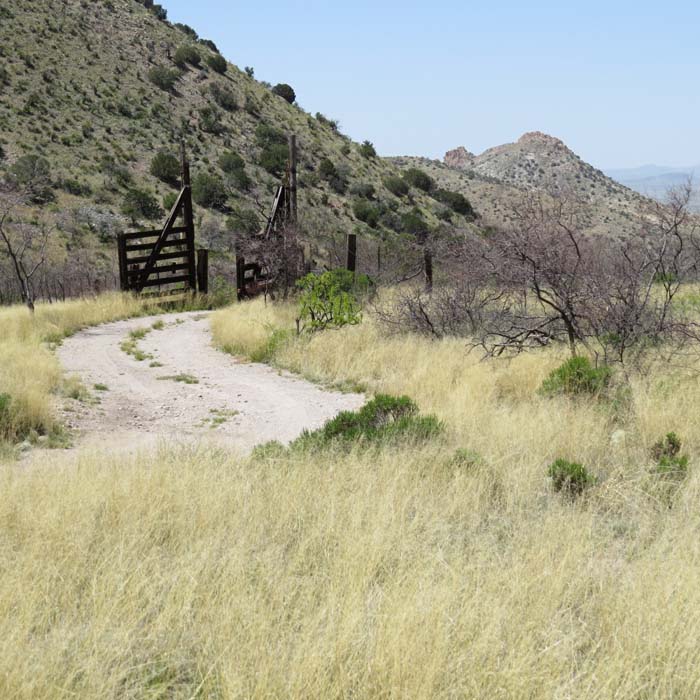 We said goodby to CD Littlefield, the famous Wildlife Biologist who lives at the ranch–famed for his studies and Book at Malheur and for his work with Sandhill Cranes–until we can come back again, hopefully soon.  After an emotional farewell to Denis at the Tucson Airport, we realized we had 15 minutes left for more birding and picked up Abert's Towhee and Verdin in the drainage channel by the airport for  a total of 121 species for the six-day trip.  We had only had 125 so far from four months of 2015 birding around Seattle.
(I welcome comments but have the comment field turned off because of spam.  Please email me at ednewbold1@yahoo.com if you have something to say that isn't spam–I'd be thrilled about that!)
.
.