03 Jul

Start Number Two on Snoqualmie Falls

Posted July 3, 2015 from Seattle, WA

A friend from High School visited in early June and Delia and I took him up to see Snoqualmie Falls, which some staff people from up there once told me is the second-most-visited tourist location in Western WA after the Pike Place Market.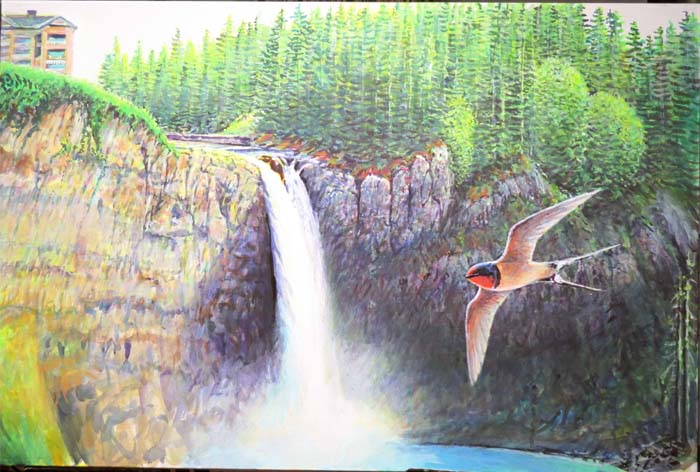 We had five AAIs up there–that is, avian aerial insectivores—birds that fly around and catch insects in the air.  The list:  Violet-green Swallow, Rough-winged Swallow, Barn Swallow, Black Swift and Vaux's Swift, the Black Swift being quite the rarest of these.  Black Swifts only nest behind waterfalls, and since it's pretty safe back there, they only have one young rather than many and spend 2 weeks longer tending to it in the nest than Vaux's Swifts, which don't nest behind waterfalls.
I started on my second effort to paint Sno-falls after that trip.  I decided on Barn Swallow as my avian  subject and went in for a more wide-angle view, more sun and shadows than last time, and a water flow that evokes the current drought I guess—The falls looks higher when it's narrower so that's not a problem visually.
It's not done, but I am not particularly struggling with anything yet, so I don't see many changes ahead.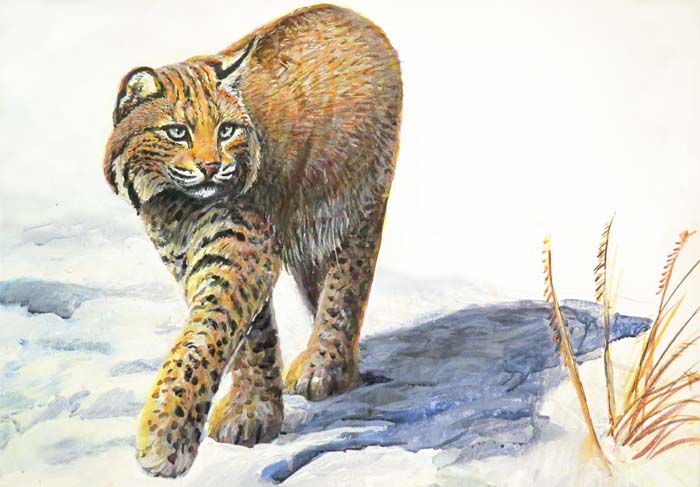 I also worked on the Bobcat that I had in last edition of "What's on the easel."  Just a few changes,  trying to tweak the body, etc.
My next printing is starting to shape up:   I'm going to offset litho the 14 x 18 version of Birds of Upland Seattle, which is selling, and the new 6 x 18 Return of the Sockeye, that's just to create one more size choice for that image.  Still need to decide which 18 x 24, there are a group that are selling ok but none wants to be the star:  Westport Loon, Working the Docks, Spring Morning at the Market, Birds of Seattle, Seabirds, and Poulsbo and others are all in contention.
That's all, it's too hot for a really dynamic issue of "What's  on the Easel."  We'll go for a swim in Lake WA, and since it's the Holiday, I guess we'll get to watch the Great Seattle Fire of 2015 later tonight or maybe that will be tomorrow night.
Just kidding I hope.
(Comments are turned off because of spam, yet I would love comments.  If you comment and then email me that you have at ednewbold1@yahoo.com I'll turn yours on, sorry for the extra step.)