10 Apr

Green position on Parks District: NO!

Posted April 9, 2014 from Seattle, WA

It goes against the DNA of a green voter to vote against a Parks levy, I totally realize.  But we must examine this impulse.  "Parks" is only a word.  A Park can Yellowstone National Park, or East Marginal Way Business Park.  Just because the word park is there doesn't mean it's good for nature.

And wherever there are natural areas, there are also people who look at them and think they are "empty" and should be filled with something.  Sometimes they make compelling arguments.  But rather than being circumspect and guarded about this impulse, the administration of the Seattle Parks Dept.  personifies it and blandly embraces it as a mission:  Let's look for emerging new sports and activities we can put in our parks to make them more interesting is essentially what the acting-Director wrote in a recent essay.

Ergo, the success of Parks in gaining a larger budget and it's success in gaining insulation from the will of the voters represents a real threat to biodiversity and nature in Seattle Parks.  Vote No in August.

Here is an ad I ran on April 8, 2014 on page A-6 of the Seattle Times.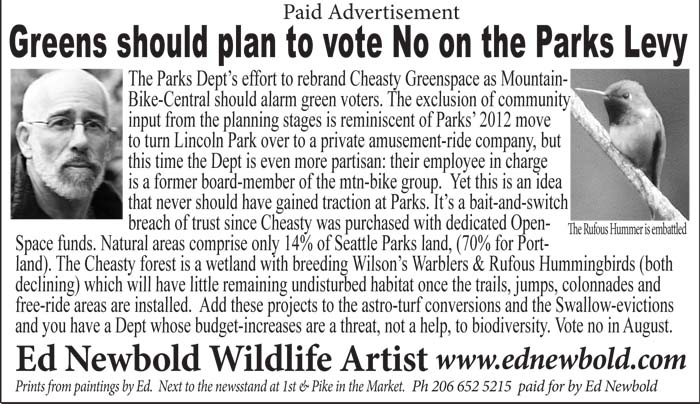 In case it's hard to read and to put this in google search, here's the text:
The Parks Dept's effort to rebrand Cheasty Greenspace as Mountain-Bike-Central should alarm green voters. The exclusion of community input from the planning stages is reminiscent of Parks' 2012 move to turn Lincoln Park over to a private amusement-ride company, but this time the Dept is even more partisan: their employee in charge is a former board-member of the mtn-bike group.  Yet this is an idea that never should have gained traction at Parks. It's a bait-and-switch breach of trust since Cheasty was purchased with dedicated Open-Space funds. Natural areas comprise only 14% of Seattle Parks land, (70% for Portland). The Cheasty forest is a wetland with breeding Wilson's Warblers & Rufous Hummingbirds (both declining) which will have little remaining undisturbed habitat once the trails, jumps, colonnades and free-ride areas are installed.  Add these projects to the astro-turf conversions and the Swallow-evictions and you have a Dept whose budget-increases are a threat, not a help, to biodiversity. Vote no in August.