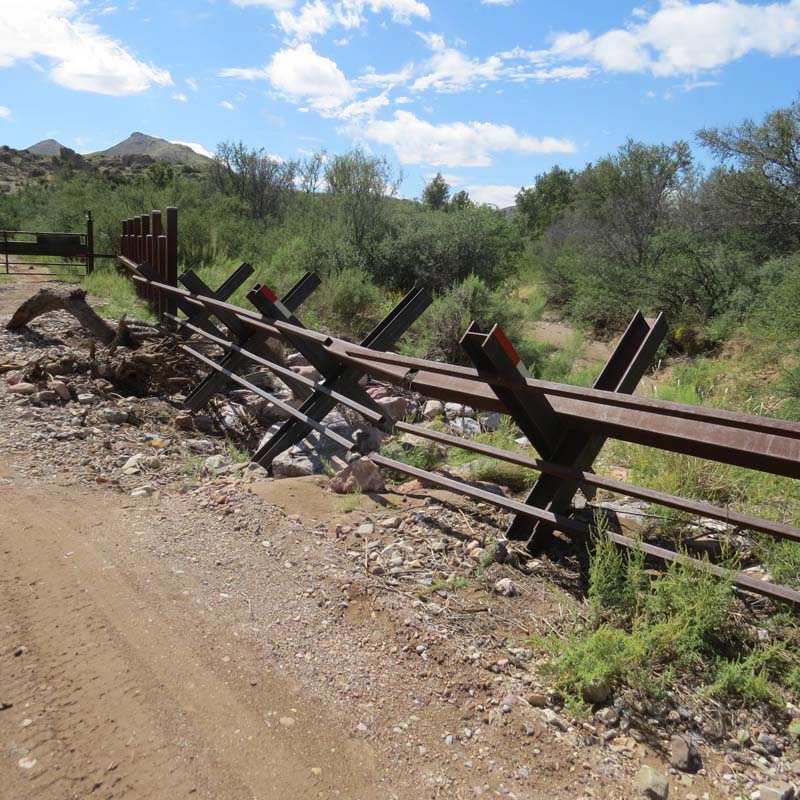 06 Oct

We visit the Wall, the Ranch, the high Chiricahuas and the coast

Posted September 6 and Updated October 24, 2016 from Seattle, WA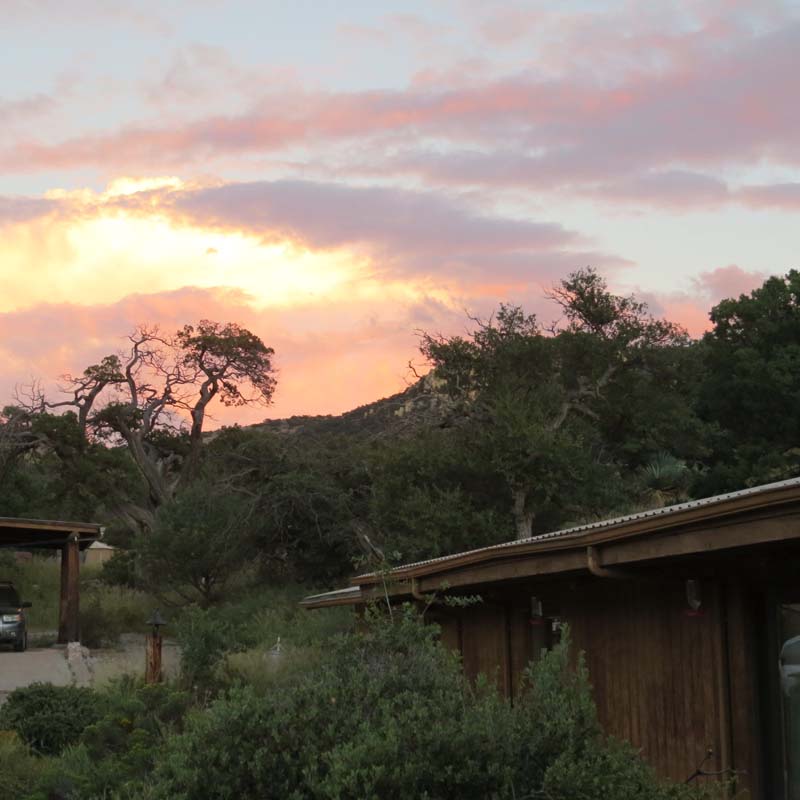 In Late September it was time to go down and check up on the ranch, where the 750ft. well no longer can get water up to the gravity-tank that supplies water to the house and where the rainwater collection system  has a bubble or something that keeps the roofwater from draining down to the main tank.  This is a shot of the house at dusk.   Driving up to the house we flushed 3 Poor-wills one night who were sitting on the dirt to keep warm.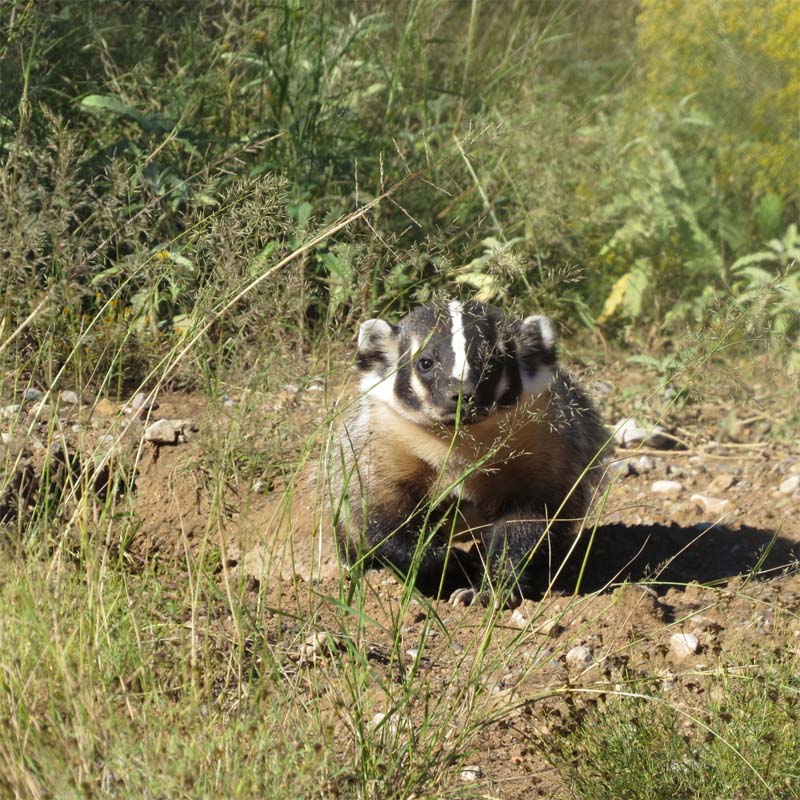 This was a young Badger that was on Route 80 south of I-10, having some kind of conference with a Raven.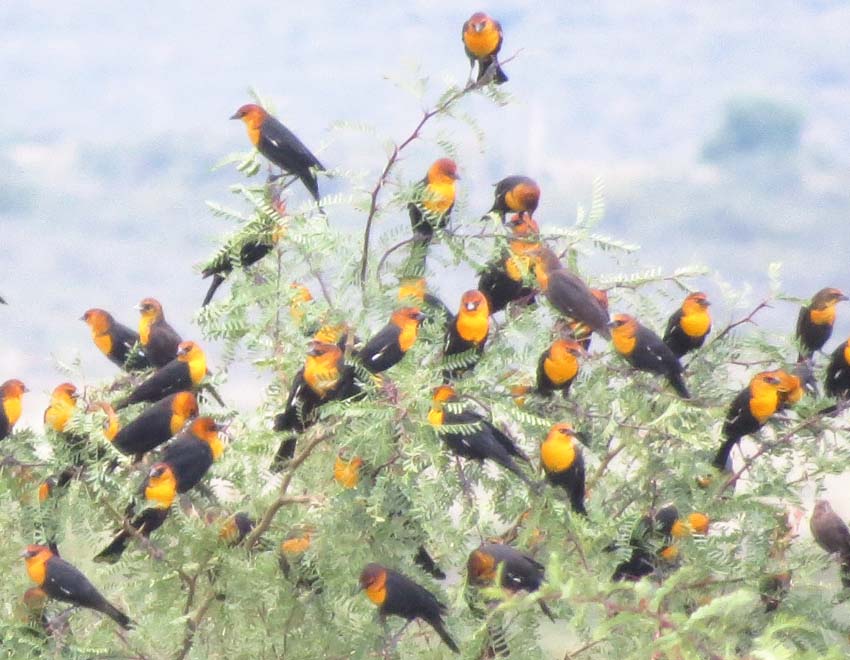 Reed Peters, the owner of Cave Creek Ranch in Portal AZ, has been really working hard to improve Willow Tank in Rodeo, a small artificial wetland that can save birds that are migrating through or trying to make a stand in the valley there.  Delia and I hightailed it off the bank of Willow Tank at dusk one night when 8 White-faced Ibis came in to spend the night, first circling warily to see if we were a threat. These were among the 200 or so Yellow-headed Blackbirds that came in to roost at Willow Tank at dusk on another of our visits.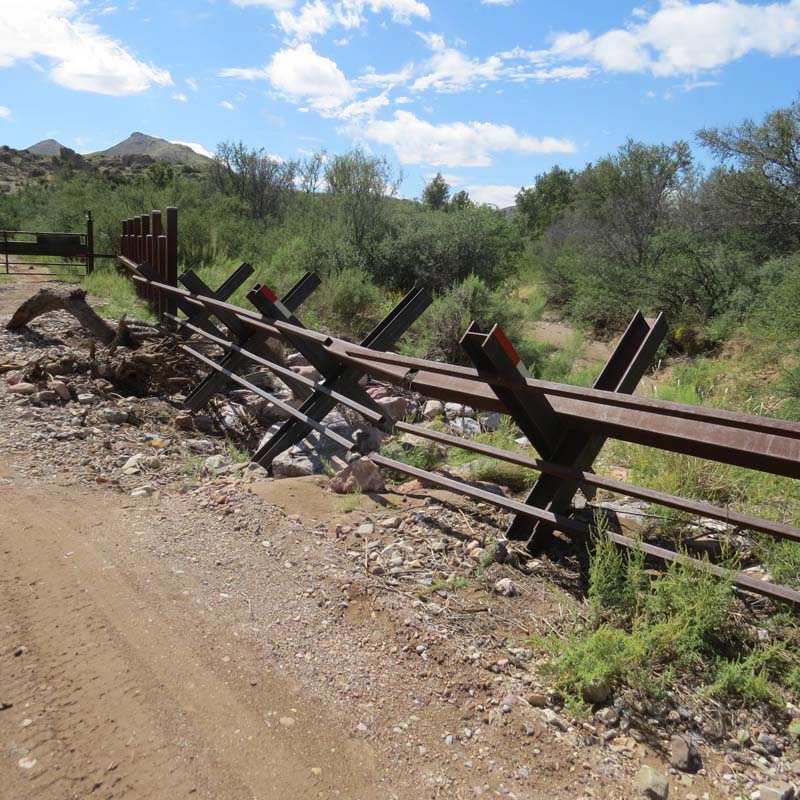 While we were down there we managed a couple of nice trips.  One was to the spot where Trump wants to build a Berlin Wall.  This is it—right where the tank barrier is.  I didn't get a shot of the bird, but within ten feet of this photo I saw my first ever in the US  Varied Bunting.  That's a little bird that looks black in bad light but is unbelievable in sunlight—bright blue and red.  As for the wall when I was growing up I was taught the principle of "Love thy neighbor" and haven't seen where there's  an expiration date on it.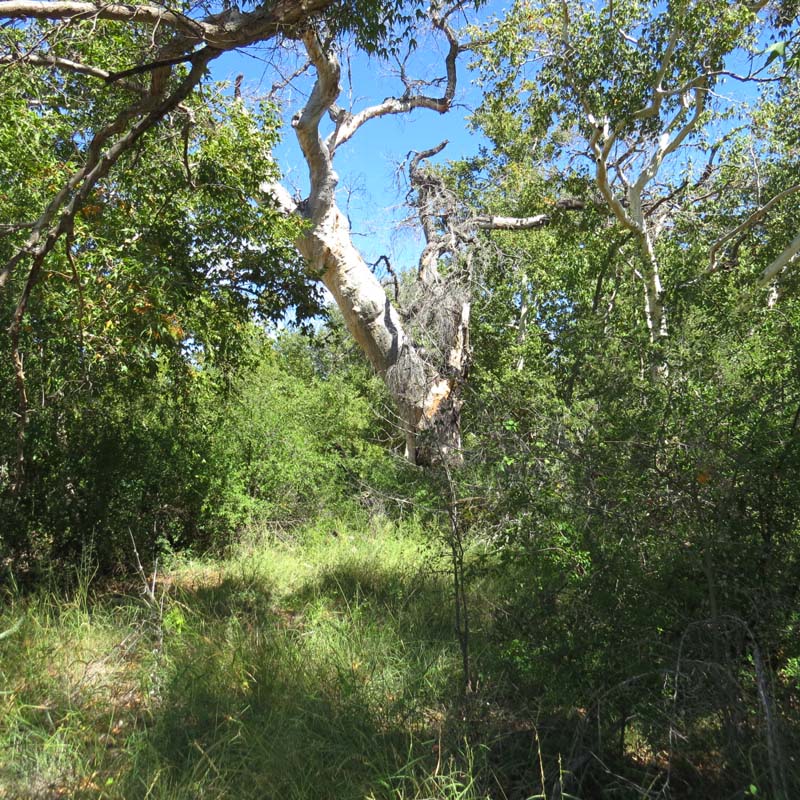 The place we were is called Guadalupe Canyon.  Not many people visit, all we encountered were some very pleasant Border Patrol agents.  It's at the exact point where  AZ, NM and Mexico meet.   Here's a huge old dead Sycamore that sadly tells you the SW is drying out.   None of the living ones were this big.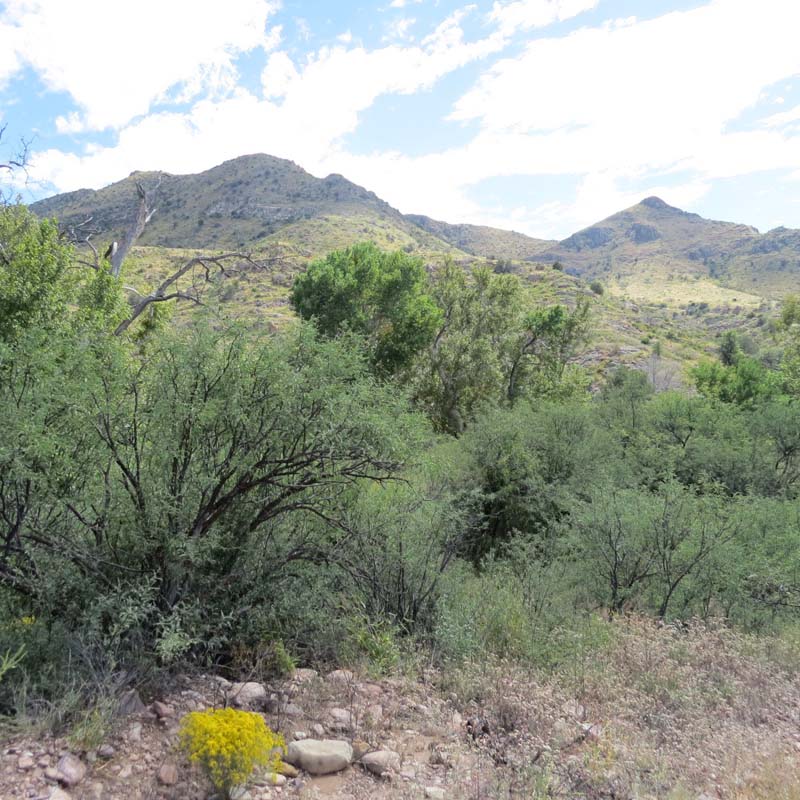 Another shot of Guadalupe Canyon.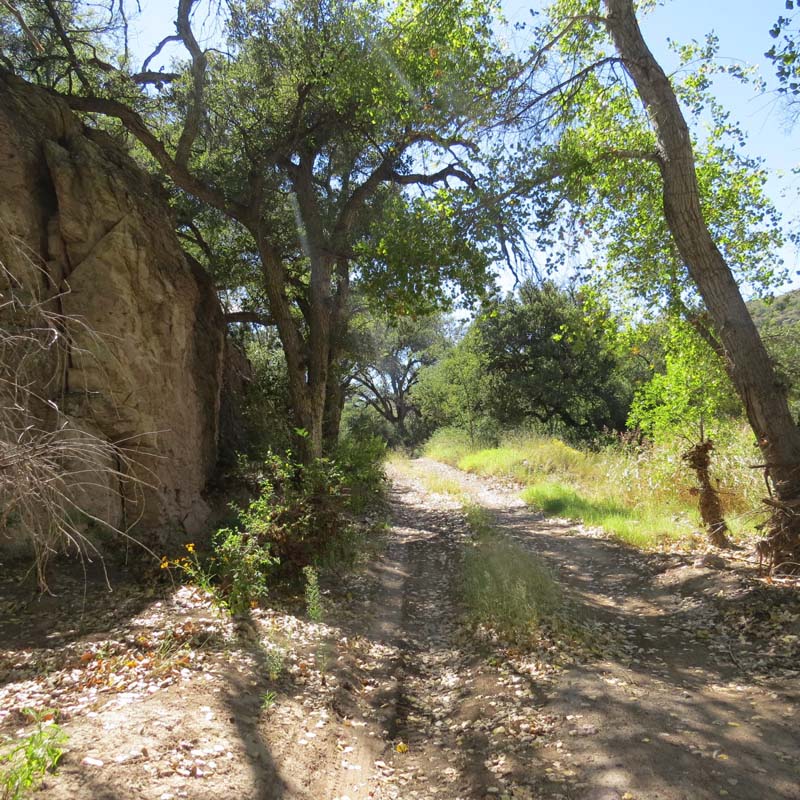 And yet another, it was really quite beautiful.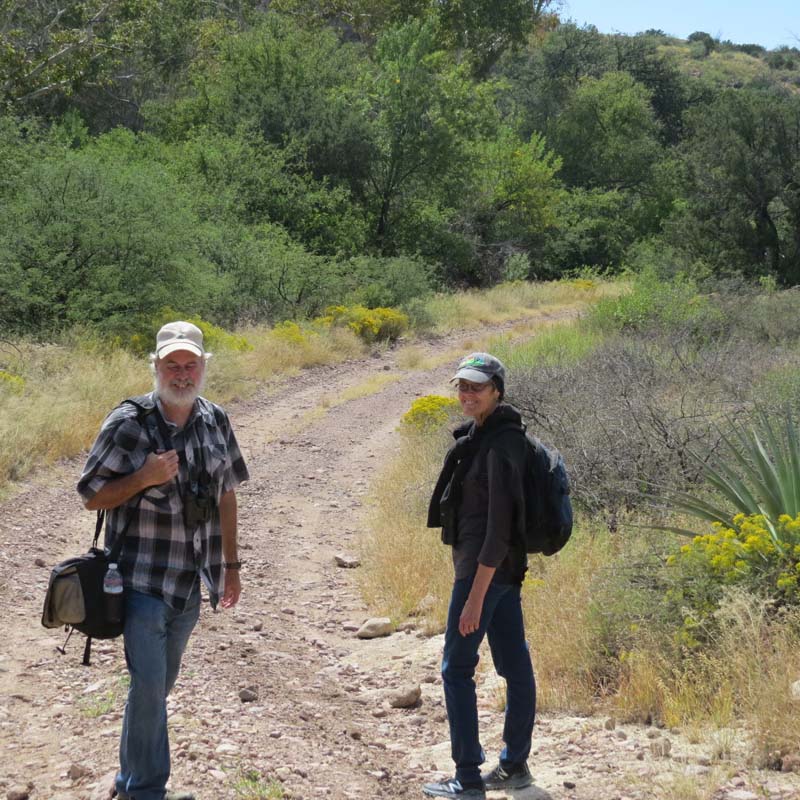 We went down there with our friends Jim Shiflett, shown here with Delia, and Noel Snyder who wrote the book on the extinction of the Carolina Parakeet, and the book  on the extinction of the Ivory-billed and Imperial Woodpeckers.  We told him we liked his prose but not his plots.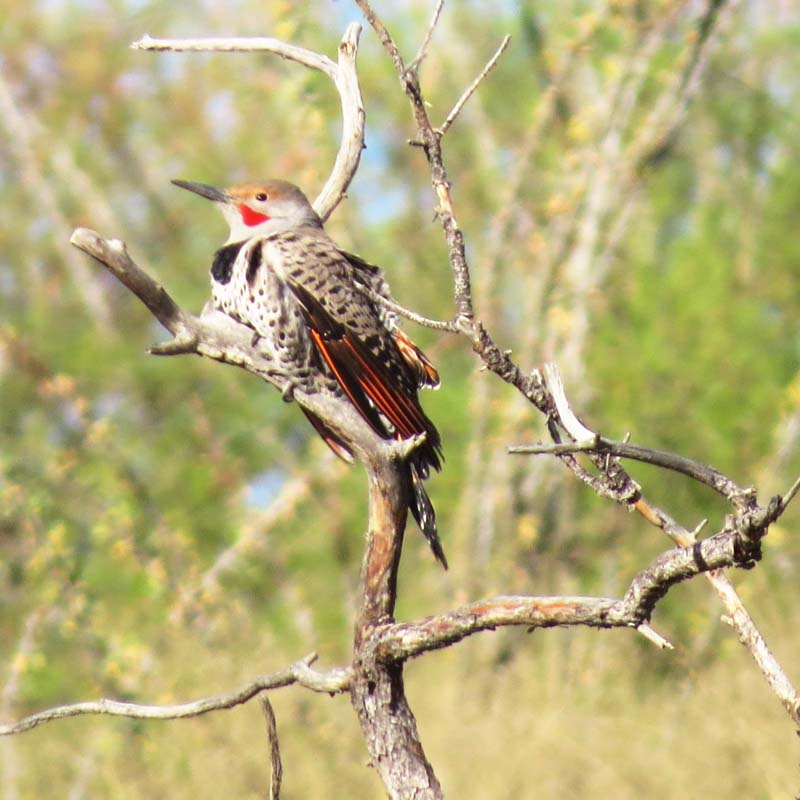 Back at the ranch, we didn't see anything unusual but the Northern Flickers were back in force for the winter and Flickers in the bootheel are a bit more glamorous-looking than the ones in Seattle.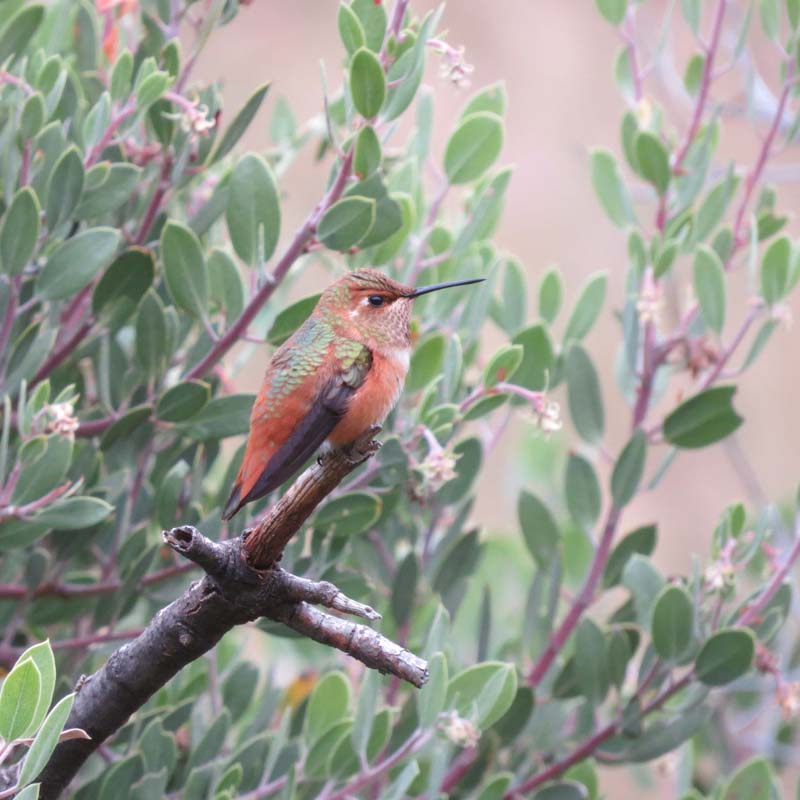 Another common bird that was in abundance was Rufous Hummingbird.  Here's a young male.

And not to be outdone, here's a female.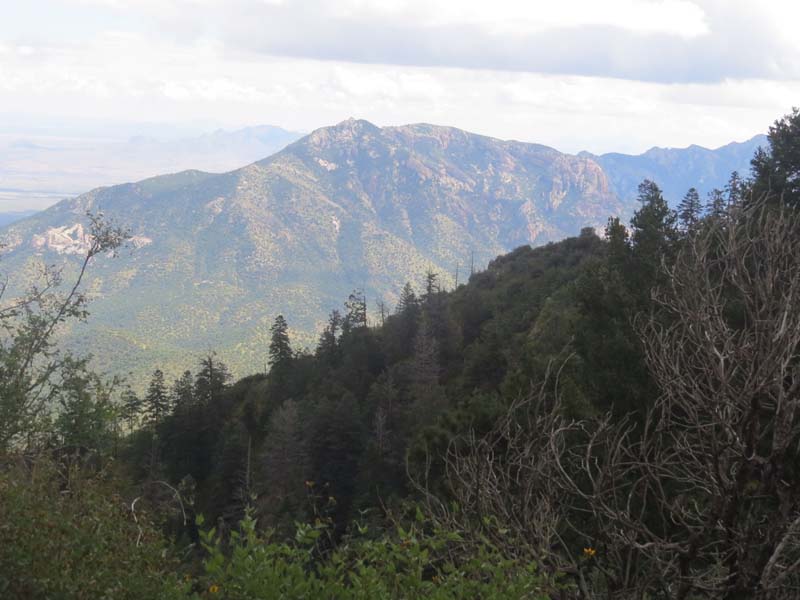 We went over to the high Chiricahuas and again didn't get much in the way of good bird shots but we did manage to find two more US lifebirds for ourselves, a Short-tailed Hawk and Mexican Chickadee, both up at Rustler Park which is what elevation?  Here's a shot.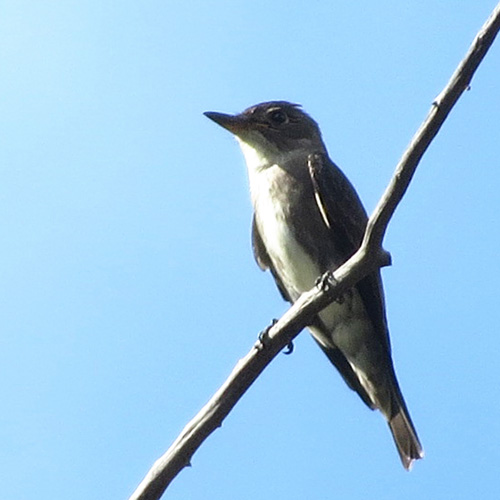 Down in the canyon below –Cave Creek Canyon—we found this Olive-sided Flycatcher, a favorite bird of many birders, for me because they convey so much power for their size, plus they have a great song, unfailingly translated by birders as "hic, three beers!"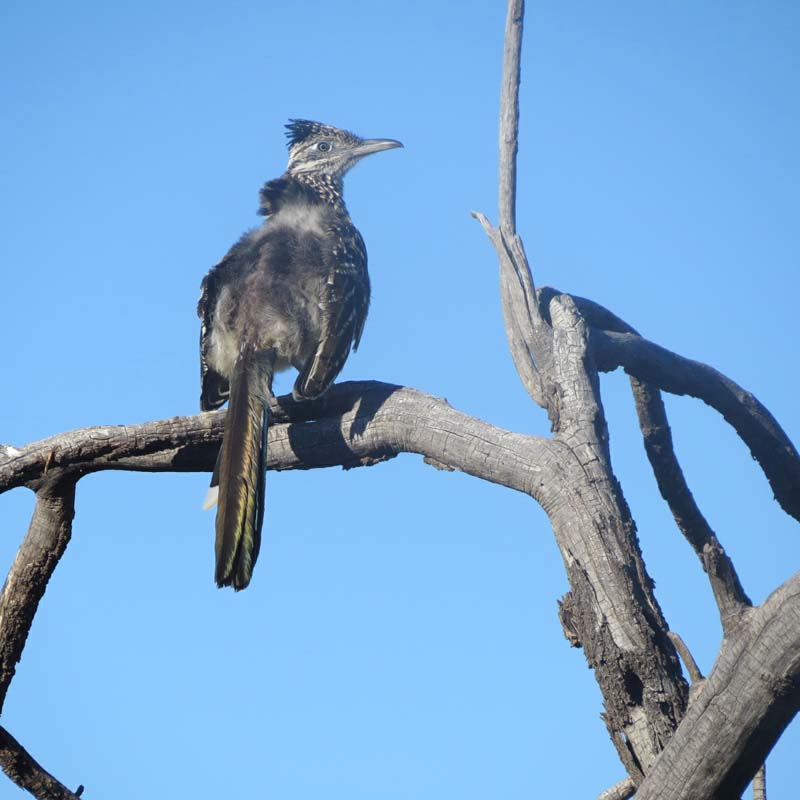 This Greater Road-runner was sunning itself in the San Simon Valley on our way out.   It's rude to tell me or this bird they look better when they aren't sunbathing.   The River of the same name was actually running where it goes under I-10.  In the NW there are big rivers and smaller rivers but in the SW we're usually delighted just to see water in the bottom of the river bed.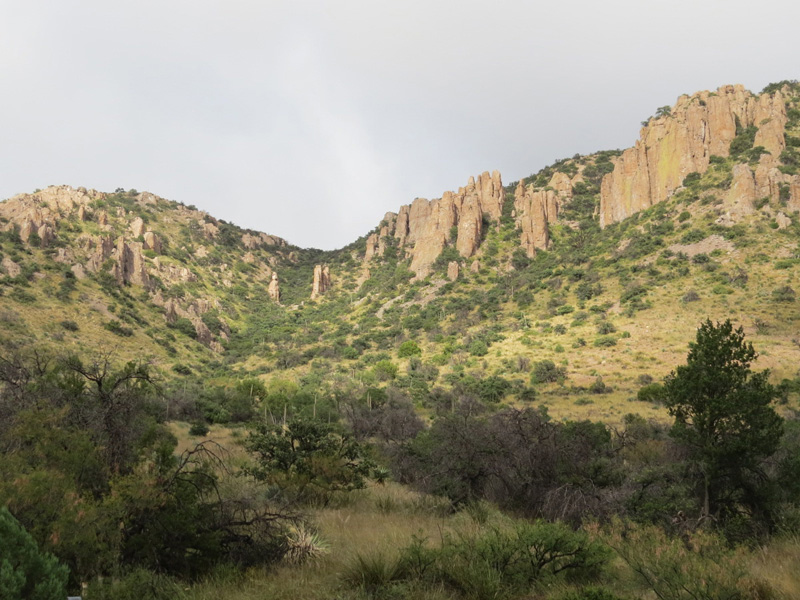 We've had a slightly dry year at the ranch, 13.6 inches so far, but the rainy season was enough to green it up here and in the valley around Rodeo and down to Douglas.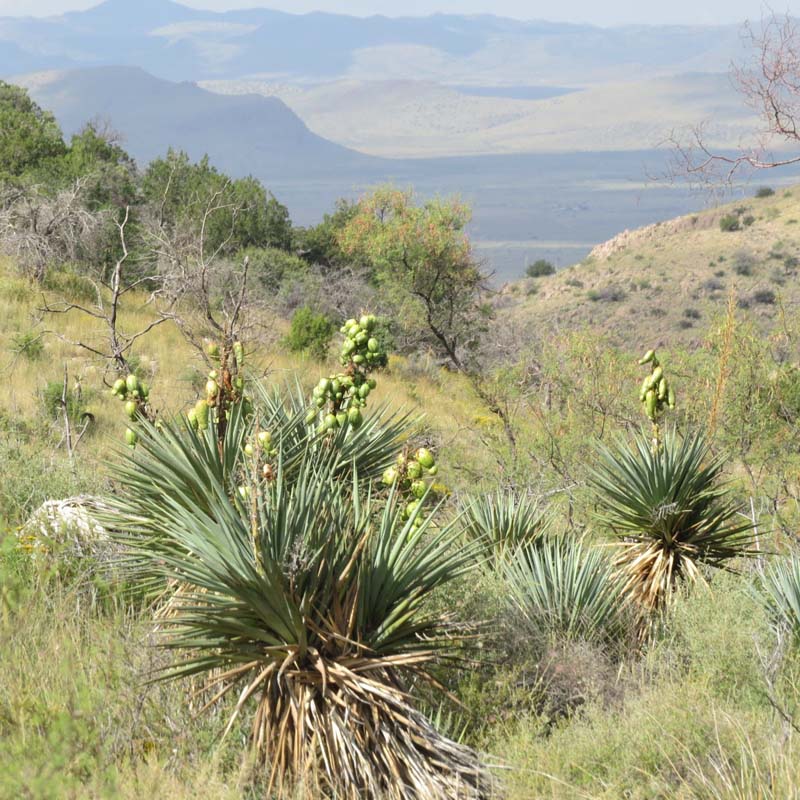 This is the view from the ranch looking toward the southern Chiricahuas with Yucca in the foreground.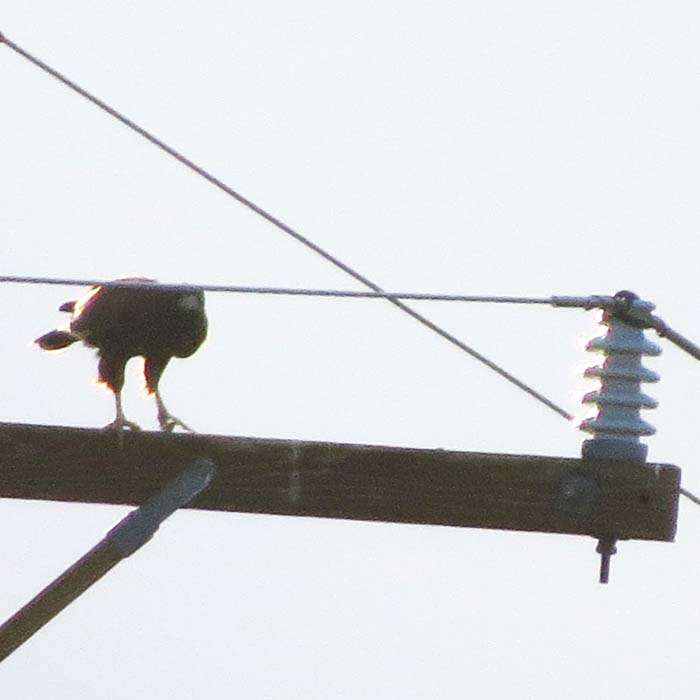 On I-10 on the way in, we sped past what I realized was a Harris Hawk, which we rarely see on I-10 east of Wilcox.  It's not recommended to stop on the shoulder of I-10, especially now with highway fatalities rates shooting up like a geyser.  But this lousy shot is great for one reason:  it shows how much clearance a Harris Hawk has, almost like the Crane Hawks that you hopefully can still see in the Amazon.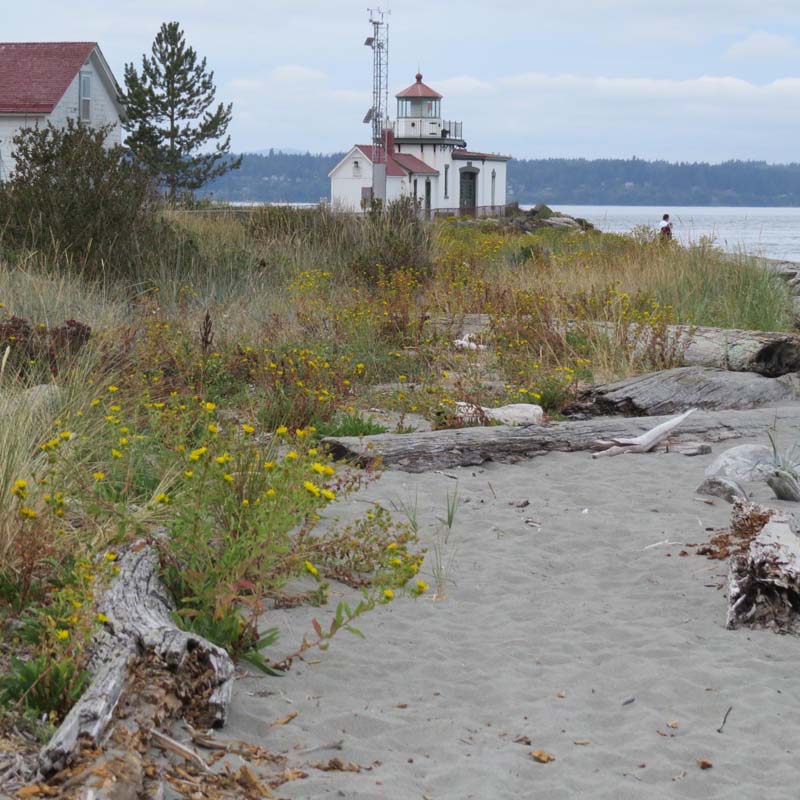 This shot is from earlier actually, but it's meant to signify we came back to the Northwest.  The Westpoint Lighthouse in Discovery Park, Seattle.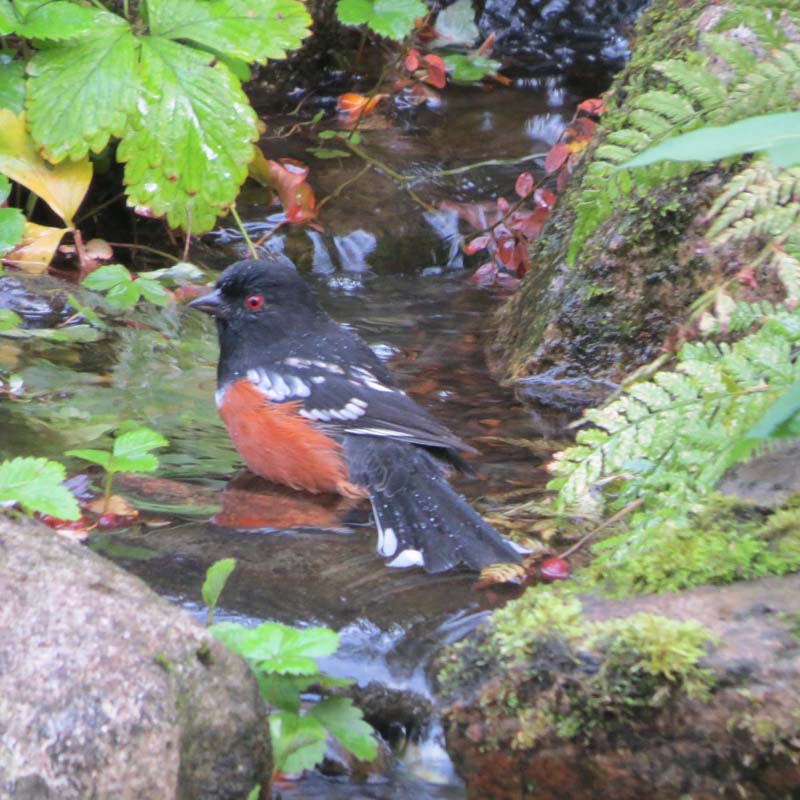 Most people don't think of the relatiely common Spotted Towhee as a glamour bird but this guy bathing in our backyard in Butyl Creek (don't look for it on a map) was trying to make the case.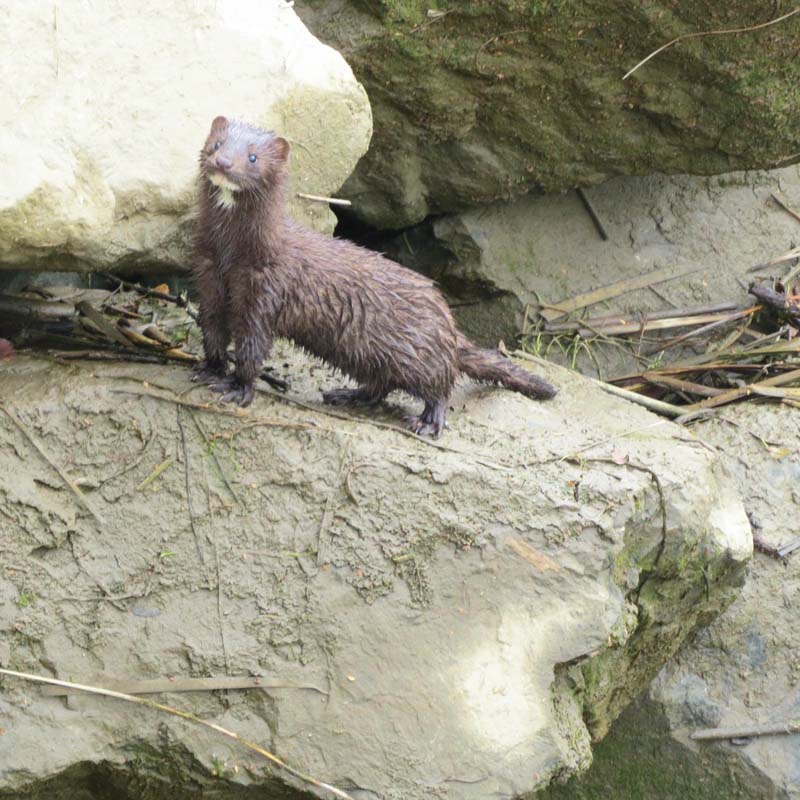 This Mink may have had a den, maybe even kids under a bridge at Wylie Slough in La Connor, WA.  Mink have terrible eyesight and she frolicked around for many minutes oblivious to our presence.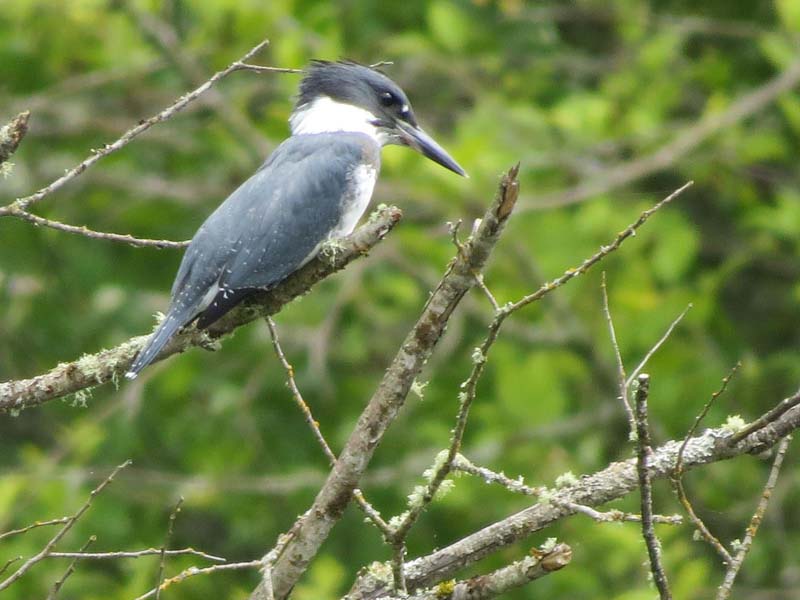 This is a Belted Kingfisher from Lake Sammamish State Park.  He lacks the orange band of the female but I thought he was one nice-looking bird.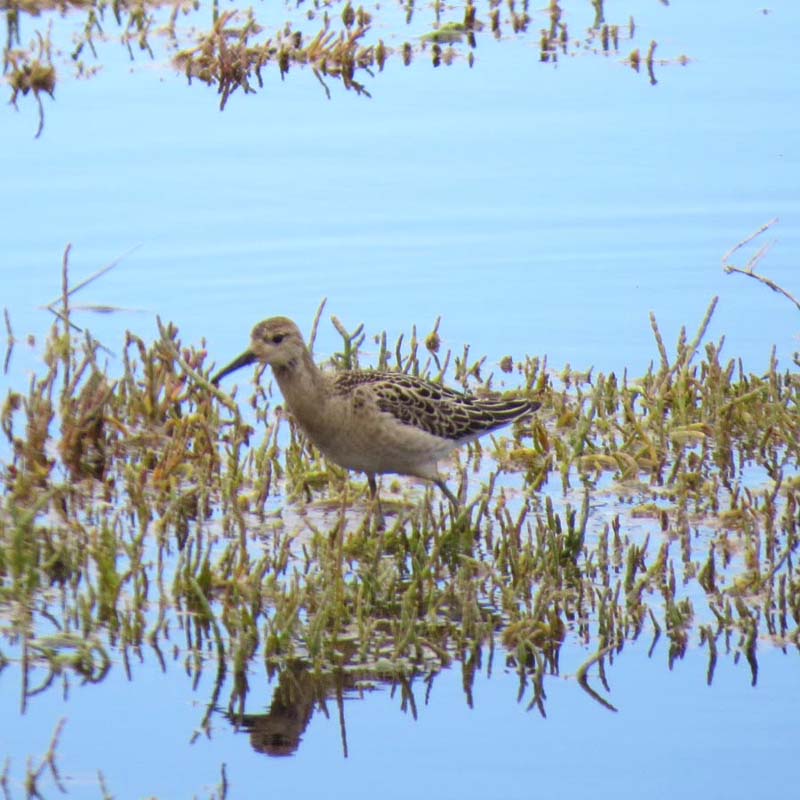 We went out to Three Crabs at the mouth of the Dungeness River near Sequim, WA. and located this already-found-by-others juvenile Ruff, a Eurasian shorebird that doesn't like to stand still.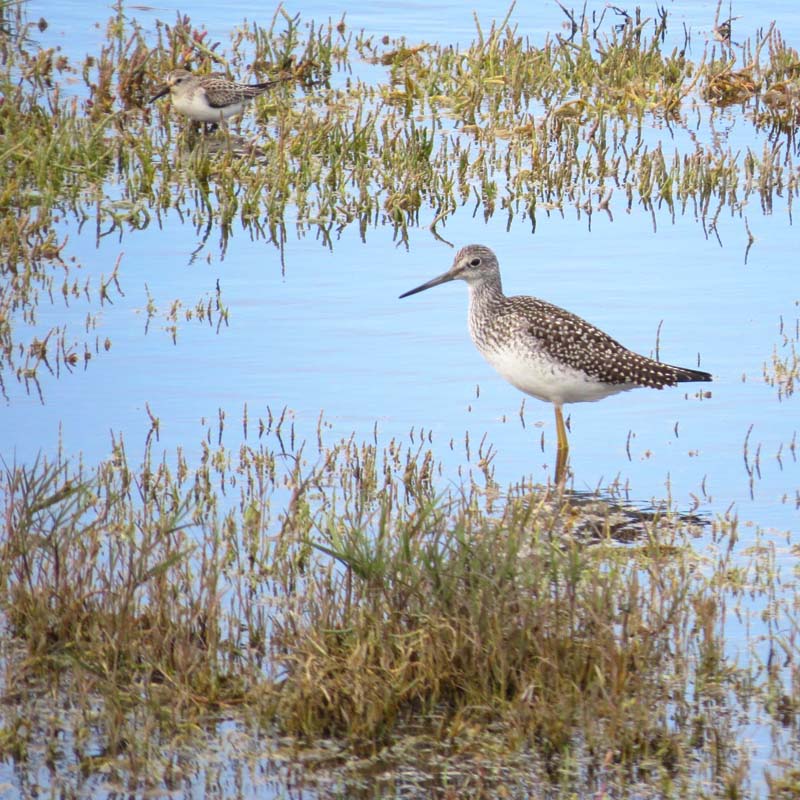 It was among the larger and more usual but still royal Greater Yellowlegs.  Also in the shot is a juvenile (I think) Western Sandpiper at the top left.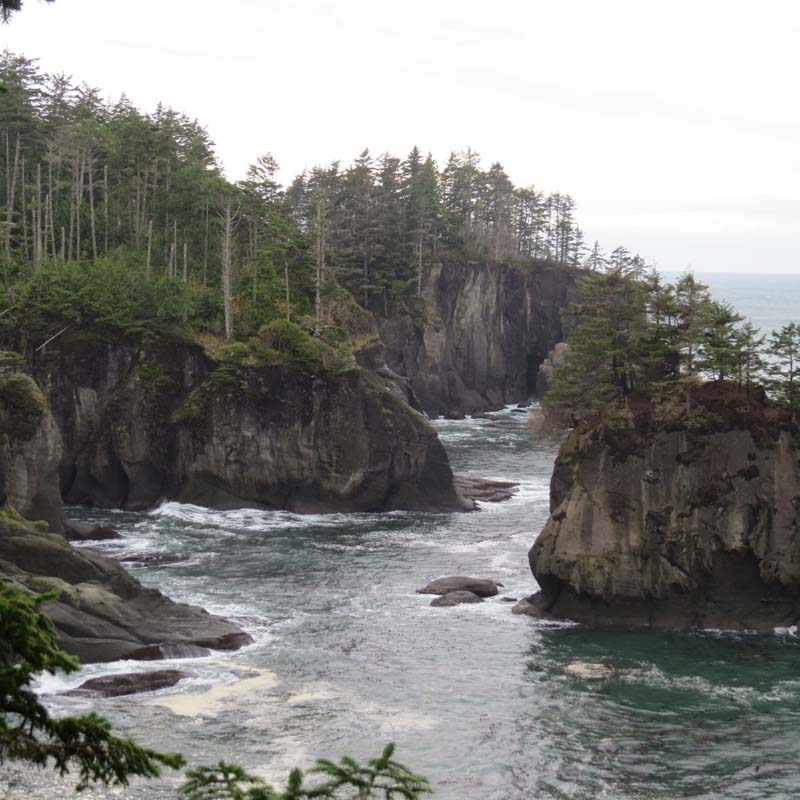 We went over to Neah Bay and Cape Flattery, shown here, this weekend, Oct 21 22.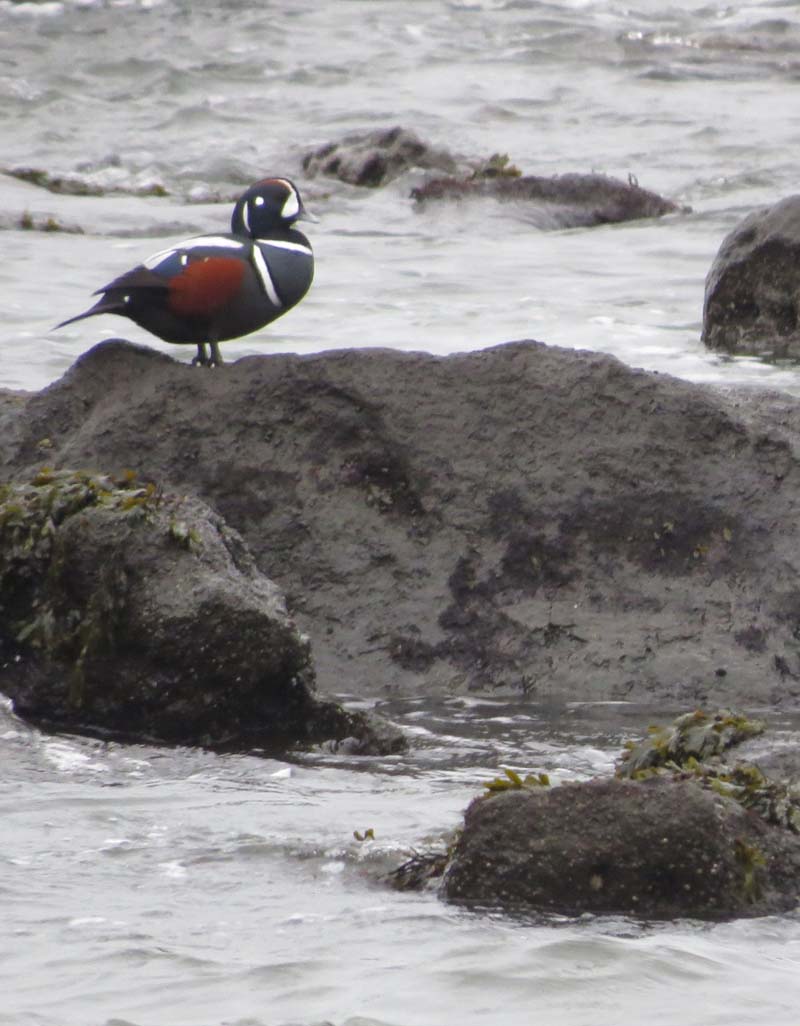 Harlequin Ducks were near Clallam Bay and other places.  I see two rich blue patches on these photos I've never known were there before, on the tertials and the cheek.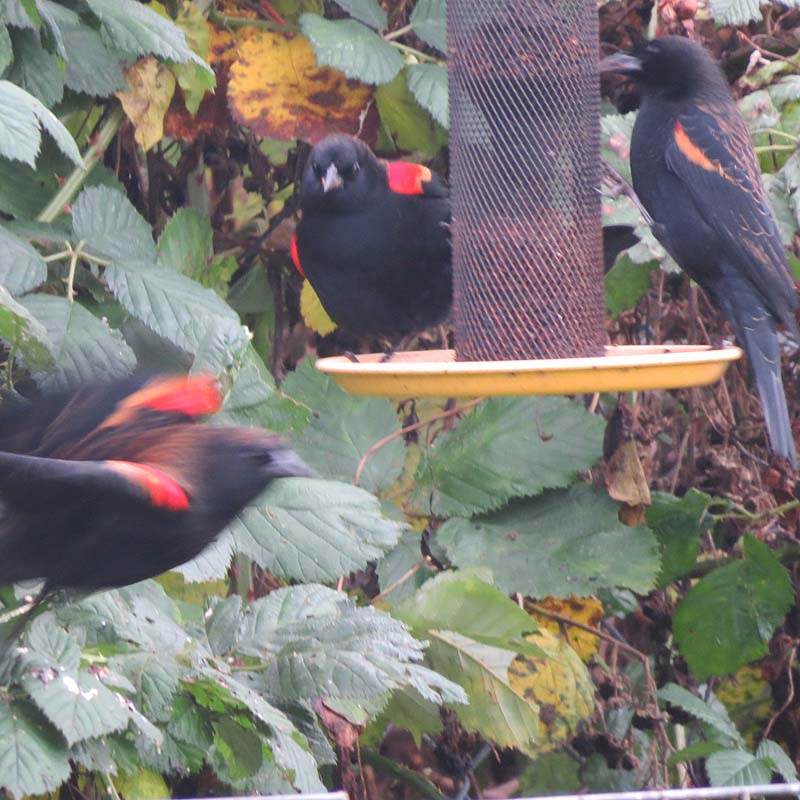 Red-winged Blackbirds at the Butler's Hotel feeder in Neah Bay.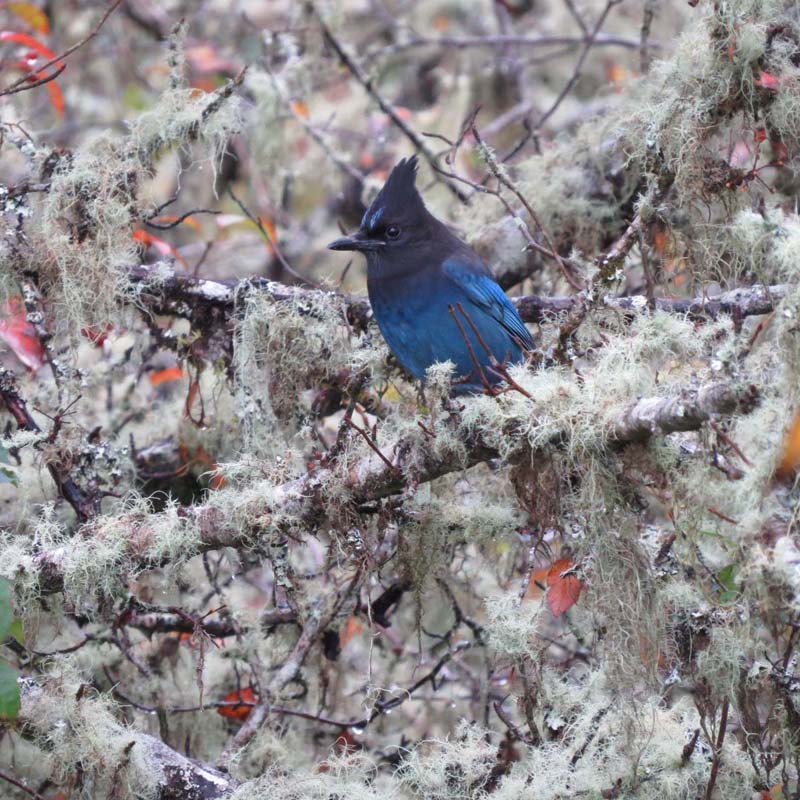 This Steller's Jay at the Butler's Hotel seemed to be making the case that it might work on a Christmas Card design.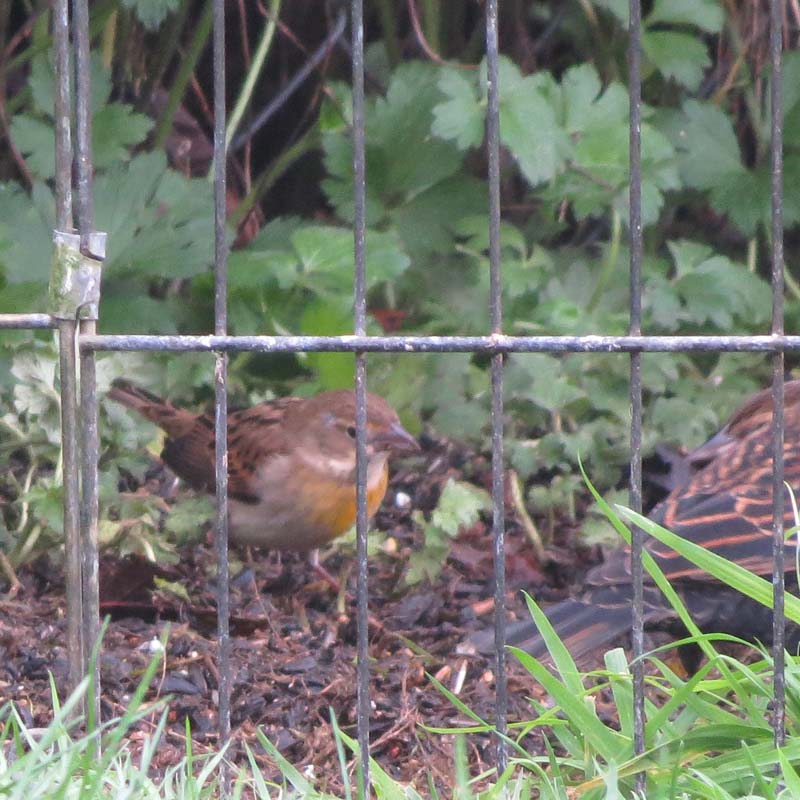 A Dickcissel, a vagrant from the American Prairie,at a feeder in Neah Bay.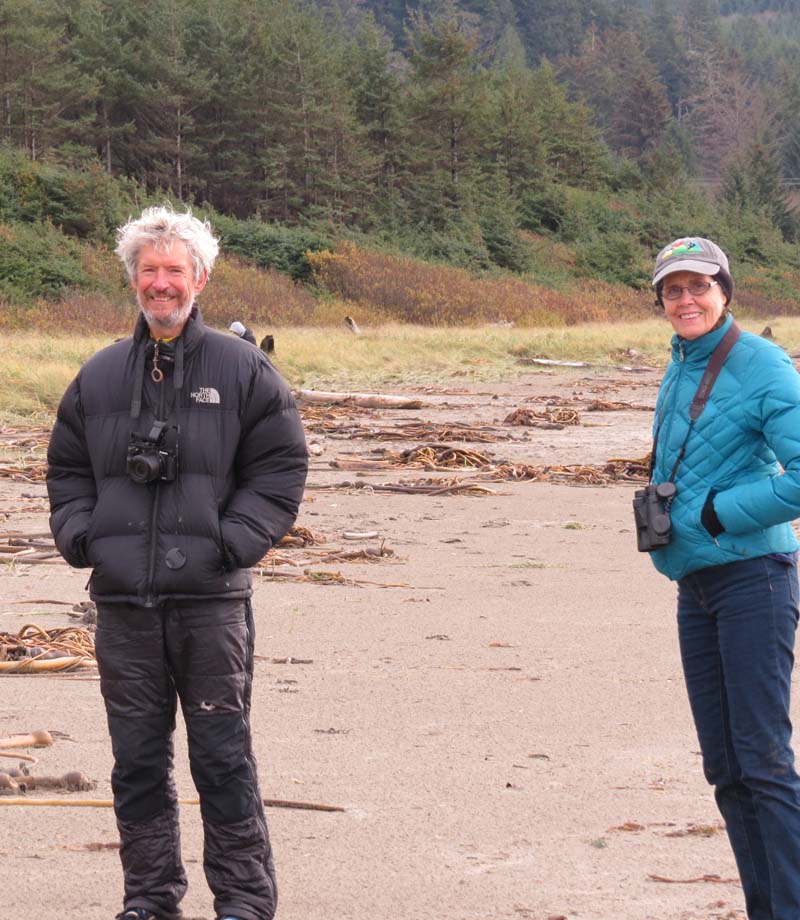 Brian Pendleton and Delia.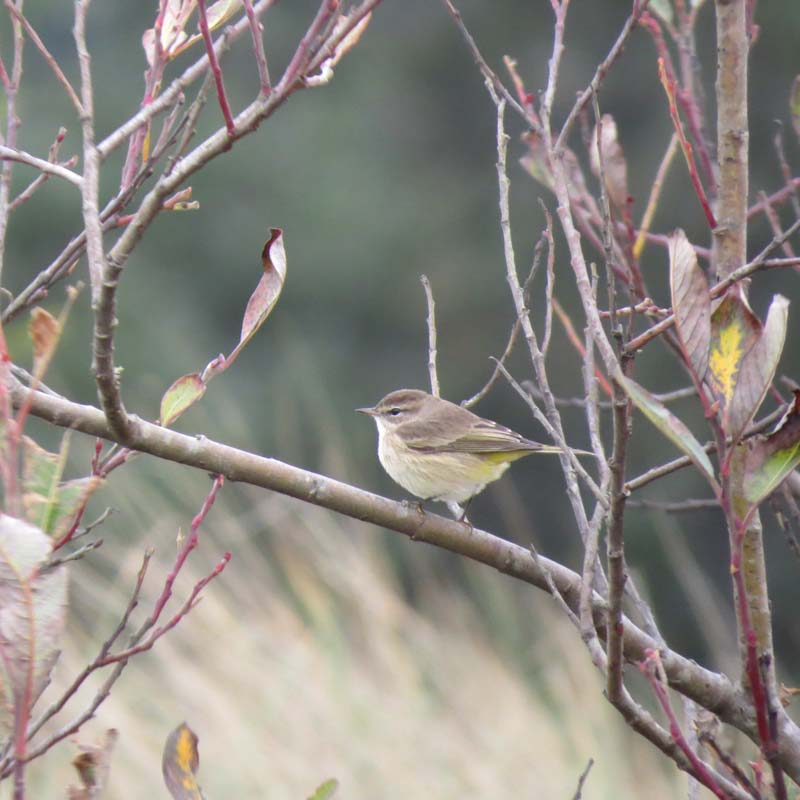 One of we think five Palm Warblers at Hoback Beach. This bird wags it's tail up and down constantly.  Thanks are owed to Brad Waggoner and Ryan Merrill, who we ran into but not literally in Neah Bay,  for tipping us off to these birds whereabouts.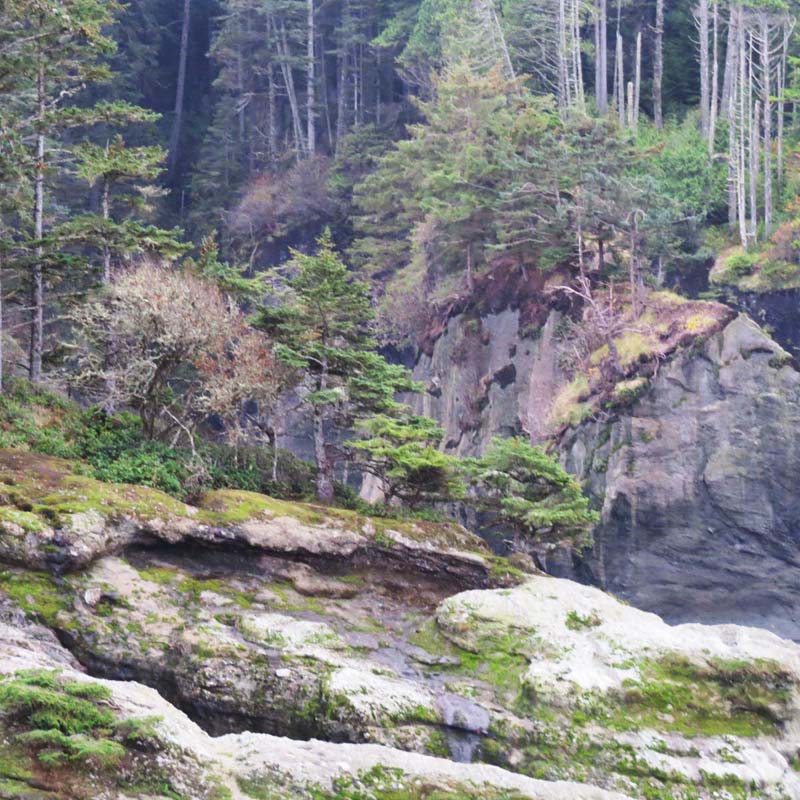 Cape Flattery has some serious scenery.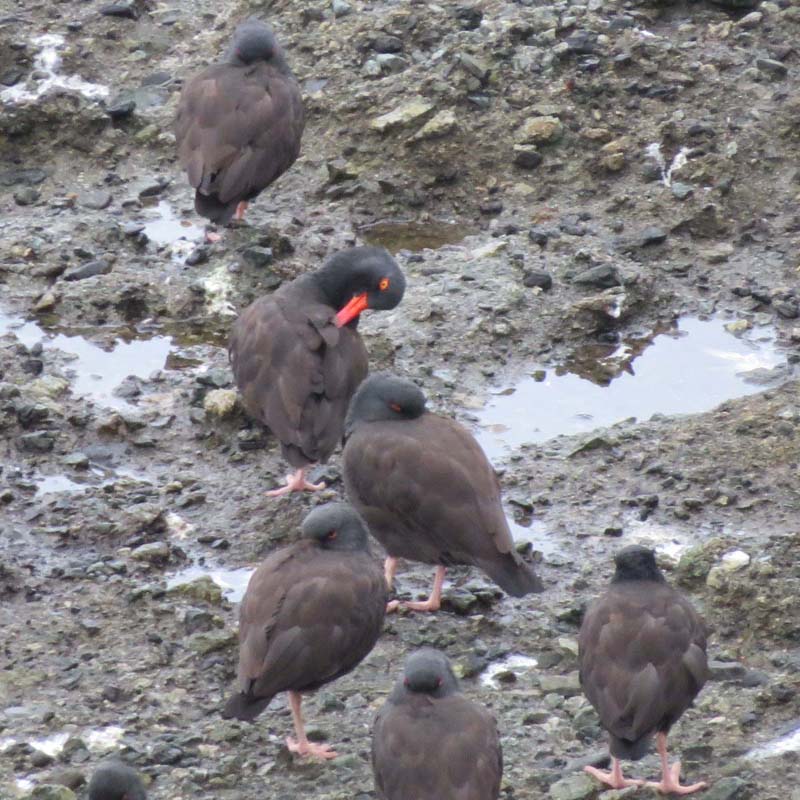 I think Brian counted 80 Black Oystercatchers resting below us on rocks.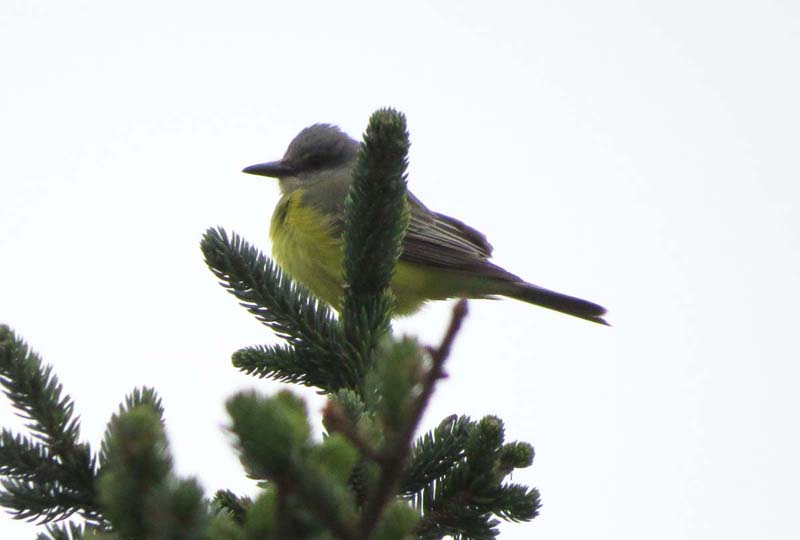 A Tropical Kingbird was in one of the most northwesternly situated trees in the United States overlooking the ocean.  Best wishes to this intrepid traveler, very likely from Mexico.  There were other Tropical Kingbirds in town.  We didn't get any shots but we had some Clay-colored Sparrows in Neah Bay also, also reported earlier, a wet-prairie bird from the mid-continent that breeds as far west as the Okanagan.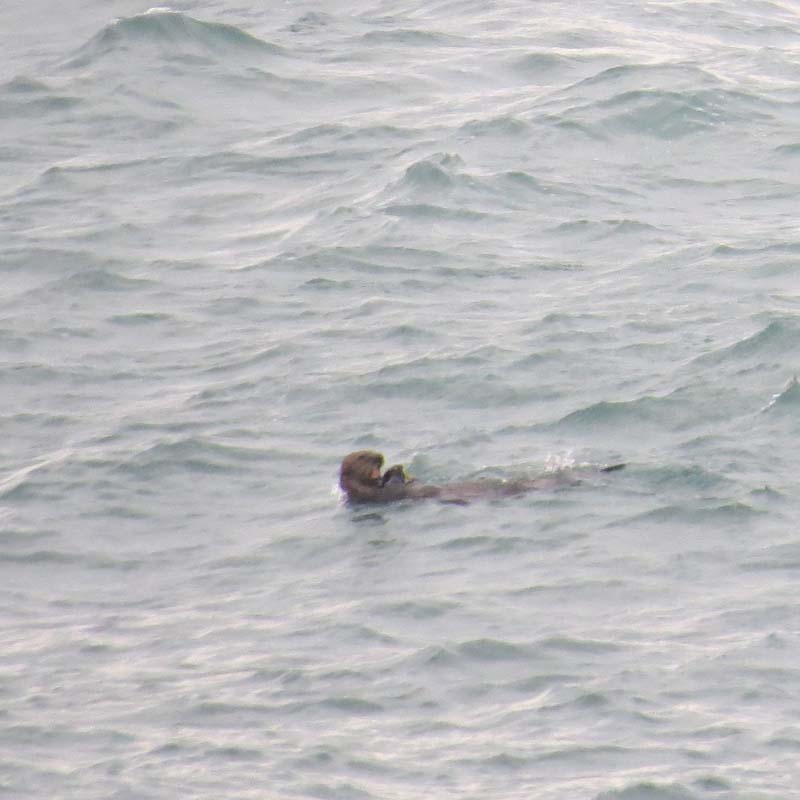 This young Sea Otter was having a seafood dinner at Cape Flattery.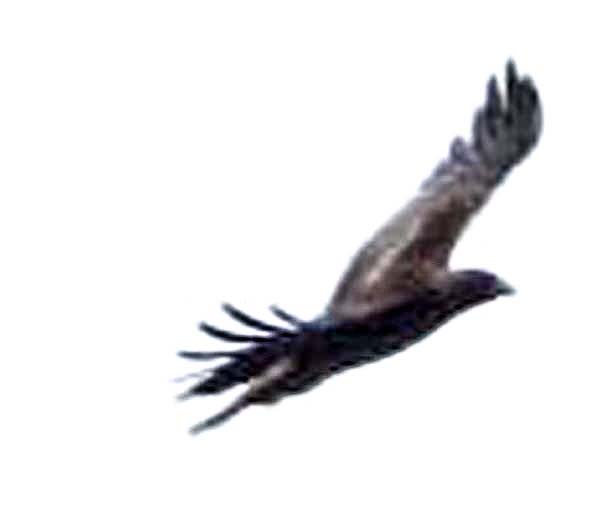 One Golden Eagle was soaring in the Waatch (pronounced Why-each I believe) River Valley at Neah Bay among the Bald Eagles and Red-tailed Hawks.  Note the pale nape, pale bar on the upper wing coverts, small head and small bill relative to a Bald.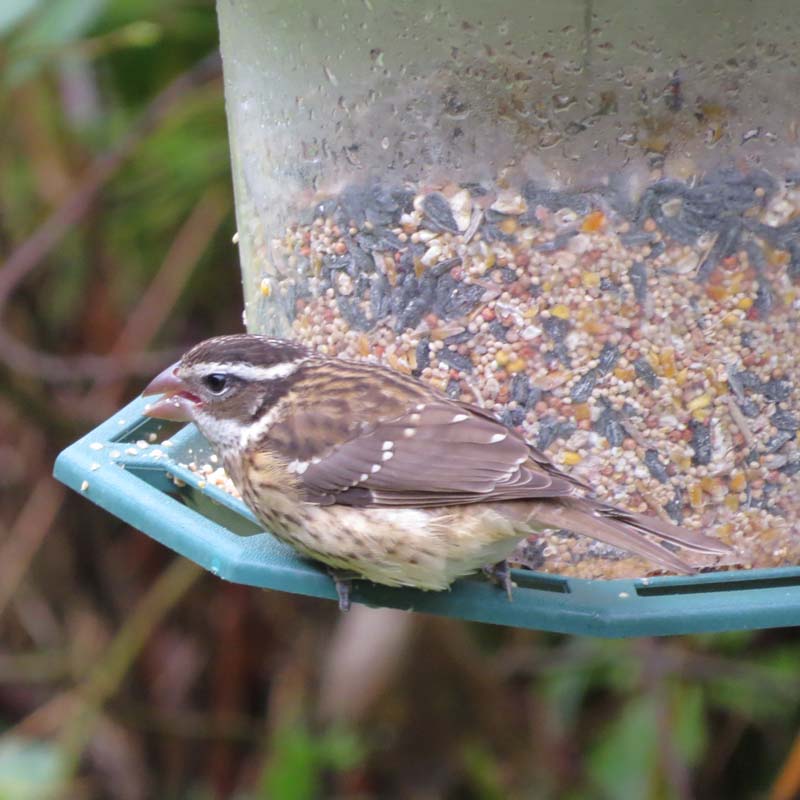 This female Rose-breasted Grosbeak was at a feeder in Neah Bay at the Butler Hotel.  We left a small donation.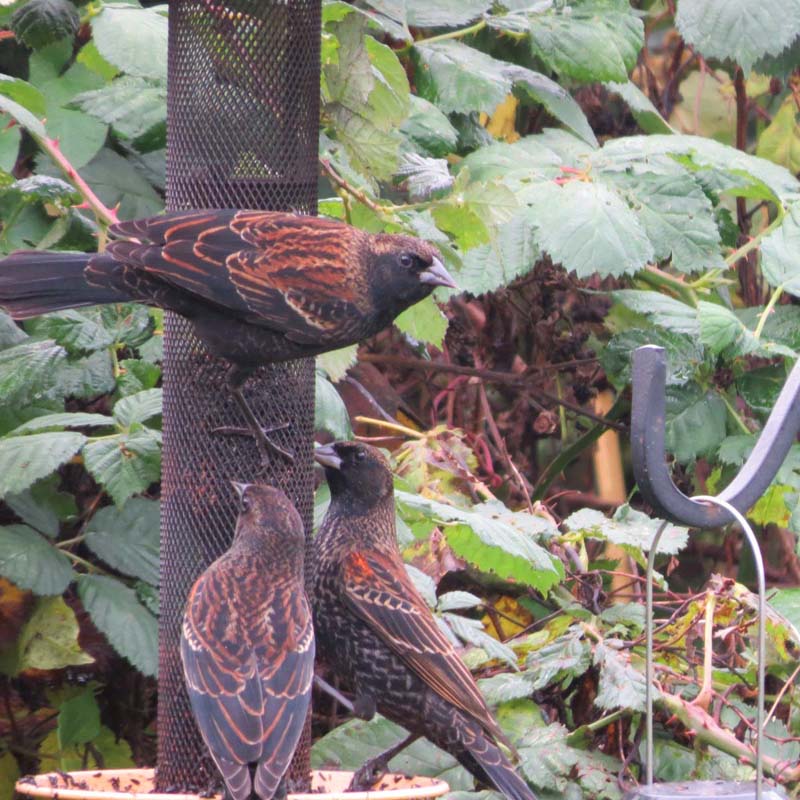 Despite birding for 55 years, I didn't realize how colorful fall plumage Red-winged Blackbird (males) are.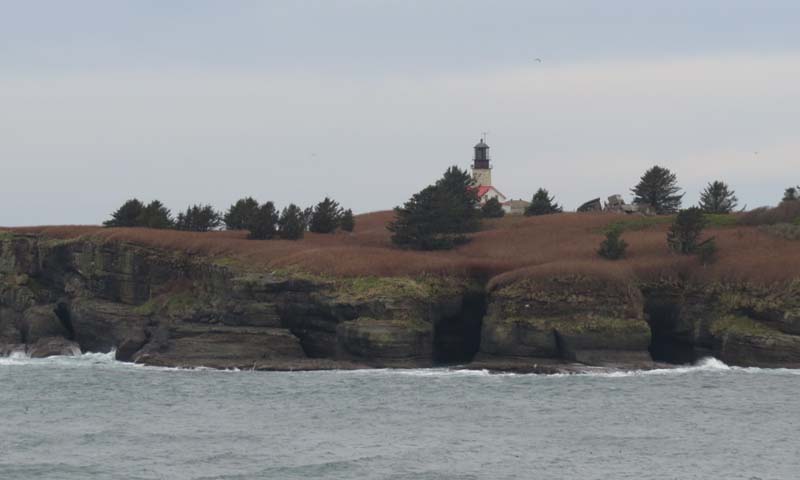 This is Tatoosh Island off Cape Flattery.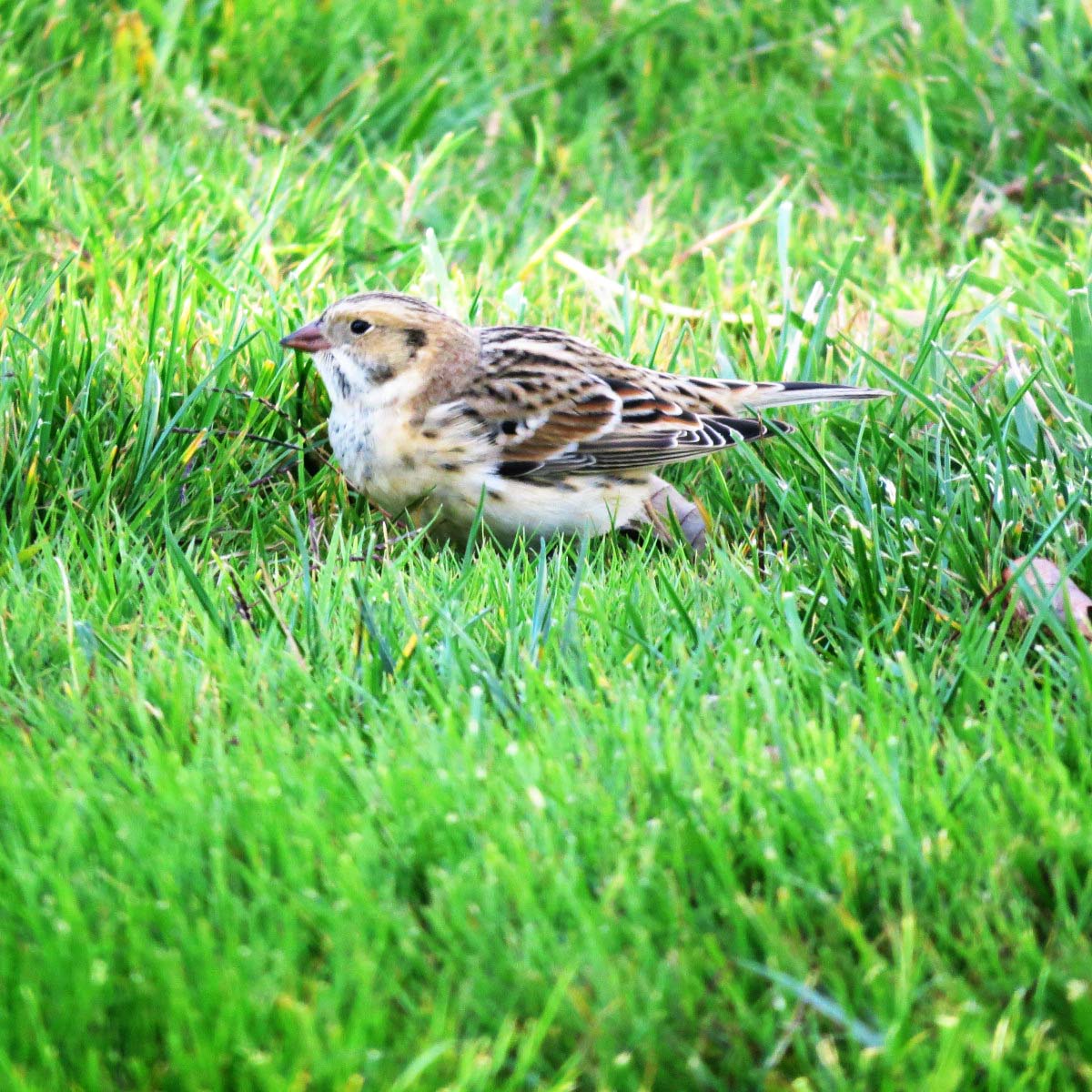 A Lapland Longspur from the mouth of the Cedar River, originally found by Jeff Bryant.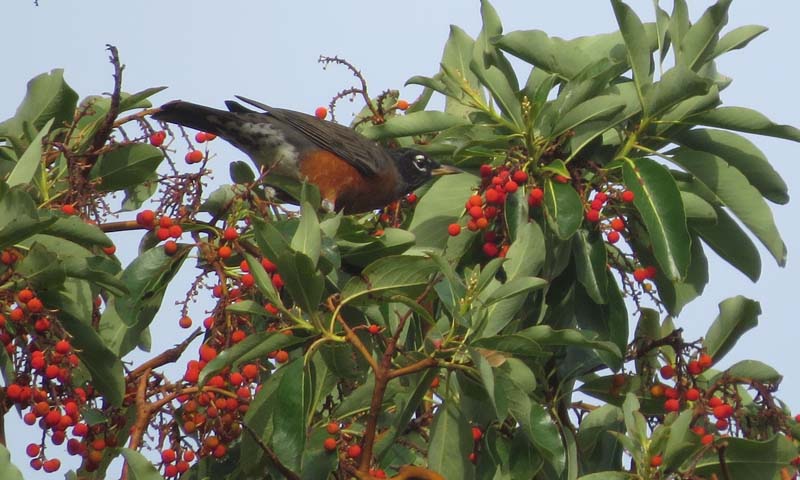 I'll end this blog with a common bird close to home.  That's an American Robin in a Madrona tree at the Utah Wetland in Discovery Park, Seattle.  I've heard Madrona called the single most valuable wildlife tree in the Northwest.