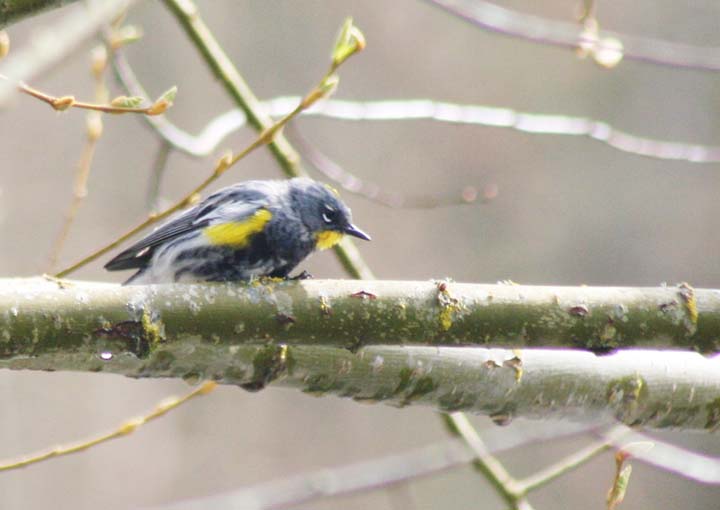 19 Mar

We're turned back by cold & rain at Nisqually

Posted March 18, 2012 from Seattle

Not every venture into nature is equally divine.   Today Delia and I and our friend Sherry Lee visited the Nisqually Wildlife Refuge and saw lots of great sights but also some signs that some of the critters were as annoyed by the weather as we were.  We got close to a wet Cooper's Hawk who's photo I'll spare you.  The Tree Swallows were audible overhead but weren't even fighting over nesting cavities,  and the Violet-green Swallows weren't making as much of the beautiful sounds as you'd expect to hear from a foraging V-g Swallow flock.  At the beginning of the boardwalk we spotted the Great Egret that's living there and called it a day as cold rain began to fall and each of us questioned the clothing decisions we'd made in the optimism of the morning.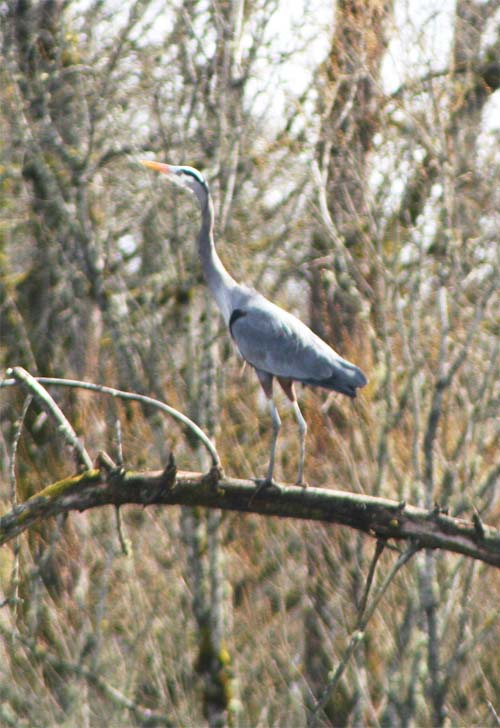 Here's something interesting we saw.  This Great Blue Heron high in a tree was engaged in what seemed like strange behavior.  Was this some kind of courting ritual?  Then Delia saw a circling Bald Eagle high above and realized that it was attentively tracking the Eagle's every move.  Herons are getting hammered by Bald Eagles now that the Eagles have, let's say, come charging off the endangered species list.

I think I knew that Northern Shoveler's heads could shine purple as well as green, but I was still surprised by this handsome male Shoveler whose head seemed to never appear green at all, but always this very strong purple.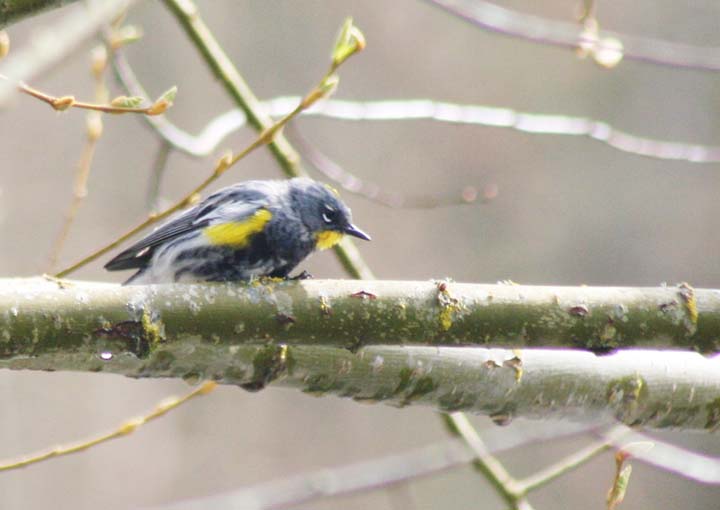 The Yellow-rumped Warbler migration has started in earnest, and perhaps because of the cold, many were down low and relatively easy to photograph.  I say relatively, as this bird is always on the move chasing down its insect prey.